Review: LOVE NEVER DIES Turns PHANTOM Upside Down
LOVE NEVER DIES is a very misunderstood musical, much like the charactor "Phantom of the Opera." This show is the sequel to "THE PHANTOM OF THE OPERA", and it turns PHANTOM upside down. If you watched The Wizard of Oz on television for many years, then went to see WICKED, you were probably in shock that two sides to the same story can be so radically different. What we thought we were seeing in PHANTOM, was Raoul's view. The new show is from Christine's perspective.
LOVE NEVER DIES begins in 1907, when Christine is performing before an audience in New York following a 10-year hiatus. I thought the story line was brilliant. It took so many turns and dispelled so many myths about The Phantom. I truly did not expect anything that came up in this plot. It really moves the show.
The costumes and lighting out-perform the original Phantom. This stage rotates and is a circus compared to the original. I was expecting a lot of mysterious murders and treachery, but that doesn't come up. The two sides of the same coin were as different as anyone could imagine.
People love the original Phantom for its beautiful tunes. Patrons can leave Phantom with songs stuck in their heads. This does not apply to LOVE NEVER DIES. The music in the sequel is incredibly sophisticated. I could not follow it, and I was a piano accompanist at the Indiana University department of Music. I did not hear patrons humming any tune whatsoever from the show when leaving. At the same time, it was impressive in an over the top quality.
Andrew Lloyd Webber even attended the show and appeared on stage, where he kissed Meghan Picerno (Christine) at final curtain. The show has still not appeared on Broadway; Webber is actually tweaking the performances to get it booked in Manhattan. I think everyone agreed the actors had their parts nailed, and the singers' voices were phenomenal.
I wonder if Webber will simplify the music. The original had songs very easy to digest, and had elements that mimicked established tunes. For example, Train's 50 Ways To Say Goodbye and the theme from Phantom Of The Opera are almost twins. Maybe the sequel was designed to have music that was too sophisticated to be compared to other works.
Sandy Edwards sat in front of me, and she said, "I was wowed! The cast was amazing. The stage outstanding and the cherry on my sundae was seeing Andrew Lloyd Webber! To be at the premier was even more exciting."
It was special! How many people get to see Webber just a few feet in front of them? Oh, I took a ship load of pictures of company with him. Some events are just spectacular!
STARRING:
The Phantom
Christine Daaé
Madame Giry
Raoul
Mary Michael Patterson
Meg Giry
Casey Lyons and Jake Miller
Sharing the role of Gustave
The trio of Phantom's henchmen
Fleck
Squelch
Gangle
Ensemble includes:
Lucas John Thompson
CREATIVE TEAM:
Producer, Composer, Book and Orchestrations
Lyrics
Book
Book
Orchestrations
Additional Lyrics
Director
Set and Costume Designs
Choreography
Lighting Design
Sound Design
LOVE NEVER DIES appears at the Fisher Theatre thru October 29


Andrew Lloyd Webber kisses Meghan Picerno

Love Never Dies Utica, NY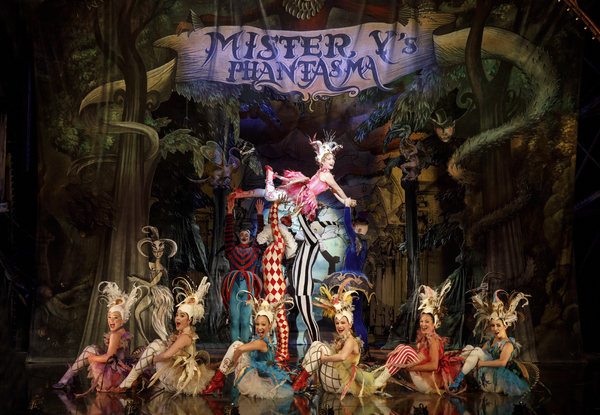 Love Never Dies Utica, NY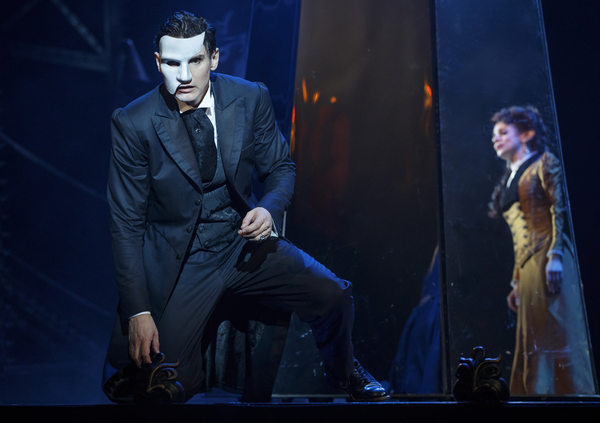 Love Never Dies Utica, NY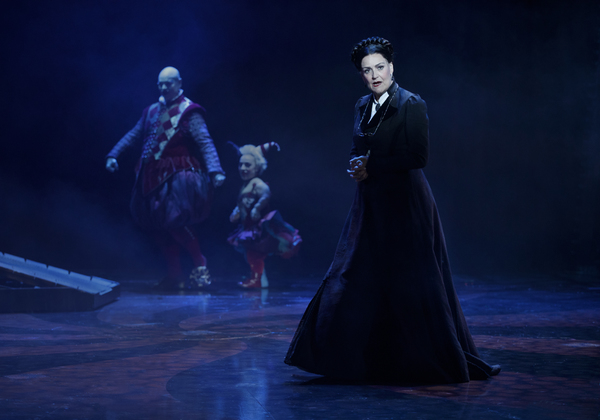 Love Never Dies Utica, NY

Love Never Dies Utica, NY