BWW Review: TWELFTH NIGHT at Rep Ensemble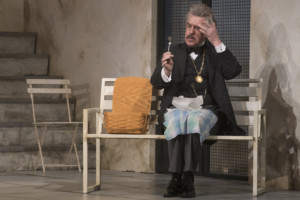 Nine years running, excellence in all aspects of theatre - cast and creative crew - continue to substantiate UD Rep Ensemble as the most professional troupe in Delaware. Aisle Say has often stated that there is no distinction from the majority of their productions as to one might expect in Manhattan.
The current production of Twelfth Night, or What You Will, verifies the acclamation. When the show ends on May 6, the actors, set, costumes will be whisked away to Brooklyn's Polonsky Shakespeare Center, home to the esteemed Theatre For a New Audience, where the REP will make its NY debut. This is a co-production with The Acting Company. As a result, you will see a few different faces on The Thompson Theatre stage at the Roselle Center for the Arts.
There are 3 actors in TWELFTH NIGHT that I recall vividly from the very first production I saw 9 years ago, Moliere's IMAGINARY INVALID; Michael Gotch, Stephen Pelinski and Mic Matarrese. This trio, along with the entire ensemble to follow, are virtuosos in their craft. The versatility of each and every one of them is astounding. I recall a quote from none other than Denzel: "80% of the success of a show is in casting". 9 years ago, Producing Artistic Director Sandy Robbins did one hell of a great job in casting his actors.
A year or two back I remember thinking after their HAMLET; how 'perceptive' how 'sensitive' how 'human' they make Shakespeare. No one leaves the theatre scratching their heads saying "what did I just see" or "that was dense". REP's direction of Shakespeare and the way the actors engage their characters make it so easy to understand...and relate to the human condition, 4 centuries after its origin.
Okay, you ARE done with WAITING FOR GODOT, I hope. Once is more than enough.
The only disconnect? The ludicrously low price of the ticket ($30.00) vs the quality of the production. Many of the creative crew are Tony Award winners. Director Maria Aitken was a Best Director nominee for the Tony Award winning THE 39 STEPS on Broadway. Check the bios. The list is extraordinary relative to where we reside.
Viola (Susanna Stahlmann) is shipwrecked on the coast of Illyria. She has lost contact with her twin brother, Sebastian, who she believes to be drowned. She disguises herself as a young man under the name Cesario, and enters the service of Duke Orsino (Matthew Greer).
Viola is not alone among Shakespeare's cross-dressing heroines; in Shakespeare's theatre, convention dictated that adolescent boys play the roles of female characters, creating humor in the multiplicity of disguise found in a female character who for a while pretended at masculinity.
As so, the very nature of Twelfth Night explores gender identity and sexual attraction.
No one is surprised to the extent that Shakespearean quotes have become part of our glossary. Spouts Feste "The Fool" (Joshua David Robinson), "Foolery, sir, does walk about the orb like the sun, it shines everywhere". (As we know, 'Fools' in plays by the Bard were hardly that). Another one: "Better a witty fool than a foolish wit". Here's advice I might have followed: 'Many a good hanging prevents a bad marriage'. But one quote particularly stood out: "Some are born great, some achieve greatness and some have greatness thrust upon 'em". Wow. How many times have you heard that! And, finally, in this production, quite a surprise with the final exit of Malvolio (Pelinski) 'I'll be revenged on the whole pack of you". In checking Farmer's Almanac afterwards, there was no lunar eclipse that night.
Through May 6 DelawareRep.com 302.831.2204
REP Ensemble 2018-2019 10th Season
Related Articles View More Delaware

Stories

Shows