Click Here for More Articles on Ballet!
BWW Previews: FIRST STATE BALLET THEATRE SEASON at Grand Opera House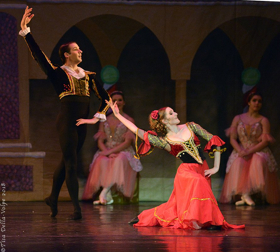 If Aisle Say was a multi-talented superior athlete and could choose from an array of sports to excel, down on my list would be ballet. Why? No season off to indulge in food and drink fantasies, rigorous abuse to the body, inferior pay and way, way too much discipline required.
And the women in pointe shoes? Waterboarding has more appeal. I looked it up: Pointe shoes were conceived in response to the desire for dancers to appear weightless and sylph-like and have evolved to enable dancers to dance en pointe (on the tips of their toes) for extended periods of time. (the definition did not mention self-imposed torture).
This is what makes ballet so very special. And, as such, why the exquisite two-decade work of First State Ballet is so vital to the cultural diversity of Delaware.
From nothing, literally nothing but drive and a dream, Artistic Director Pasha Kambalov and wife Kristina Kambalov, have created a troupe that dancers throughout the nation strive to belong.
I say 'literally nothing'. Yes. In the mid-'90's Pasha and a group of Russian dancers were stranded in Philadelphia. No money, no way to return and language issues. They came to Delaware and the rest is history. But that's a story for another time.
Ensconced on the 3rd Floor of The Grand, First State Ballet now constitutes not only a professional ballet company but also a school, training students from age four through adults. The curriculum is based on the Vaganova syllabus of classical Russian ballet, the world's most rigorous and thorough curriculum.
Aisle Say had an opportunity to witness both the adult class workout and a rehearsal of the professional company last week at their annual open house. The classes were under Pasha's tutelage. The dude has his head on a swivel. He misses nothing. He is blunt - but kind and constructive - in individual assessments to his charges.
Two unsung heroes of FSBT: Costumer Joanne Epstein and Photographer Tisa Della-Volpe. The women are as exemplary in their backstage roles as are the dancers in the limelight.
The photo, by Della-Volpe shows Hannah Epstein and Andrew Matte in "Spanish" from last year's NUTCRACKER.
First State Ballet Theatre's 2018-2019 Season at The Grand Opera House
DON QUIXOTE
Based on Miguel de Cervantes' charming tale of romance, this classic ballet features the misadventures of Don Quixote and his devoted squire, Sancho Panza. Join them as they set out on a new quest to find the beautiful Dulcinea only to be caught up between the budding romance of spirited Kitri and mischievous Basilio. A wonderfully entertaining ballet full of chivalry and humor, that is perfect for all audiences!
Fri, October 19 @ 7 pm
Sat, October 20 @ 7 pm
Sun, October 21 @ 2 pm
The Baby Grand Theater
UP FRONT WITH FSBT
On November 16-17 FSBT presents Up Front, one of our most popular events of the season. Performed in Studio 1 at the Baby Grand, Up Front gives audiences the chance to experience the dancing in an intimate setting. The program includes highlights from the classical repertoire and new contemporary work. Join FSBT dancers after the performance for a reception in Our Studios.
Friday, November 16 @ 7pm
Saturday, November 17 @ 7pm
The Baby Grand Theater Studio 1
THE NUTCRACKER
Join Delaware's ballet company for Wilmington's favorite holiday tradition! Experience the magical journey through the land of sweets in FSBT's lavish production.
Fri, December 21 @ 7pm
Sat, December 22 @ 2 pm & 7pm
Sun, December 23 @ 2 pm
The Grand Opera House Copeland Hall
COPPÉLIA
Coppélia, a comedic ballet, is the story of a clever young girl named Swanhilda, her fiancé Franz, the beautiful mechanical doll Coppélia, and an eccentric toymaker, Dr. Coppelius, who dreams of making a doll come to life.
Sat, February 9 @ 7pm
Sun, February 10 @ 2pm
The Baby Grand Theater
THE SLEEPING BEAUTY
The beloved story of the beautiful Princess Aurora is a classic. The Sleeping Beauty is one of the grandest ballets ever created, an enchanting experience for all the family.
Fri, April 12 @ 7 pm
Sat, April 13 @ 7 pm
Sun, April 14 @ 2 pm
The Baby Grand Theater
1-800-37-GRAND or visit www.ticketsatthegrand.org
First State Ballet Theatre 818 Market Street, Wilmington, DE 19801 302-658-7897 x3851 www.firststateballet.com