Photo Flash: Mainstage Irving-Las Colinas presents SISTER ACT
MainStage Irving-Las Colinas will the divine musical comedy SISTER ACT, running November 3 through 18, 2017, at the Irving Arts Center's Dupree Theater (3333 N. MacArthur Blvd., Irving, TX 75062). All evening performances are at 7:30 p.m., with Sunday matinees at 2:30 p.m. Single tickets range from $21-31 and are on sale now at the Irving Arts Center Box Office (972.252.2787/ www.irvingartscenter.com). Ticket discounts are available for seniors and students.
SISTER ACT is the feel-good musical comedy smash based on the hit 1992
Touchstone Pictures
film, written by
Joseph Howard
and starring
Whoopi Goldberg
. Featuring original music by Tony- and eight-time Oscar winner
Alan Menken
(Newsies, Beauty and the Beast, Little Shop of Horrors), this uplifting musical was nominated for five Tony Awards, including Best Musical. When disco diva
Deloris Van Cartier
witnesses a murder, she is put in protective custody in the one place the cops are sure she won't be a found: a convent. Disguised as a nun, she finds herself at odds with both the rigid lifestyle and uptight Mother Superior. Using her unique disco moves and singing talent to inspire the choir, Deloris breathes new life into the church and community but, in doing so, blows her cover. Soon, the gang is giving chase, only to find them up against Deloris and the power of her newly found sisterhood. SISTER ACT is directed and choreographed by
Michael Serrecchia
with Music Director Scott A. Eckert. The production stars
Cherish Robinson
as Delores Van Cartier, Susan Metzger as Mother Superior, Chuck Moore as Monsignor O'Hara, Claire DeJean as Sister Mary Robert,
Megan Kelly
A. Bates
as Sister Mary Patrick,
Gena Loe
as Sister Mary Lazarus,
Jamall Houston
as Curtis, Branden Bailey as Eddie, Christopher Dawson as TJ, Jeff Burleson as Joey, Taylor Owen as Pablo, Stephanie Felton as Sister
Mary Martin
, Mary Bongfeldt as Sister Mary Theresa, Chimberly Byrom as Michelle and Nitzia Martinez as Tina. The Nunsemble features Dana Taylor, Coleen LeBleu, Heidi Hood, Stephanie Butler,
Lucia Welch
, Lindsey Yarborough, Kasi Hollowell, Melissa Rosenberg, Laura L. Jones and Jeri Edwards. The ensemble features Gabriel Ethridge, Christian Jones,
Dwight Taylor
, Bennie Adkins, Jake Shanahan and Larry Macklin. In addition to Serrecchia and Eckert, the creative team includes Admin Producer Tom Ortiz, Tech Producer Clayton Cunningham, Assistant Director and Choreographer
Megan Kelly
A. Bates
, Set Designer Clare Floyd DeVries, Lighting Designer Sam Nance, Sound Designer Tyler Payne, Costume Designer
Michael Robinson
, Audio Visual Designer Vijay Gurow, Properties Designer JoAnne Hull and Stage Manager Madeleine Morris. Tickets are on sale now and can be purchased by calling the Irving Arts Center's Box Office at 972.252.2787 or by ordering tickets online at www.irvingartscenter.com. For information on MainStage Irving-Las Colinas, visit www.irvingtheatre.org.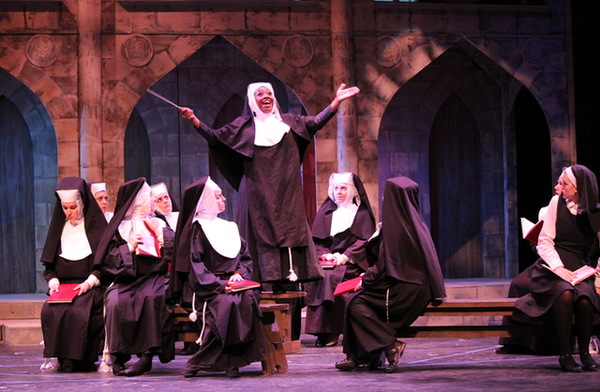 Cherish Robinson as Deloris Van Cartier (left) and the cast of Sister Act. Photo by Dustin Curry, SoloShoe Communications, LLC.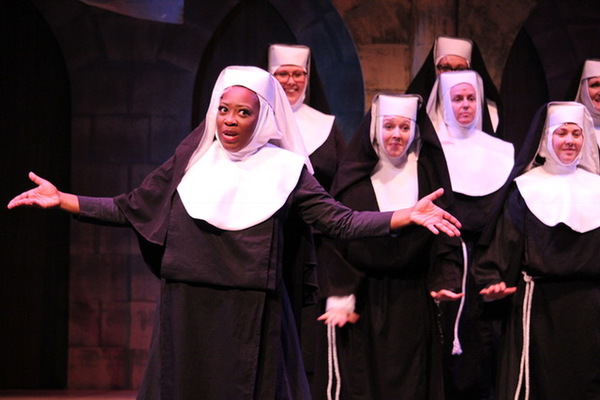 Cherish Robinson as Deloris Van Cartier (left) and the cast of Sister Act. Photo by Dustin Curry, SoloShoe Communications, LLC.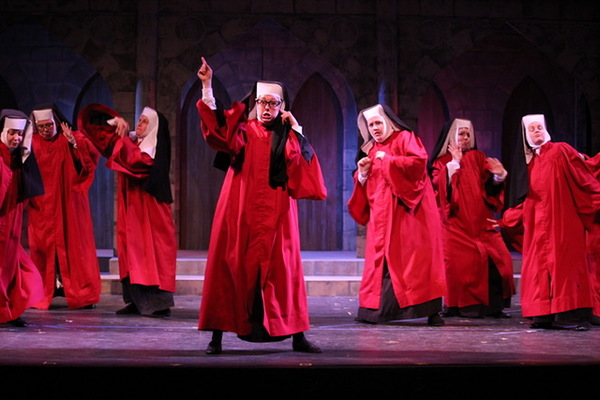 Gena Loe as Sister Mary Lazarus (center) and the cast of Sister Act. Photo by Dustin Curry, SoloShoe Communications, LLC.