Review: PRISCILLA QUEEN OF THE DESERT at Uptown Players
Life isn't always rainbows, sequins, and platform shoes unless of course, you've taken a seat at one of Uptown Players' frequent musical spectacles. And, although this season's PRISCILLA QUEEN OF THE DESERT could use a pinch of polishing, the over-the-top extravaganza promises a gay old time.
Based on the 90's cult classic film of the same name, PRISCILLA is the campy tale of female impersonator "Tick" (Kelly Groves) who travels across the Australian Outback to meet his young son, Benji (Alex Prejean), who's being raised by his long-estranged, casino-owning wife Marion (
Mary Gilbreath Grim
). Along for the ride are aging transgendered show gal Bernadette (
Jack Donahue
) and young, hard-bodied drag queen Adam (
Blake McIver
) who
may both don bosoms but aren't quite buddies. Once outside of their familiar territory, the trio faces a handful of obstacles that threaten their journey, but they're determined to
ride their low-budget tour bus to their destination, where a lively casino show audience and a young boy await their arrival.
With a jukebox score chalk full of showstoppers like "It's Raining Men," "Girls Just Wanna Have Fun," "I Will Survive," "Material Girl", and at least a dozen other pop tunes you're sure to know and want to sing along with, the leading trio has infinite opportunity to steal the show from one another. Still, it's the secondary characters that leave the most lasting impression in Uptown's current hit. First up is Kelly Schaaf, as the monotone, mullet-wearing Shirley, a redneck patron of an Australian watering hole who can't quite catch some action. Her hip-thrusting "I Love the Nightlife" left the house roaring with laughter. The same can be said for Nana Tatebayashi's Cynthia, a sheltered housewife with her own dreams of sharing a hidden talent onstage. The special effects in her "Pop Muzik" presentation may not have perfectly paid off, but her gut-busting performance made up for any technical shortcomings. The three Divas, who provide vocals for the epic drag numbers, (Laura Lites, Beth Lipton, and Dana Harper) take the show to its highest vocal heights. But the heart of the show is held by Sonny Franks, who plays Bob, the small-town straight (but not narrow-minded) mechanic who fixes their vehicle, as well as mends a broken heart. He deserved more stage time, as his beautiful voice and heartfelt portrayal endeared him to the audience.
Both Jack Donahue (Bernadette) and Kelly Groves (Tick) were full of energy and gave commendable performances, but occasionally felt out-of-sync with the pacing of the hilariously warm script, which quickly ping-pongs between witty, one-liner jokes and raw, heartfelt moments. The most convincing of the leading men (or women, depending on the scene) is Blake McIver, whose stage talents stand on their own apart from any childhood fame he may be associated with. As Adam (or Felicia, when dressed in drag), McIver skillfully commands the stage with expert comedic timing and a pleasant voice.
Kevin Gunter and his eight-piece band often steal the show with the terrific, toe-tapping music, which is perfectly balanced with the onstage vocals. (Special kudos to dialect coach Isaac Leaverton, for making sure those thick accents could be clearly understood.) Director and choreographer Ann Nieman had an enormous task in leading this show, especially given the fact that she was originally slated to merely stage the musical numbers. While she keeps the show running at full speed (no bus pun intended), there are a handful of moments that just don't feel well planned or executed. One glaring example is the finale's fast-forward musical montage, which is frequently tarnished by an ill-timed and unconvincing stage transition. And, unlike the opening night performances I generally attend where small faults are easily overlooked, this review is of the show's second week of performances, where minor kinks should generally have worked themselves out.
Despite its faults, PRISCILLA QUEEN OF THE DESERT is a perfect fit for the incredible queer mission of Uptown Players' efforts, and you can't quite go wrong with more than two dozen disco hits, towering high heels, and a handful of Dallas' favorite flamboyant friends.
PRISCILLA QUEEN OF THE DESERT, written by Stephan Elliot and Allan Scott, runs through Sunday, July 29th. Tickets and more information can be found at www.uptownplayers.org.
Kyle Christopher West is obsessed with the arts. Growing up on Cape Cod, Massachusetts, Kyle trained as a gymnast and dancer where he performed across the East Coast in productions of West Side Sto... (read more about this author)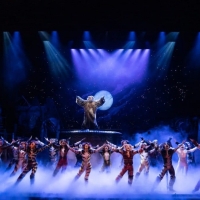 BWW Review: A 'Practical CATS' Performance at Proctors

May 5, 2022

The '80s delivered endless iconic pop culture trends like leg warmers, neon, Walkmans, Whitney, and Madonna. Broadway in the '80s also saw a unique culture shift as British mega musicals like LES MISERABLES and THE PHANTOM OF THE OPERA began to take over the American stage. First on the scene, though, was CATS, which uniquely married the worlds of theater, ballet, spandex, and synthesized music in 1982. And although CATS has purrhaps only grown more hair-raising with age (not to mention enhanced audience expectations), the song-and-dance spectacle continues to mesmerize and mystify audiences more than 40 years after its inception.
---