BWW Interview: Barrymore Awards Nominee GISELA ADISA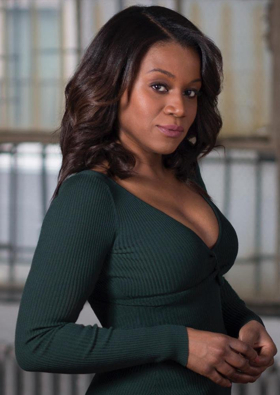 Gisela Adisa just might be the next big name in theatre. A 2018 nominee for the Barrymore Awards for Outstanding Supporting Performance for Lights Out: Nat King Cole, she's got talent to spare, she's gorgeous, she's articulate, she's funny, and she's bold. She's appeared on Broadway in Beautiful and in the national tour of Sister Act. BroadwayWorld.com just had to get to know her better. Her first name is pronounced JEEZ-ela. Remember that. Catch her as she winds up her role as the definitive Aldonza in Man of La Mancha at the Westport Country Playhouse (www.westportplayhouse).
BWW: Were you familiar with Man of La Mancha before you auditioned for it? (You're very youthful. This show came out decades before you were born!)
Thanks for the compliment! I can remember seeing the inimitable Brian Stokes Mitchell play the titular role during the 2003 run on Broadway. At the time, the late Marin Mazzie was Aldonza. Never in a million years did I picture myself in that role. Never!
I didn't think that a Haitian/Dominican-American actor such as myself might be cast in the role of Aldonza in Man of La Mancha, traditionally set in Spain and typically played by a white woman.
Most of my final callbacks were for shows like The Color Purple, Rent, Aida...I assumed, as with many lead roles on the Great White Way, it wasn't meant for a person of color to play. I'm so grateful that turned out to be false.
Actually, Actor's Equity really seems be making a sincere effort to "change the stage" with regards to blind and non-traditional casting opportunities.
I'm excited to hear of fresh takes on traditional musicals like the St. Ann's Warehouse revival of Oklahoma! with Rebecca Naomi Jones as Laurey and Ali Stroker as Ado Annie. I think it gives the next generation of artists and theatergoers a fresh start on believing they don't have to limit themselves to the way things were before.
Have you been cast non-traditionally in other roles? If so, which ones?
Man of La Mancha is actually the first time I've been non-traditionally cast in a traditional musical. I've booked small tv and commercial roles via open casting and once did a play with Lori Petty called where the role breakdown originally called for a "Hitchcock Blonde" type. I guess she liked my take on the character, so the creatives let that idea go.
I believe that as long as the stories we are charged with telling don't suffer, non-traditional and gender inclusive casting are much needed tools to opening up to a new era in the arts.
There's this old conversation between cast and creatives that seems to run on a Möbius strip: Casting directors saying they would gladly cast more non-white or gender fluid actors if they'd come to the calls and actors saying they don't bother attending those calls because they've yet to be called back for a traditionally white/gendered role. [Note to actors: show up, even if you don't think you'll get the role!]
Recently, I self-submitted for the role of Grace in Annie. There was nothing in the breakdown about race, save for the usual blanket footnote "ethnicities or all encouraged to attend." So, I submitted.
I got an appointment and was the only actress of color in the room. Been there, done that, bought the t-shirt! It went OK in the room but I didn't have that "callback vibe" we actors hope for.
As I headed toward the door after the usual thank you's, the casting director said "Gisela!". I turned, and with the most sincere look in his eyes he said, "Thank you!" There was something about his tone that led me to believe that my being seen for that role would mean something.
That production ended up casting the wonderful Rebecca Covington.
You know the old saying "You've got to break some eggs to make an omelet"? Sometimes, you've got to be the egg :)
What was your most challenging role and how did you prepare for it?
To this day, playing the title role in a beautiful but brief Columbia Stages production of Michael John La Chiusa's dark musical Marie Christine has been the greatest challenge. I was scared to take on but director Ray Zilberberg believed in me, more than I believed in myself. I'm forever grateful for his faith in me.
What roles would you still like to play?
Tina Turner might be fun, and a dream role. I grew up on some Tina and her story is the American Dream and a testament to the strength of women. But overall, I would venture to say that most of the roles I would like to play have yet to be written. Or to be brought to light. [We're thinking Ibsen, Chekhov.]
You played Eartha Kitt in Lights Out: Nat King Cole. Were you familiar with her work?
Once I knew I'd be working with Patricia McGregor (um Hello, "Hurt Village"!!) and Colman Domingo (who will forever be Victor Strand to me) I knew I had to immerse myself in all things Eartha. And I did. Right down to studying tv interviews for her mannerisms, her unique speech pattern and singing timbre, her discography and filmography. Her life as we knew it. Taking in personal stories of artist friends who knew her is still a favorite pastime.
What career would you have pursued if you didn't go into performing?
I used to have a really hard time even trying to fathom that idea, but more and more I'm realizing that it would have to be a position of public service. [She can do both, but we really want to continue to see her perform.]
I belong to Broadway Inspirational Voices and Vocal Ease, nonprofit organizations that promote outreach to seniors, the disabled, the displaced and the sick, using music. I'm doing what I can right now to encourage more people to get registered in time to vote in the upcoming midterm elections. Usually I'd take part in some voter phone banking, but my current schedule makes that a challenge.
Do you have your next show lined up?
There is another "purrrrfect" project on the horizon but the ink isn't quite dry. I'll keep you posted!
What else would you like readers of BroadwayWorld.com to know about you?
Oh wow...I don't know, but pretty much anything you'd like to know about me personally, you can glean from my social media account on Twitter and Instagram- I have never been one to hide my true self or keep my opinions shrouded. And now is certainly not the time for that.
Visit Gisela at www.iamgisela.com. Follow her on @imGisela and @GiselaAdisa on Instagram and @imGisela on Twitter.