BWW Reviews: Imagine steers recent graduates down Avenue Q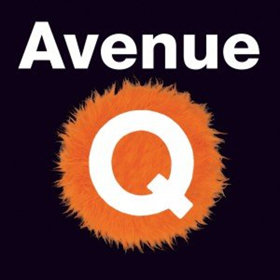 Each year colleges across the country come up with an odd list of commencement speakers, from Kermit the Frog (Southampton University) to Mike Tyson (Central State University), to offer pearls of wit and advice to their college graduates.
Universities looking to trim their commencement ceremony budget and offer their grads a real-world reality check should turn to the folks of Imagine Productions and the cast of their most recent production, AVENUE Q. The two-act musical, created by Robert Lopez and Jeff Marx, opens "What Do You Do with a B.A. in English?" which should replace Pomp and Circumstance as the official graduation theme.
What do you do with a B.A. in English? What is my life going to be?
Four years of college and plenty of knowledge have earned me this useless degree.
I can't pay the bills yet, 'cause I have no skills yet,
The world is a big scary place.
But somehow I can't shake, The feeling I might make,
A difference to the human race.
Imagine's production, which open on May 9 and closed May 13, seems just as fresh, risqué, and shocking as the original production did in 2003. Imagine (no pun intended) an extremely adult version of Sesame Street where Cookie Monster is addicted to porn instead of chocolate chips, Bert is deeply in the closet of the apartment he shares with Ernie, and DIFF'RENT STROKES star Gary Coleman works as a landlord after his parents stole all of his money and you have a small cul de sac of AVENUE Q.
The show centers around the on-again, off-again relationship of Muppet-like creations Princeton (Alex Lefeld) and Kate Monster (Michelle Winberry). Lefeld is the perfect human operator for Princeton, a recent college graduation who is struggling to find his purpose while Winberry provides a very human side to Kate, who dreams of opening a Monstersoria School for the misunderstood minority Monsters. While the show thrives because of its off-beat, sarcastic tunes like "Schadenfrauden," "Everyone's A Little Bit Racist," and "If You Were Gay," Winberry's delivery of the torch song, "There's a Fine, Fine Line" is the soul of the show.
However what makes the traffic flow work on Avenue Q is the intersecting stories - the unrequited love between Rod (Todd Holland-Falcone) and his straight roommate Nicky (Brandon Boring), the controlling connection between Brian (Patrick Schaefer) and Christmas Eve (Sharon Kibe), the fractured relationship between Coleman (Alex Landexter) and his parents and of course, the one-sided affair between Trekkie Monster (Erik Bobbitt) and his computer.
The interaction between Rod his therapist/neighbor Christmas Eve provided one of the big laughs of the night when he talks about his "friend" who is in the closet. After Eve lists all the positive (and stereotypical) contributions gay people have made to society, Rod says his "friend" is not like that. He's a Republican and an investment banker. Eve delivers "Oh... well, tell him to stay in closet then. He good for nothing."
One of the great things about P. Tim Valentine's direction and the script is it gives even the minor characters like the Bad Idea Bears (Bridget Harrington and Eric Neuenschwander), Lucy The Slut (Aleksa Kaups) and ensemble players Corrine Buuck and Andrew Johnston chances to deliver a punch line. One of Buuck's characters only had two lines as a suicidal jumper, "I'm going to jump," and, after a crowd of characters tell her not to do it, she quickly backs off with a quick "OK."
Imagine's creative handling of AVENUE Q makes one wonder what is coming up next. Theatre goers will have to wait until August when the theater presents ROCK OF AGES Aug. 2-5 at the Northland Performing Arts Center (4411 Tamarack Blvd. in North Columbus).
Related Articles View More Columbus

Stories

Shows