Cleveland Public Theatre's 'Party of the Year' to Return in PANDEMONIUM 2017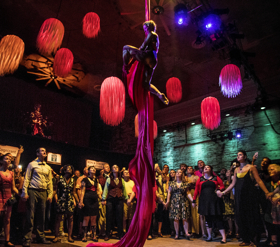 Cleveland Public Theatre (CPT) Executive Artistic Director, Raymond Bobgan, presents Pandemonium 2017 - CPT's annual benefit and theatrical spectacular - on Saturday, September 9, 2017, from 7:00pm through midnight. The Pandemonium 2017 theme is "Unleash."
Guests enjoy complimentary valet, drinks and delicious food from some of Cleveland's top chefs, alongside breathtaking entertainment in every corner of CPT's campus. Named "Fundraiser Event of the Year" (Connectors Choice Award 2013 & 2014), Pandemonium is a uniquely immersive "choose-your-own-adventure" style event, featuring nearly 300 Northeast Ohio artists premiering over 50 original works and musical acts on 20 different stages and in unexpected places. The Pandemonium 2017 lineup includes bands, DJs, contemporary dance, short plays, comedy, cabaret performances and more.
Check out a short video trailer of last year's Pandemonium event below!
---
This year, CPT honors Andrew Watterson with the 2017 PAN Award in celebration of his contributions to the arts, environmental sustainability and community development.
IF YOU GO:
Pandemonium 2017: UNLEASH
When: Saturday, September 9, 2017. Registration begins at 6:45pm, doors open at 7pm.
Where: Cleveland Public Theatre, 6415 Detroit Avenue, Cleveland, OH 44102.
Tickets: $165 ($95 tax deductible) includes food, drink and complimentary valet parking
Tickets are available online at www.cptonline.org or by calling (216) 631-2727 ext. 501. Proceeds support CPT's groundbreaking artistic work and education programs.
Pandemonium 2017 performers (list subject to change):
Dance Performances from Verb Ballets, Inlet Dance Theatre, Wind & Sand Dance Company, Elu Dance Co., Duece Dance & Friends, BC Miles, Suga Shack Girls Burlesque and Double-Edge Dance Live Music & Comedy Performances by Pureplex DJs featuring Neil Chastain & Byron Lee Eulinberg (aka Funk Shway), By Light We Loom, David Loy & the Ramrods, The Church of Starry Wisdom, Señor Symphonifunk, Buck McDaniel, Cleveland Opera Theatre, Mourning A BLKstar and more Original Theatrical Work by Teatro Publico de Cleveland, Raymond Bobgan & the Cleveland Core Ensemble, Tecia Wilson, Ray Caspio, RA Washington, Melissa Crum & Caitlin Lewins, Cathleen O'Malley, Pinch & Squeal!, Roaring ThiRD Productions, Sally Groth, Greg Vovos, Amanda Lin Boyd & Juice McKenna, Stuart Hoffman, Amy Schwabauer, Stephanie Wilbert & Erin Dolan, Les Hunter, Meredith L. King, Elaine Hullihen & Daved Thonnings, Theater Ninjas and many more Wandering Performances by The Cleveland Museum of Art Community Arts, Mark Zust, Kalindi Stockton, Teatro Publico de Cleveland and others Visual Art Installation & Multimedia T. Paul Lowry, Kerry McCarthy, Eric M. C. Gonzalez, Vickie Williams, Dayni Maher and more
Pandemonium 2017 Celebrity Chefs:
Celebrity chefs will be cooking live throughout the campus, including: Astoria Café and Market, La Campagna, Luxe Kitchen and Lounge, The Root Café, Toast, West Side Market Café and XYZ Catering.
About the 2017 Pan Award Honoree: Andrew Watterson
Andrew has served on the board of CPT since 2009 and also serves on the Gordon Square Arts District board. Andrew is Senior Vice President and Head of Sustainability for KeyBank, where he uses his environmental and organizational change expertise to lead the bank in the development and execution of a sustainability strategy.
Andrew has also served on the boards of the Cleveland International Film Festival and the GreenCity Blue Lake Institute at the Cleveland Natural History Museum. He lived for 10 years in Gordon Square Arts District, most recently moving with his husband Randy Lanoue to the Edgewater Park neighborhood. His love for this community runs deep and CPT is thrilled to honor him. Full bio for the 2017 Pan Award Honoree is available here.
PANDEMONIUM 2017 HONORARY CHAIR
Honorable Frank G. Jackson
CO-CHAIRS (*indicates past Pan Award honoree)
Amy Brady, Jason Bristol & Alex Frondorf, Barb & Chuck Brown, Hon. Joe Cimperman & Nora Romanoff* (2011), Trina Evans & Ken Birch, Randy Lanoue, Pat & Chuck Mintz* (2016), Phil Oliss & Rachel McQuade-Oliss, Margie & John Wheeler, Karen White, Hon. Matthew & Michelle Zone* (2005)