Cleveland Public Theatre Presents AMERICAN DREAMS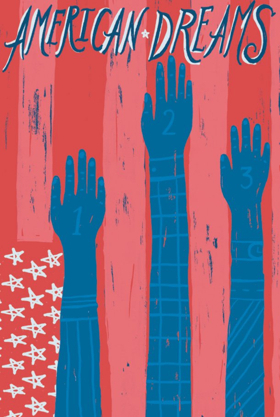 Cleveland Public Theatre (CPT) is proud to present the world premiere of American Dreams. The production is onstage from February 8 - March 3, 2018, in CPT's James Levin Theatre.
You are invited into the live studio audience of American Dreams, where you will decide which of three contestants -a Pakistani cartoonist, a Palestinian chef, or a Mexican medic -will receive the ultimate prize: citizenship in "the greatest nation on earth." Weaving playful audience engagement with up-to-the-moment questions about immigration and more, this participatory performance explores how we navigate between fear, security, and freedom; who and what we choose to believe-and how those choices come to shape who we are.
According to CPT's Executive Artistic Director, Raymond Bobgan: "Regardless of whether you're someone who wants to build the wall, or someone who thinks we should throw the doors of America wide open to spur our economy, or anyone in between... it's important that as we think and talk about these issues we remember we are talking about people. This is not a play about policy or Dreamers or "the wall." It's about people who simply want to lead a better life and the inherent desire to protect the life we have."
According to Global Cleveland's President Joe Cimperman: "I'm excited for this production and I am excited for March 4th - the day after American Dreams concludes here in Cleveland as its impact ripples across our city. I'm eager to witness how Cleveland may have fundamentally changed - this is why Global Cleveland encourages people to meet new neighbors that don't look like them and interact with strangers with greater compassion. We look to have volunteers assist us at every Naturalization Ceremony to welcome the New Americans awaiting citizenship and we commit to educating employers on hiring international applicants for jobs with greater appreciation. When we celebrate diverse peoples and cultures, foster collaboration and support, and harness the power of arts to transform our community, Cleveland and Cuyahoga County, and the people of Cleveland, are truly great." The contest takes place in four rounds and culminates in an audience-wide vote. "Round I / How America Works!" is a buzzer-style quiz taken directly from the U.S. citizenship test. "Round II / America's Favorites!" invites three audience members to volunteer to help contestants answer questions from national surveys about American cultural preferences and norms. "Round III / Aliens with Extraordinary Skills!" is what is commonly known as "the talent round." Contestants showcase skills and share their dreams and beliefs in ours. "Round IV / The Hot Seat!" heats up the competition as audience members ask tough questions of each contestant. Within "The Vote!," the audience decides the lucky winner, thus determining the fate of the losing contestants.
The show transforms abstract political debates into person­al, tangible questions: What shifts when we aren't talking about distant borders but potential neighbors? What kinds and levels of bias do we bring to the conversation? Who would you take a chance on? How far would you go to advo­cate for your choice? Do you trust the system? If not, why and how do you continue to participate in it?
The cast includes Ali Andre Ali, Josh Brown, Leila Buck,* India Nicole Burton, Lynna Metrisin, Jens Rasmussen,* Imran Sheikh,* Brenton Sullivan, and Andrew Aaron Valdez. *Actor appears courtesy of Actors' Equity Association, the Union of Professional Actors and Stage Managers in the United States.
American Dreams was written by Leila Buck, and directed and developed by Tamilla Woodard. The creative production team includes Raymond Bobgan - Producer; India Nicole Burton - Assistant Director; Colleen McCaughey - Stage Manager; Wes Calkin - Lighting Designer; Sam Kusnetz & T. Paul Lowry - Sound Design; T. Paul Lowry - Video Designer; Kerry McCarthy - Costume Designer; Ryan T. Patterson - Scenic Designer.
American Dreams was developed in collaboration with Ali Andre Ali, Osh Ghanimah, Jens Rasmussen, Imran Sheikh, and Andrew Aaron Valdez.
American Dreams previews February 8, 9, 10, & 15 (no show February 12). Press Night is Friday, February 16 and the show runs through March 3. Performances are Thursday, Friday,Saturday, and Monday nights at 7:00pm in CPT's James Levin Theatre, located at 6415 Detroit Avenue, Cleveland, OH 44102, in the heart of the Gordon Square Arts District.
Tickets are $12-30. Students/Seniors receive $3 off on Friday and Saturday nights. All Thursdays and Mondays are $12. Friday/Saturday previews are $20.
PURCHASE TICKETS at www.cptonline.org or call the CPT Box Office at (216) 631-2727 x 501. Group discounts are available - call the Box Office to inquire. (Reserve early! - CPT never charges any ticket fees, ever.)
The James Levin Theatre is ADA compliant, featuring a patron elevator and an all gender, wheelchair accessible restroom.
Every Friday is Free Beer Friday at CPT. Mingle with the artists after the show and discuss the performance in a lively, social atmosphere - your drinks are on CPT.
Photo credit: Sean Higgins
Related Articles View More Cleveland

Stories

Shows
More Hot Stories For You