Review: AROUND THE WORLD IN 80 DAYS at Shahrazed Theatre/Ensemble Theatre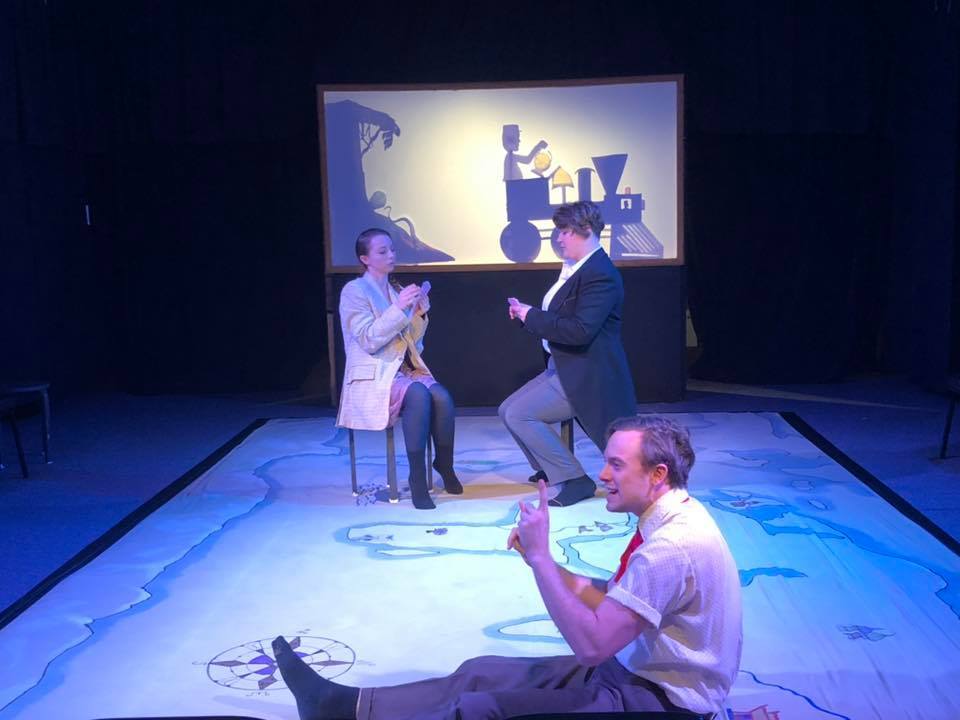 Imaginative "Around The World in 80 Days" by Shahrazad Theatre Company
Shahrazad Theatre Company was formed late in 2016 with "the purpose of performing shows that were important and valuable contributions to today's Cleveland theatre scene."
Their home base is in Cleveland Heights' Ensemble Theatre, where the company is an "incubator," with Ensemble's staff acting as their fiscal agents and guiding them in show production.
The three company co-founders, who met while students at Hiram College, are Kyle Huff, Kayla Davis and August Scarpelli.
Shahrazad's latest production is "Around the World in Eighty Days," based on the classic Jules Verne novel of the same name.
The play, which loosely follows the novel's story line, centers on Phileas Foggand his newly employed Frenchvalet,Passepartout. Based on a wager, the duo attempts to circumnavigate the world in 80 days, a major task in 1872, when air transportation didn't exist, train lines were few, and ship travel was perilous.
Fogg, with mathematical precision, figures that the task can be accomplished as a new railway section in India has been opened, which makes the connections to various parts of the world possible.
With Passepartout accompanying him, Fogg departs from London by train at 8:45 p.m. on 2 October. In order to win the wager, he must return to the club by this same time on 21 December, 80 days later..
The planned itinerary is London to Suez, Egypt, Suez to Bombay, India, Bombay to Calcutta, India, Calcutta to Victoria, Hong Kong, Hong Kong to Yokohama, Yokohama to San Francisco, San Francisco to New York City, and New York to London. Their planned means of transportation includes rail and steamer. Of course, many complications along the way endanger their not accomplishing the task and losing the wager.
The challenge for the Shahrazad Theatre is how to envision the trip so that the audience is a participant on the voyage.
The major means for the imagination is a world map which covers the entire Playground Theatre's floor, allowing for a clear picture of the path and a padded surface for pratfalls, lots of slapstick, overacting, gender bending and imagination. Creative shadow puppets add to the illusion.
The cast, Hannah Storch, Kyle Huff, Becca Moseley Davis, Andrew Keller, Valerie Young and Santino Montanez put out full effort. The showis nicely directed by August Scarpelli.
Kyle is especially effective as Passepartout, flinging his slight body around like a rag doll and overdoing the French accent and outrageous situations just to the right level.
Capsule judgment: "Around The World in 80 Days" isan inventive, enjoyable and family-friendly little show. To truly go along for the ride one has to abandon theatrical etiquette and let loose and have a good time and participate in the involving audience experience.

"Around The World in 80 Days"runs until December 16, 2018 on Fridays and Saturdays @ 7 pm, Saturdays @ 3 pm and Sundays @ 2 at Ensemble's Theatre, housed in the former Coventry School, 2843 Washington Blvd, Cleveland Heights. For tickets call 216-321-2930 or go online to http://www.ensemble-theatre.org