AIDS Taskforce of Greater Cleveland to Host Benefit Performance of Charles Busch's THE DIVINE SISTER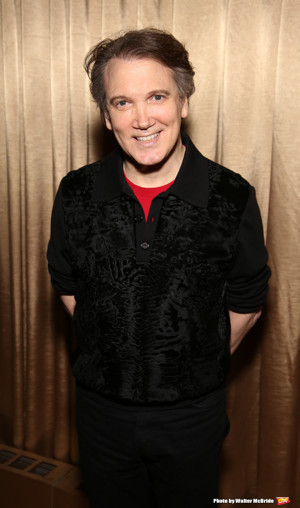 Spend an evening with the nuns of St. Veronica's when the AIDS Taskforce of Greater Cleveland (ATGC) presents its seventeenth annual benefit production "The Divine Sister" by Charles Busch, which will be performed on Monday, August 20, 2018, at The Cassidy Theatre in Parma Heights. All proceeds from the August 20th performance will benefit ATGC.
Performed Off-Broadway in 2010, "The Divine Sister" is a rollicking tribute to every Hollywood movie involving nuns. Master satirist and drag performer Charles Busch brings together plot elements of "The Bells of St. Mary's," "The Trouble with Angels," "The Sound of Music," "Agnes of God," "The Nun's Story," "Black Narcissus," and even "The Da Vinci Code"to tell the story of St. Veronica's.
It's 1966, and Mother Superior is trying her best to keep St. Veronica's convent and school open as a bastion of traditional values in a changing world...but it's not easy! Her best friend, Sister Acacius, is starting to behave strangely. The new postulant, Agnes, claims to have visions and heal the sick. The convent building is crumbling around them, but local philanthropist Mrs. Levinson won't give her a dime to help. The mysterious Sister Walburga is visiting from Berlin and keeps going down into the cellar. And now, on top of everything else, her long-lost love Jeremy shows up with a tempting offer. What is a singing nun to do?
As in past years, the benefit production is presented by an independent team of local theatre professionals, under the leadership of director Curt Arnold. In addition to the annual benefits, Arnold has directed, performed or stage managed at a number of area theatres, including both Cassidy Theatre and Weathervane Playhouse. Baldwin Wallace University Conservatory of Music professor Herbert Marshall will music direct the production, which features costumes by Jenniver Sparano. Marshall will be joined in the orchestra by drummer Gregory Cross.
The cast of "The Divine Sister" brings together veteran performers from the Cleveland theatre community, all of whom have appeared in previous AIDS Taskforce benefit productions as well. Actor, director, and teacher Jonathan Kronenberger, who has appeared onstage in numerous productions at Beck Center for the Arts and Blank Canvas Theatre, takes the role of Mother Superior, originally performed by Busch himself. Joining him in the convent are Rachel Spence, best known for her comic turns in local murder mysteries, as Sister Acacius and Pat Miller, who most recently appeared in the title role of Near West Theatre's production of "The Hunchback of Notre Dame," as Agnes. Brian Altman, fresh from Beck Center's acclaimed production of BENT, appears as both Jeremy Templeton and the mystical albino monk, Brother Venerius. Also taking on two roles, Trey Gilpinsubtly portrays Scottish housekeeper Mrs. MacDuffie as well as the mysterious Sister Walburga; Gilpin also appears this summer in Ohio Shakespeare Festival's "The Three Musketeers, An Adventure with Music." Tim Keo, a longtime actor-teacher with Great Lakes Theatre who has appeared onstage as the bass player for every ATGC benefit since 2003, steps out from behind the bass to take on the roles of wealthy Mrs. Levinson and sensitive lad Timothy.
The annual ATGC benefit production is presented as a semi-staged "concert production," inspired by New York City's "Encores" series. Although the performers do wear costumes, there are no sets and minimal props, and cast members carry scripts when they are not dancing. Director Arnold explains that this approach allows the team to raise as much money as possible. "We don't have a lot of production costs," he noted. "We beg and borrow props and costumes from other theatres where we can and pay for royalties and any other expenses out of pocket. That allows us to give 100% of the ticket price to the agencies that we are supporting."
The concert staging puts the emphasis on the talent of the performers, and also creates a less structured atmosphere, allowing the actors to feed off the energy of the audience. Each evening also features an intermission raffle - including the chance for a walk-on role in the second half of the show - and the auction of a signature costume piece at the end of the performance. "Of course, raising money for the AIDS Taskforce is our goal with this Parma Heights performance," said Arnold, "but we want our cast and audience members to have as much fun as possible together while doing it!"
Tickets to the August 20, 2018 performance of "The Divine Sister" are available from Rebecca Strong at the AIDS Taskforce of Greater Cleveland at 216-235-3417, or on-line at https://www.eventbrite.com/e/the-divine-sister-tickets-45222190790. Tickets are $25 each and seating is general admission. The performance is at 8:00 pm. The Cassidy Theatre is located at 6200 Pearl Road, in the Greenbriar Commons complex, Parma Heights, OH 44130. For more information about ATGC, please visit www.aidstaskforce.org.
The AIDS Taskforce of Greater Cleveland (ATGC) is a community-focused nonprofit HIV/AIDS Service Organization (ASO) that offers a comprehensive continuum of non-medical HIV/AIDS services in Cuyahoga and five surrounding communities. As Greater Cleveland's oldest and leading ASO, the Taskforce provides vital "safety net" support services and prevention education for those at greatest risk. It also leads public policy initiatives, ensuring equal rights and opportunities for people living with and disproportionately affected by HIV/AIDS. Approximately 700 people with HIV/AIDS and their families are directly served by Taskforce support services, and many thousands more are served through prevention and advocacy initiatives. The Taskforce's mission is "To provide a compassionate and collaborative response to the needs of people infected with, affected by, and at risk of HIV/AIDS. This is accomplished through leadership in prevention, education, supportive services, and advocacy."www.aidstaskforce.org
Photo Credit: Walter McBride / WM Photos
Related Articles View More Cleveland

Stories

Shows
More Hot Stories For You