Photo Flash: First Look at The Carnegie's PARADE
Despite Tony Award wins for its soaring score and riveting script in 1999, the theatrical telling of the Leo Frank story is one rarely produced, requiring a large and talented cast and recounting a real American tragedy many would rather forget. That will change this April.
The Carnegie and CCM Musical Theatre present the stirring and multiple Tony Award winning musical PARADE, book by Alfredy Uhry and music & lyrics by Jason Robert Brown. Co-directed by Dee Anne Bryll and Ed Cohen and featuring a cast comprised entirely of CCM Musical Theatre students, PARADE recounts the true story of Leo Frank, a Jewish factory manager wrongfully convicted of murder in early 20th century Atlanta. PARADE is the final entry of The Carnegie's 2012-13 Theatre Series. Tickets are $19 - $26 and are available online at www.thecarnegie.com or by calling The Carnegie Box Office at (859) 957-1940 (open Tu - Fr, noon - 5 pm).
PARADE coincides with an exhibition in The Carnegie Galleries, featuring powerful photographic images by Daniel Smith and Kent Krugh and sculpture by Jennifer Beresford that will enhance the theatrical experience. The April 5 opening reception will begin at 6:00pm, with admission free to PARADE patrons. The exhibition continues through the run of the show.
PARADE is sponsored by HGC Construction.
In addition to the performances on stage, PARADE patrons will have an opportunity to view a special exhibition in The Carnegie Galleries created to enhance the PARADE experience through visual art. The work of Daniel Smith, Kent Krugh and Jennifer Beresford will be on display in the Main Gallery; their images are metaphors to the struggle of the subject matter that ensues in the theatrical production. Trees in a layered dream-like focus by Krugh; the pit-fired vessels of Beresford that examine a process of how clay was first fired; and the large, bold images of Smith portraying a beautiful world shattered by pain combine to enhance the viewer's engagement and dialogue with PARADE.
Admission to The Carnegie Galleries is free of charge to PARADE patrons throughout the run. An opening reception on Friday, April 5 at 6:00pm will also be complimentary to PARADE patrons, and will include a cash bar and light hors d' oeuvres.
This will represent the first full programmatic collaboration between The Carnegie's Theatre and Gallery departments, capitalizing on the organization's unique multi-disciplinary nature.
In advance of the full production of PARADE, The Carnegie will be offering a series of four lecture performances at venues around Greater Cincinnati. Featuring a talk by the show's co-directors and songs performed by its actors, the events will each last 60 - 90 minutes and are free of charge and open to the community. Locations to include: Mayerson JCC - 8485 Ridge Road, Amberley Village; The Mercantile Library - 414 Walnut Street, Downtown; Isaac M. Wise Temple - 8329 Ridge Road, Amberley Village; The American Jewish Archives at Hebrew Union College - 3101 Clifton Avenue, Clifton. A full list of dates and times will be available soon.
On Saturday, April 13 at 6:00pm, The Carnegie will host Dine Under the Dome, a ticketed dinner in The Carnegie Galleries to precede the performance. Tickets are $40 per person, and include a themed gourmet dinner by Jeff Thomas Catering, wine dessert and gratuity. Dinner tickets do not include admission to the performance.
A full menu will be available at www.thecarnegie.com by February 15.
For more information, visit http://ccm.uc.edu. Experience the sound of synergy at UC's College-Conservatory of Music.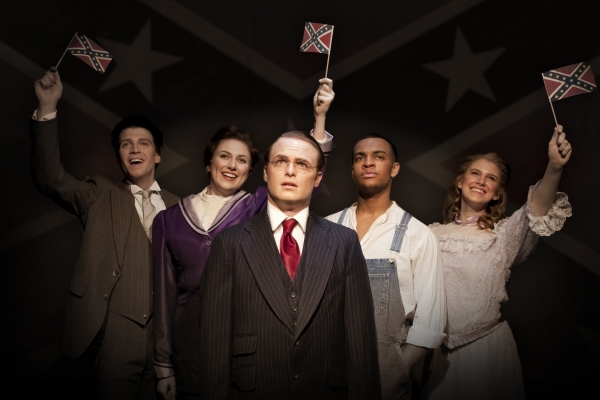 Pictured: Collin Kessler (front), Matt Hill, Jenny Hickman, Noah Ricketts and Alison Bagli (rear, L to R) Credit: Matt Steffen

Pictured: Jenny Hickman (L) and Collin Kessler (R) Credit: Matt Steffen