Third Coast Baroque To Present Chicago Premiere Of Handel's TRIUMPH OF TIME AND DISENCHANTMENT April 12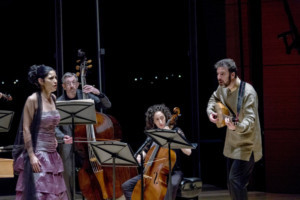 Third Coast Baroque will conclude its 2018-19 season with the Chicago premiere of Handel's first oratorio - The Triumph of Time and Disenchantment, HWV 46a - on Friday, April 12, 2019, at 7:30 pm at First United Methodist Church at the Chicago Temple. Artistic director Rubén Dubrovsky also will lead "Chicago's most accomplished period instrumentalists and singers" (Chicago Tribune) in the work's North Shore premiere Saturday, April 13, 2019, at 7:30 pm at Galvin Recital Hall in Evanston, Illinois.
George Frideric Handel composed The Triumph of Time and Disenchantment (Il trionfo del Tempo e del Disinganno) at age 22, decades before the premiere of his most famous oratorio, The Messiah. Just after young Handel wrote his first operas for Hamburg, he traveled to Italy to absorb the latest musical trends. He developed a reputation as a promising composer and exceptional keyboardist in Florence, Naples, Venice, and Rome, where he created The Triumph of Time and Disenchantment.
"Musically thrilling and psychologically captivating" is how Dubrovsky describes Handel's Triumph, which dramatizes the conflict between earthly pleasures and timeless truths. Beauty is tempted by Pleasure, though Time and Disenchantment win. The allegorical libretto by one of Handel's Roman patrons, Benedetto Pamphili, expands upon themes explored by Petrarch in his poem Triumph of Time.
The world premiere of Handel's Triumph in 1707 boasted none other than Arcangelo Corelli as concertmaster. The tuneful yet stylish score was so inspired that Handel reused material from over half of the arias in his later works. Handel famously adapted the aria "Lascia la spina" from Triumph into "Lasica ch'io pianga" for his opera Rinaldo, and it remains one of his most recognizable tunes to this day.
Triumph is the only major work from his Italian period that Handel revived (with changes) for London. Handel first expanded the original Italian-language work into a new version renamed The Triumph of Time and Truth (Il trionfo del Tempo e della Verità), HWV 46b, in 1737, and then created a further expanded, English-language version, The Triumph of Time and Truth, in 1757. Because of the many versions of Triumph, it is considered both Handel's first and last oratorio.
Third Coast Baroque, Chicago's newest early music ensemble, will perform the 1707 version of The Triumph of Time and Disenchantment in Italian. English supertitles will be projected over the stage, as will imagery that illustrates the story.
Performances will last approximately 2 hours, 45 minutes, including an intermission. Featured vocal soloists include TCB artists Nathalie Colas, soprano, and Angela Young Smucker, mezzo-soprano, as well as guest artists Clifton Massey, countertenor, and Owen McIntosh, tenor, making their TCB debuts. For artist biographies, please visit www.thirdcoastbaroque.org
Third Coast Baroque Orchestra
Handel's Triumph of Time and Disenchantment
Rubén Dubrovsky, conductor
Nathalie Colas, Beauty (Bellezza)
Angela Young Smucker, Pleasure (Piacere)
Clifton Massey, Disenchantment (Disinganno)
Owen McIntosh, Time (Tempo)
Friday, April 12, 2019, ?7:30 pm
First United Methodist Church at the Chicago Temple
?77 W Washington St, Chicago, IL 60602?
Saturday, April 13, 2019 ?7:30 pm
Galvin Recital Hall
70 Arts Circle Dr, Evanston, IL 60208
Tickets can be purchased in advance online at thirdcoastbaroque.org ($10-50) or at the door ($10-60).
Third Coast Baroque
Third Coast Baroque features "Chicago's most accomplished period instrumentalists and singers" (Chicago Tribune). Under the artistic direction of Rubén Dubrovsky, TCB reframes how audiences experience early music through dynamic performances, collaborations, and education. "Call it baroque musicology made painless" (Chicago Tribune), TCB has been devoted to exploring diverse 17th and 18th century music from around the world since its inception. TCB has presented the Chicago and North American premieres of works by beloved composers and recently rediscovered masters. Drawing upon today's finest early music specialists, the Third Coast Baroque collective is composed of the TCB Chamber Ensemble, TCB Voices, and TCB Orchestra. Past performances have included collaborations with internationally renowned musicians, including mezzo-soprano Vivica Genaux for a program listed as one of "The 10 best classical concerts of 2018" (Chicago Tribune). Founded in 2016, TCB engages new and diverse audiences through collaboration with organizations in Chicago and across the country, and through educational enrichment and outreach for music lovers of all ages. TCB's mission is to share the aesthetic of Baroque music while unlocking its relevance for today's audiences. TCB is a 501(c)(3) non-profit organization. www.thirdcoastbaroque.org
Rubén Dubrovsky
Born in Buenos Aires, Rubén Dubrovsky has received critical acclaim for his opera and concert work in today's most prestigious venues. Known particularly for his interpretations of Handel, Dubrovsky's operatic repertoire ranges from Lully to Gluck, Mozart and Rossini. During the 2018-19 season, Dubrovsky's conducts Serse at Oper Bonn, and Die Zauberflöte at the Staatstheater Darmstadt, as well as concerts in Linz, Wroclaw, Baden, Chicago, and Vienna. He has also directed performances at the Sächsische Staatsoper Dresden, Theater an der Wien, Nationaltheater Mannheim, Oper Köln, Oper Kiel, Staatstheater Darmstadt, Wiener Kammeroper, and Handel Festivals in Halle and Karlsruhe. Rubén Dubrovsky is the founder and artistic leader of the Bach Consort Wien that has performed at Vienna Musikverein and the Mozart Weeks in Salzburg. His recordings with his Bach Consort Wien include Terry Wey's CD of works for solo-countertenor, Pace e Guerra, on the Harmonia Mundi label, and mezzo-soprano Vivica Genaux's Hommage à Vivaldi on SONY Classics. He has led many performances televised by the Austrian Broadcasting Corporation (ORF) and 3sat, and released live recordings of Handel's Messiah in 2016 and Vivaldi's Gloria and Stabat Mater in 2017 on the Gramola label.
Related Articles View More Chicago

Stories

Shows
More Hot Stories For You