The Music Institute of Chicago to Celebrate Ella Fitzgerald Centennial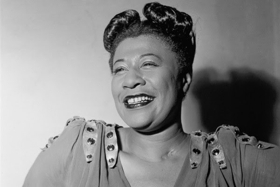 The Music Institute of Chicago celebrates the 100th birthday of "The First Lady of Song"- Ella Fitzgerald-with a tribute concert Saturday, November 11 at 7:30 p.m. at Nichols Concert Hall, 1490 Chicago Ave., Evanston.
Ella Fitzgerald protégé Carmen Bradford joins Music Institute Artist-in-Residence Tammy McCann and other faculty from the Music Institute Jazz Studies program for a lineup of tunes from the Great American Songbook. Bradford sang with the Count Basie Orchestra from 1982 to 1990 and has performed around the world with Thad Jones, David Murray, and other jazz celebrities. McCann, who appears regularly at jazz venues around Chicago, has performed with Chicago's own Ramsey Lewis and Von Freeman and toured with Ray Charles as a "Raelette."
Ella Fitzgerald
(1917-96) first achieved musical success with the
Chick Webb
Orchestra, performing around the country and often at the Savoy Ballroom in Harlem. She launched a solo career in 1942, recording many of her best-known works on the Verve Records label. She appeared in films and as a guest on popular television programs, and she collaborated with
Louis Armstrong
,
Duke Ellington
, and The Ink Spots, among others. Some of her most recognizable songs include "A-Tisket, A-Tasket," "Dream a Little Dream of Me," "It Don't Mean a Thing (If It Ain't Got That Swing)," and other iconic songs. Her improvisational scat singing distinguished her from all her peers. She received 14 Grammy Awards, the National Medal of Arts and the Presidential Medal of Freedom.
The Music Institute's 2017-18 Faculty and Guest Artist Series at Nichols
Concert Hall
continues with the "Duke It Out!" family concert, featuring classical and jazz versions of The Nutcracker and dancers from Dance Chicago, December 9; Trio Settecento, with Rachel Barton Pine,
John Mark
Rozendaal and David Schrader, February 18; the Music Institute's Academy Orchestra, with
Minnesota Orchestra
concertmaster Erin Keefe, May 19; and the Zukerman Trio, featuring Pinchas Zukerman, Amanda Forsyth and Angela Cheng, May 20.
The Ella Fitzgerald Centennial Concert takes place Saturday, November 11 at 7:30 p.m. at Nichols Concert Hall, 1490 Chicago Avenue in Evanston. Tickets are $30 for adults,
$20 for seniors and $10 for students, available at musicinst.org/nichols-concert-hall
or 847.905.1500 ext. 108. All programming is subject to change.
The Music Institute of Chicago is dedicated to transforming lives through music education. Founded in 1931, the Music Institute has grown to become one of the largest and most respected community music schools in the nation. Offering musical excellence built on the strength of its distinguished faculty, commitment to quality, and breadth of programs and services, the Music Institute is a member of the National Guild for Community Arts Education and accredited by the Accrediting Commission for Community and Pre-collegiate Arts Schools (ACCPAS). Each year, the Music Institute's teachers reach thousands of students of all ages and levels of experience. Music Institute locations include Chicago, Evanston, Winnetka, Lincolnshire, Lake Forest, and Downers Grove. In addition, the Music Institute is proud of its longstanding partnership with the Chicago Public Schools through its Arts Link program. The Music Institute offers lessons and classes, and concerts through its Community Music School, Academy, and Nichols Concert Hall. For more information, visit musicinst.org.
Pictured: Ella Fitzgerald, photographer unknown; Carmen Bradford and Tammy McCann courtesy of the artists.