THE HOUSE OF BERNARDA ALBA Opens Saint Sebastian Players 37th Season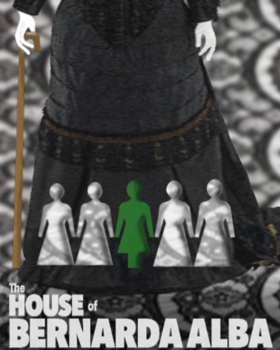 The Saint Sebastian Players (SSP) open the company's 37th season with the powerful drama The House of Bernarda Alba by Federico Garcia Lorca. Performances run October 20-November 12, 2017 at St. Bonaventure, 1625 W. Diversey (enter on Marshfield), Chicago.
In this great modern Spanish tragedy, Bernarda is a stern matriarch obsessed with family honor. Just widowed, she announces to her five daughters that they will enter a traditional eight-year period of cloistered mourning. Each daughter desires love, but with the doors clamped shut, they silently turn to other pursuits-except one, who pursues an affair with the betrothed of the eldest daughter. Discovery results in a tragic climax that is unrelenting in its severity and terror. Director Kaitlin Taylor, who is incorporating flamenco movement and Riot Grrrl musical influences into her interpretation of the script, said, "We wish to honor Lorca's influences while bringing the modern revolutionary music of punk into this classic piece. Riot Grrrl's feminist history plays a role as our counterpoint to the themes of oppression in this piece, just as the revolutionary-minded flamenco did for its original." Taylor, an SSP company member, directed last season's Chicago premiere of Transit of Venus and previously directed In the Matter of J. Robert Oppenheimer for SSP. She recently served as assistant director of TimeLine Theatre's Bakersfield Mist and, as associate director, helped bring to life the epic new work Cosmic Events are Upon Us for The Waltzing Mechanics. The cast features SSP company members Gabrielle Cross and Nancy Pollock; the cast also includes
Eva Green
as Bernarda Alba and Debbie Baños, Melissa Deamon, Lucia Duffy, Rebecca Escobedo, Samantha Frontera, Rae Hamilton-Vargo,
Ali Janes-Paulsen
, Ngan Le, Joan Nahid, Melissa Reeves, Ari
Ana Silva
n-Grau, Jules Wolnak and Leigh Yenrick. The production staff includes SSP company members Emil Zbella as set designer, Paula Kenar as costume designer, Jim Masini as technical director, Beth Bruins as producer and Jessica Goforth as assistant producer. Also on the staff are Jason Lynch as lighting designer, L.J. Luthringer as
Sound Designer
, Shea Messinger as props designer, Rachel Flesher as intimacy/violence designer, Juan Castañeda as dramaturg, Karen Stelling as flamenco instructor and Shellie Disalvo as stage manager.
SSP's 2017-18 season continues with the British farce Hay Fever by Noel Coward February 16-March 11 and the gritty Chicago comedy The Front Page by Ben Hecht and Charles MacArthur April 27-May 20. Three-play subscriptions-$40, $25 for seniors-are available through November 12, 2017.
SSP began producing theatre in 1982 at its original home, the St. Sebastian parish, located at the corner of Halsted Street and Wellington Avenue on Chicago's North Side. When the parish closed in 1990, SSP relocated to its current home, St. Bonaventure, at 1625 W. Diversey. During its history, the company has produced original and previously produced dramas, comedies and musicals; original audience-participation mysteries for special events; and the Monologue Matchup Competition, as well as provided support for smaller Sebastian Studio Projects produced by company members. For a complete production history, visit saintsebastianplayers.org/production-history/.
Performances of The House of Bernarda Alba take place October 20-November 12, 2017, Fridays and Saturdays at 8 p.m. and Sundays at 2 p.m. at St. Bonaventure, 1625 W. Diversey, at Marshfield just west of Ashland, in Chicago. There will be post-show discussions with members of the cast and production team following the Sundaymatinees October 29 and November 5. Free parking is available in two lots. Full-priced tickets are $20; tickets for seniors, students with valid IDs at the door and children younger than 12 are $12. Group rates also are available. All programming is subject to change. For information, call 773-404-7922 or visit
saintsebastianplayers.org
.
More Hot Stories For You