SOUL BLISS Will Celebrate The Music of Aretha Franklin at Raue Center
The performance is on February 17, 2023.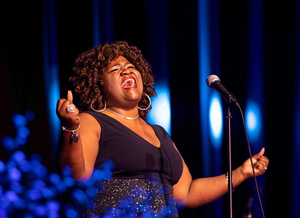 Raue Center For The Arts will celebrate the music of Aretha Franklin with Soul Bliss at 8 p.m. on February 17, 2023.
LaShera Moore Ellis hits the stage with the energy of Aretha Franklin in her prime, masterfully taking audiences on a musical journey not to be missed. Aretha Franklin scored 20 #1 R&B singles, 17 of which were top-ten Pop HITS! Now Soundtracks Of A Generation explores her music with an uptempo performance from powerhouse vocalist LaShera Moore Ellis.
This 100-minute show is an homage to the most soulful and sublime entertainers ever to grace a stage. LaShera becomes Aretha with the backing of our tight and dynamic 11-person SoundTracks Of A Generation Band. It's a night of blissful music from The QUEEN of SOUL!
LaShera Moore Ellis is a Chicago Native, Singer, Lyricist, Actress, member of the Chicago Cabaret Professionals, and Graduate of Columbia College Chicago, where she received her B.A. in Vocal Performance. She is the 2022 recipient of the Denise Tomasello Scholarship Award for Emerging Artists.
Tickets start at $30 for the general public ($21 for RaueNOW Members) and may be purchased online at rauecenter.org or via the Box Office at 815.356.9212 or 26 N. Williams Street in downtown Crystal Lake.