Photos: Sneak Peek at Commedia Beauregard's MASTER WORKS: THE INTUIT PLAYS
Commedia Beauregard is pleased to present MASTER WORKS: The Intuit Plays, six new short plays inspired by pieces of artwork from the permanent collection of one of Chicago''s most fascinating museums, Intuit: The Center for Intuitive and Outsider Art, 756 N. Milwaukee Ave. in Chicago. Curated by company member kClare Kemock*, the six plays will be performed April 2 - 11, 2015 at the museum itself, allowing the audience members to view the works of art firsthand. Guests will also have an opportunity to vote for "Audience Favorite" and "Best Translation." The press opening is Thursday, April 2 at 7:30 pm. BroadwayWorld has a first look at the cast in action below!
The MASTER WORKS: The Intuit Plays playwrights include: Kevin Alves*, Jackie Davies*, Brenda E. Kelly*, Christopher Kidder-Mostrom*, Laura Nessler and Caity-Shea Violette.
The six local director include: Derek Bertelsen, Niki Dreistadt, Charlotte Drover, Jonathan Goldthwaite, Shandee Vaughan* and Brittany Westfall.
The cast includes: Mary Jo Bolduc, Fin Coe, Daria Harper, Ali Kidder-Mostrom*, Chris Lysy*, Ian Michael Minh, Jillann Morlan, Anastacia Narrajos, Abby Stark*, Steven Stinson, Alaithia Velez and Kenzie West.
THE PLAYS:
CHAINED TO A CHAIR
By Kevin Alves*, Directed by Niki Dreistadt
Featuring Chris Lysy* and Steven Stinson
Based on the sculpture "Like Father, Like Son-Eternal Slave" by Dr. Charles Smith.
A man sits chained to a chair and has been there approximately three days. He maintains an oddly calm and casual air as he shares his thoughts on everything from cancer to cat videos. Who has chained him to the chair - and will he escape?
THE FITTING
By Laura Nessler, Directed by Shandee Vaughan*
Featuring Mary Jo Bolduc, Jillann Morlan and Abby Stark*
Based on the sculpture "Three Snakes and Bird" by Anonymous (Canadian).
Ruth, mother of the groom, is being fitted in an ill-fitting gown at David''s Bridal and also being hassled by creditors. She is joined by two bridesmaids, who complain about the financial irresponsibility of their generation and drinking margaritas in a pouch. She hopes they can teach her to alter a dress, they hope she can share her secret to being so thin.
SHADOW BOY
By Caity-Shea Violette, Directed by Jonathan Goldthwaite
Featuring Fin Coe, Ian Michael Minh, Steven Stinson and Alaithia Velez
Based on the piece "Untitled (Several figures/shades of grey)" by Barry Simmons.
A boy is haunted by a shadow. Summoning two mystical men to aid in his quest, the boy goes to great lengths to escape being possessed by the spirit of his murderous father, The Shadow King. A world somewhere between a daydream and a metaphor.
THE LAST DANCE
By Brenda E. Kelly*, Directed by Derek Bertelsen
Featuring Daria Harper and Ian Michael Minh
Based on the piece "Untitled (Six Women with Bartender)" by Thomas King Baker.
Two Chicagoans - from opposite sides of town - meet in an abandoned bar. Marshall had been stood up by a date and Hazel is there to reminisce on days (and years) gone by. As the record player spins and the conversation flows, two strangers become friends.
MAIN STREET
By Jackie Davies*, Directed by Charlotte Drover
Featuring Jillann Morlan, Anastacia Narrajos and Kenzie West
Based on the painting "Untitled (Street Corner)" by Nicholas Greeley (aka Chicago Barber).
Three women (or, perhaps, elements of the same woman) wait for their/her brother and discuss how to be rejoined. Each has a unique rhythm, but all move together. Which one is the first/real woman and what was she doing before she split into three?
RIDE OF THE AGITATOR
By Christopher Kidder-Mostrom*, Directed by Brittany Westfall
Featuring Ali Kidder-Mostrom*, Chris Lysy* and Kenzie West
Based on the painting "Statue of Liberty" by Max Romain.
It's the first day on the job for an artist at an amusement park designed entirely by performance artists. The operators of the amusement park rides get to know each other - although a couple of them have already gotten to know each other very well. Dating coworkers can be awkward and confusing, but not nearly as confusing as the poetry that is part of the ride.
The production team for MASTER WORKS: The Intuit Plays includes Zoe Mikel-Stites (lighting designer).
*Denotes Commedia Beauregard company members.
Tickets for MASTER WORKS: The Intuit Play are currently on sale here.
Photo Credit: Emily Schwartz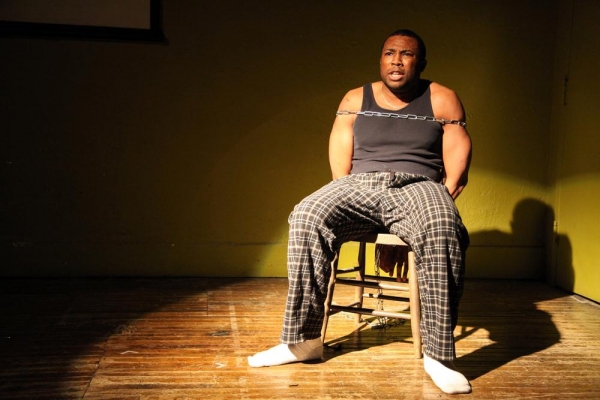 Steven Stinson in CHAINED TO A CHAIR by Kevin Alves, directed by Niki Dreistadt

Kenzie West, Anastacia Narrajos and Jillann Morlan in MAIN STREET by Jackie Davies, directed by Charlotte Drover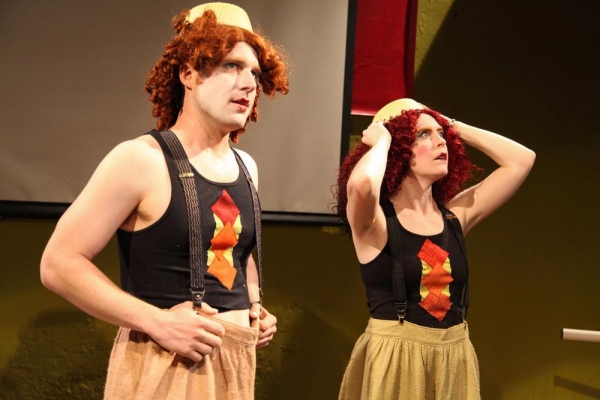 Chris Lysy and Ali Kidder-Mostrom in RIDE OF THE AGITATOR, by Christopher Kidder-Mostrom, directed by Brittany Westfall

Alaithia Velez with (back, left to right) Steven Stinson and Ian Michael Minh in SHADOW BOY by Caity-Shea Violette, directed by Jonathan Goldthwaite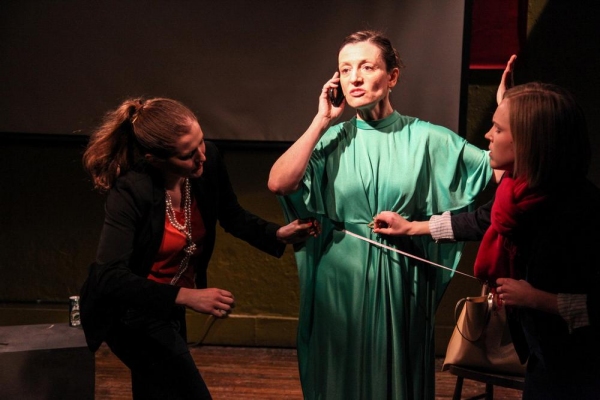 Abby Stark, Mary Jo Bolduc and Jillann Morlan in THE FITTING by Laura Nessler, directed by Shandee Vaughan

Ian Michael Minh and Daria Harper in THE LAST DANCE by Brenda E. Kelly, directed by Derek Bertelsen