Photo Flash: Porchlight's CITY OF ANGELS Celebrates Opening Night
Porchlight Music Theatre and Artistic Director Michael Weber present the next production in the second season of Chicago's hit "lost" musicals in staged concert series, Porchlight Revisits... City of Angels, featuring book by Larry Gelbart (A Funny Thing Happened on the Way to the Forum, M*A*S*H), music by Cy Coleman (Sweet Charity, Barnum) and lyrics by David Zippel (The Goodbye Girl, Disney's Mulan) with direction by Christopher Pazdernik and music direction by Aaron Benham. City of Angels will be presented again tonight, March 4 at 8:00 p.m. BroadwayWorld has a look at last night's opening festivities below!
City of Angels is an ingenious spoof of 1940s Hollywood and whodunit films with side-by-side stories about the real world of a detective fiction writer and the "reel" world of his fictional gumshoe hero. One balances romance and rewrites, while the other slinks through a film noir netherworld of thugs and femmes fatales in this winner of the Best Musical Tony Award featuring the songs "What You Don't Know About Women," "With Every Breath I Take" and "You're Nothing Without Me."
Porchlight Revisits...City of Angels stars Porchlight Artistic Associate Brandon Dahlquist as film noir detective "Stone" and Matt Edmonds as aspiring screenplay writer "Stine" with Brian Zane (Buddy/Irving), Nathan Mittleman (Jimmy Powers), Missy Aguilar (Oolie/Donna), Anthony Apodaca (Munoz/Vargas), Allison Sill (Bobbi/Gabby), Jennifer Grubb (Alaura, Carla), Kim Green (Mallory/Avril) and the "Angel City 4" quartet: Emily Goldberg, Andrew Lund, Andrew Sickel and Stephanie Souza.
Tickets for City of Angels are $25 and include access to the pre-performance Behind the Show Backstory multi-media presentation beginning at 7:15 p.m., created and hosted by Weber, setting the stage on the development of the original 1989 production of City of Angels, reveling in all the juicy backstage stories and revealing the state of the art on Broadway that season. Single tickets to City of Angels are available at porchlightmusictheatre.org or by calling the Stage 773 box office, 773.327.5252.
Photo Credit: Jenna Moran

Porchlight Music Theatre's Artistic Director Michael Weber, City of Angels Director Christopher Pazdernik and City of Angels Music Director Aaron Benham.

Brandon Dahlquist and Matt Edmonds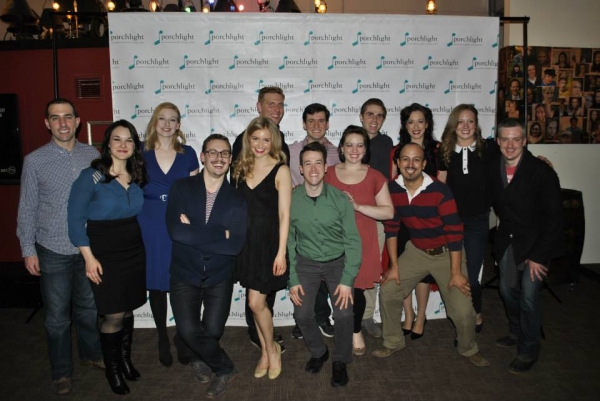 Cast of Porchlight Revisits... City of Angels With Brian Zane, Emily Goldberg, Stephanie Souza Rasmann, City of Angels Director Christopher Pazdernik, Kim Green, Brandon Dahlquist, Andrew Lund, Matt Edmonds, Missy Aguilar, Nathan Mittleman, Apollo Apodaca, Jennifer Grub, Allison Sill and City of Angels Music Director Aaron Benham.