Photos: First Look at Paramount Theatre's 42ND STREET in Aurora
No more tap dancing around it. If you haven't checked out the new "Better than Broadway" musical series at the Paramount Theatre in downtown Aurora, the company's upcoming revival of the quintessential song-and-tap-dance musical 42nd Street, directed by Rachel Rockwell, choreography by Tammy Mader, with music direction by Doug Peck, is the perfect excuse. BroadwayWorld has a first look at the cast in action below!
It's the classic story of Broadway. Peggy, the small town girl, leaves the sanctity of family to pursue her dreams in Depression-era New York City. While keeping the big city wolves at bay, she befriends the working class of the theater world - the chorus - and lands a place on the line in the newest play Pretty Lady. But when the lead actress gets injured, will Peggy have the talent and moxie it takes to tap her way out of the chorus line to the top of the Great White Way?
As always, Paramount is attracting top theater artists from Chicago and all over the country who will reward audiences with a breathtaking production of 42nd Street. "Come and meet those dancin' feet," as Paramount's talented young hoofers perform some of the most show-stopping tap numbers in Broadway history, complete with gorgeous 1930s costumes, beautiful sets and hit-after-musical hit including "We're in the Money," "Lullaby of Broadway," "Shuffle Off to Buffalo," and of course the title number "42nd Street."
Leading the effort is Rachel Rockwell, the Chicago Tribune's "2012 Chicagoan of the Year in Theatre" and director of Paramount's wildly acclaimed productions of In the Heights, The Music Man, Annie and Hair. Doug Peck, Rockwell's music director for Paramount's Hair and, more recently, Goodman Theatre's The Jungle Book, returns for 42nd Street as music director and conductor of the Paramount Theatre Orchestra. Multi-Jeff Award-winner Tammy Mader is making her Paramount debut as choreographer.
Paramount's 42nd Street cast is led by Larry Adams as cut-throat Broadway producer Julian Marsh, Tyler Hanes as charming song and dance man Billy Lawlor, and Laura Savage as Allentown, Pennsylvania's own Peggy Sawyer. Adams was last seen at Paramount in Annie, has appeared on Broadway and nationally in The Phantom of the Opera and Off Broadway in The Hunchback Variations, and has countless Chicago musical theater credits. Hanes' Broadway credits include Larry in the original revival of A Chorus Line, Link Larkin in Hairspray, Johnny Boyle in Juno, Charlie in Sweet Charity, in the new Stephen Sondheim revue A Bed and a Chair: A New York Love Affair, The Frogs, The Boy From Oz, Urban Cowboy and Oklahoma! Chicago credits include The Drowsy Chaperone, All Shook Up and a Jeff nomination for best actor in Footloose at Marriott Lincolnshire. Paramount audiences will recall Savage for her zesty portrayal last season as teenage ingénue Zanetta Shinn in Rockwell's The Music Man. She was recently nominated for a 2013 Jeff Citation as Best Actress in a Musical in BoHo Theatre's SpitFire Grill.
Featured actors include Catherine Lord as Dorothy Brock, Nancy Voigts as Maggie Jones, Michael Weber as Bert Berry, Roger Mueller as Abner Dillon, Richard Strimer as Andy Lee, James Rank as Pat Denning and Dina DiCostanzo as Anytime Annie. Ensemble members are Kelley Abell, Kelsey Andres, William Carlos Angulo, Larry Baldacci, Jaclyn Burch, Matthew Crowle, Brian Duncan, Andy Frank, Jonathan Kwock, Alex McCrary, Nathan Mittleman, Mandy Modic, Amy Orman, Katheryn Patton, Steven Spanopoulos, Tiffany Trainer and Lucy Zukaitis.
The design team also boasts Kevin Depinet, set; Theresa Ham, costumes; Greg Hofmann, lights; Palmer Jankens, sound; Sarah E. Ross, props; and Rose Marie Packer, stage manager.
42nd Street runs now through February 9, 2014 at the Paramount Theatre, 23 E. Galena Blvd. in Aurora, IL. Press opening is Saturday, January 18 at 8 p.m. To meet growing demand for its Broadway series, Paramount has extended each show's run from three to four weeks in 2013-14. Show times for 42nd Street are Wednesday at 1:30 p.m. and 7:30 p.m.; Thursday at 7:30 p.m.; Friday at 8 p.m.; Saturday at 3 p.m. and 8 p.m.; and Sunday at 1 p.m. and 5:30 p.m. Tickets are only $36.90 to $49.90. To purchase, go to ParamountAurora.com, call (630) 896-6666, or visit the Paramount box office Monday through Saturday, 10 a.m. to 6 p.m., and 2 hours prior to evening performances. 42nd Street is rated G.
Photo Credit: Liz Lauren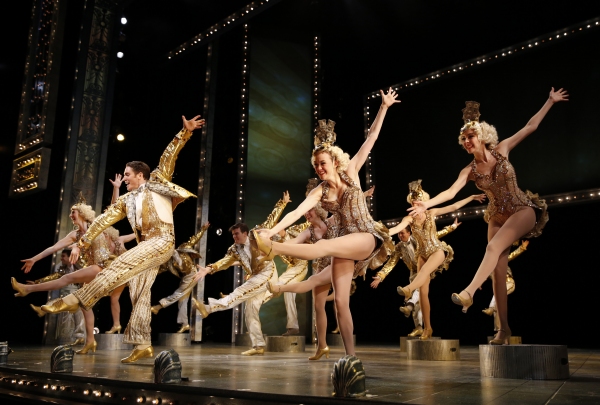 Cast of 42ND STREET performs 'We're in the Money'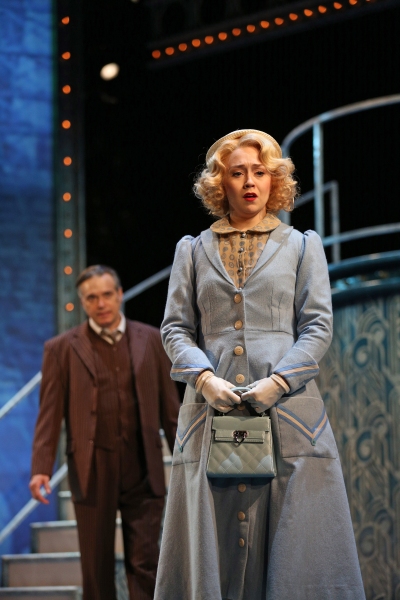 Laura Savage plays Allentown dreamer Peggy Sawyer, and Larry Adams is Broadway kingpin Julian Marsh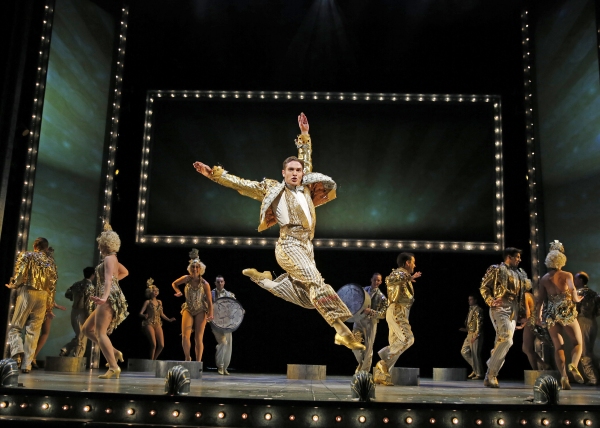 Tyler Hanes (pictured, center) is particularly fleet of feet in the role of Broadway idol Billy Lawlor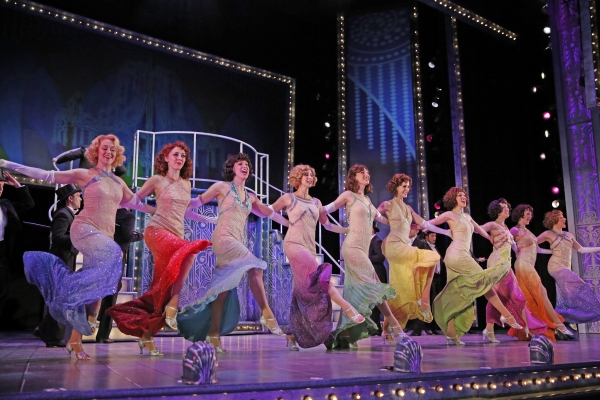 Cast of 42ND STREET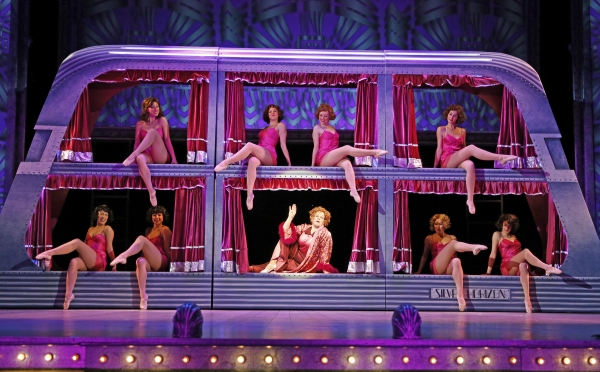 Maggie Jones (Nancy Voigts, center) and the chorus girls 'Shuffle off to Buffalo'

Laura Savage plays Allentown ingénue Peggy Sawyer and Tyler Hanes is Broadway idol Billy Lawlor

Cast of 42ND STREET performs 'We're in the Money'

Tyler Hanes (left) is right on the money in the role of Broadway idol Billy Lawlor

(center spotlight, from left) Catherine Lord is Broadway legend Dorothy Brock, James Rank is her secret beau Pat Denning, and Laura Savage plays newcomer Peggy Sawyer