Drury Lane Opens 2019-2020 Season With The Regional Premiere Of MATILDA THE MUSICAL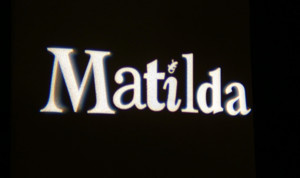 Drury Lane Theatre opens its 2019/2020 season with the Regional Premiere of Roald Dahl's Matilda The Musical, with book by Dennis Kelly, music and lyrics by Tim Minchin, and orchestrations and additional music by Chris Nightingale. Roald Dahl's Matilda The Musical is directed and choreographed by Mitch Sebastian and runs April 26 June 23, 2019, at Drury Lane Theatre, 100 Drury Lane in Oakbrook Terrace.
Wonder and amazement abound with this award-winning musical. Based on the beloved novel, Roald Dahl's Matilda the Musical tells the tale of a precocious 5-year-old girl with special talents. Facing many obstacles caused by her family and school, the book-loving Matilda befriends her teacher, Miss Honey, who recognizes and appreciates Matilda's extraordinary personality. The school's headmistress, Miss Trunchbull, isn't quite as fond of Matilda, who she views as a rule breaker and Trunchbull just loves thinking up new punishments for those who break the rules. Luckily, Matilda is more than ready to end Trunchbull's reign of terror. Tied for the most Olivier Awards ever, including Best New Musical, Roald Dahl's Matilda the Musical went on to win five Tony Awards, including Best Book of a Musical.
The 2019/2020 season will include two award-winning Regional Theatre premieres the imaginative Roald Dahl's Matilda the Musical (April 26 June 23, 2019), based on the beloved novel, and the beautifully captivating Gershwin musical An American in Paris (January 31 March 29, 2020). The thrilling season also includes Agatha Christie's edge-of-your-seat murder mystery And Then There Were None (July 12 September 1, 2019); the revival of the exhilarating The Color Purple (September 13 November 3, 2019), based on the Pulitzer Prize-winning novel; and the magical musical for all ages Mary Poppins (November 15 January 19, 2020).
Subscriptions for the 2019/2020 Season are priced from $172 to $203.50 and are currently on sale. Subscribers receive special offers on dining, flexible ticket exchanges, and early notification and priority seating for added events and concerts. For more information, visit DruryLaneTheatre.com.
The performance schedule for all productions during the 2019/2020 season is as follows: Wednesdays at 1:30 p.m., Thursdays at 1:30 p.m. and 8 p.m., Fridays at 8 p.m., Saturdays at 3 p.m. and 8 p.m., and Sundays at 2 p.m. and 6 p.m. Student group tickets start as low as $35 and Senior Citizens start at $45 for matinees. Dinner and show packages are also available. For individual ticket on-sale dates and ticket reservations, call the Drury Lane Theatre box office at 630.530.0111 or TicketMaster at 800.745.3000 or visit DruryLaneTheatre.com.
Under the leadership of President Kyle DeSantis and Artistic Director William Osetek, Drury Lane Theatre is a major force in the Chicagoland theatre scene, presenting world-class productions in collaboration with some of the nation's leading actors, artists, writers, and directors. Drury Lane has staged more than 2,000 productions and has been nominated for more than 360 Joseph Jefferson Awards. Drury Lane is committed to breathing new life into beloved classics and introducing audiences to exciting new works.
Throughout its 50-year history, Drury Lane has employed more than 7,500 actors and 10,000 musicians, designers, and crew members to entertain upwards of nine million audience members. Originally founded by Anthony DeSantis, Drury Lane Theatre moved to its current Oakbrook Terrace home more than 30 years ago and remains a family-run organization known for producing breathtaking Broadway classics, top-rated musicals, bold new works, hilarious comedies, and unforgettable concert events.