Buffalo Theatre Ensemble Presents THE DINGDONG: OR HOW THE FRENCH KISS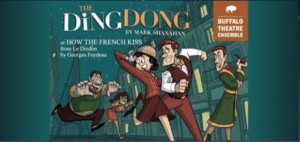 Buffalo Theatre Ensemble (BTE), the professional Equity company in residence at the McAninch Arts Center, 425 Fawell Blvd. on the campus of College of DuPage (COD) opens its 2018-2019 season with "The Dingdong, or How the French Kiss," a new adaptation by Mark Shanahan from "Le Dindon" by Georges Feydeau. Five actors play 13 roles in this bubbly, fast-paced adaptation of Feydeau's classic directed by BTE Artistic Director Connie Canaday Howard, where opening the wrong door can lead to mayhem, giggles and ultimately some unexpected understandings of a happy marriage. The play runs Sept. 6-Oct. 7. There will be a preview Sept. 6. Press opening is Friday, Sept. 7.
Says Canaday Howard, "This is such a wonderful, fun romp, and we are so excited and honored to be able to produce the Chicago premiere of Mark Shanahan's lovely adaptation for our audiences. The entire team - designers, stage management, choreographer, dialect coach, cast, crew and myself - are having a hilarious time as we focus on creating the chaos that is the fun of the script. It's a great way to kick off our season!"
Paris, 1939. Lucy Vatelin, the straight-laced wife of a lawyer, is chased into her own home by Pontegnac, an impassioned lothario. When the Pontegnac finds the only way Lucy would ever sleep with another man is in revenge for her husband's infidelity he invites her to go undercover and see the proof for herself. Hilarity ensues as a mostly faithful couple is tempted by sly suitors and femme fatales on one madcap night in two Parisian hotels. The New York Times hails it as "hilarious," and Front Row Center gives it a "Critic's Pick - Best of the Year!"
The cast for "The Dingdong or How the French Kiss" includes Lisle's Lisa Dawn* (Lucy Vatelin, Mme. Pinchard), recently seen in BTE's production of "Time Stands Still;" Chicago's Robert Jordan Bailey,* (Pontegnac, Soldignac, Dr. Pinchard), most recently seen in BTE's productions of the Jeff Recommended "Outside Mullingar;" Chicago's Brad Lawrence (Vatelin), seen with Lisa Dawn in BTE's 2018 production of "Time Stands Still;" Lombard's Quinn Bayola (Redillon, Bellboy, Policeman) and Chicago's Kelli Walker,* (Mme. Pontegnac, Fabiola, Mandy, Sexy French Maid) recently seen in BTE's Jeff Recommended "Outside Mullingar." The artistic/design team includes Downers Grove's Connie Canaday Howard* and Chicago's Pauline Oleksy (Scenic Design), Rachel Lambert (Costume Design), Cat Wilson (Lighting Design), Chris Kriz* (Sound Design) and Darian's Mary O'Dowd (Properties Design). Brookfield's Neil Massey is Fight Director. Stage Manager is Chicago's Stephanie Hurovitz; Assistant Stage Manager is Plainfield's Danielle Wiseman. Student Assistant Stage Manager is BTE Scholarship Recipient Renata Hatcher (Naperville). * Denotes BTE Ensemble Member
Shanahan (Adapter) is an Edgar Award-nominated playwright (The Chronology Protection Case, 2003). His directorial work has been seen on stages across the country. New York acting credits include the Broadway hit "The 39 Steps" (American Airlines, Cort Theatre); "Small World" (59E59); "The Shaughraun" and "Tryst" (Irish Rep) and others. Regionally, he has appeared extensively at Hartford Theatreworks, The Bay Street Theatre, Pioneer Theatre, Merrimack Rep, The Denver Center, The Kennedy Center and others. Shanahan's television and film credits include "Late Night with David Letterman" (NBC), "All My Children" (ABC), "Kill Me," "Safe Men," "Bug," "Endsville," "Yellow" and "Mad About Harry." He is a graduate of Brown University and holds an MA from Fordham University, where he teaches. The script for "The Dingdong, or How the French Kiss," was developed in Northwest Arkansas in 2015 before its 2016 Off-Broadway premiere at The Pearl Theatre Co.
Connie Canaday Howard (Director/BTE Artistic Director) has directed numerous productions for BTE. Some of her favorites include "Noises Off," "Into the Woods," "Dancing at Lughnasa," "The Mystery of Irma Vep," "Rabbit Hole" and "Frankie and Johnny in the Clair de Lune." Most recently, she directed "Time Stands Still" (2018) and the Jeff Recommended production of "Good People" (2017). Favorite acting roles with BTE have been Annie in "The Real Thing," Harper in "Angels in America" and Ruella in "Communicating Doors." Canaday Howard is also Theater Department Chair at COD where she has directed "The Addams Family - A New Musical," "Grease," "Rumors," "Taming of the Shrew" and "The Three Musketeers," among others. Canaday Howard holds an MFA in directing and has worked regionally with Three Rivers Shakespeare Festival, City Theatre Company Belvoir Terrace, Drama Workshop, Down River Dinner Theatre, Ingersoll Theatre, Charlie's Showplace and theater and dance tours. She has also helped to create and has performed in several improvisational shows. A proud member of Actor's Equity Association, she is on the Artist Team of the Jeff Committee, is state-wide co-chair of the Theatre Panel for Illinois Articulation initiative and received COD's Outstanding Faculty award for 2003-2004.
Buffalo Theatre Ensemble presents "The Dingdong, or How the French Kiss," a new adaptation by Mark Shanahan from "Le Dindon" by Georges Feydeau in the Playhouse Theatre at the McAninch Arts Center, 425 Fawell Blvd. on the campus of College of DuPage, Sept. 6-Oct. 7. There will be a preview on Thursday, Sept. 6; press opening is Friday, Sept. 7. Performances are Thursday, Friday and Saturday at 8 p.m. and Sunday at 3 p.m. Tickets are $40.
For more information, visit AtTheMAC.org or call 630.942.4000. All BTE 2018-2019 season performances contain adult themes and language. Related Special Events: Pre-show discussion with director and designers, Thursday, Sept. 6, 6:45 p.m. Post-show discussion with director, actors and crew, Friday, Sept. 14.
The mission of Buffalo Theatre Ensemble is to provide a forum in which artists, scholars, writers, students and community members explore new ideas and provocative issues through the production of high quality theater for the enjoyment of its audiences. Since 1986 BTE has staged more than 117 productions. For more information about BTE visit btechicago.com.
BTE thanks the DuPage Foundation for their generous support in the reinstatement and continued operation of Buffalo Theatre Ensemble. BTE also thanks the Norm Woodel Inspiration Fund for its assistance in the rebirth and further development of Buffalo Theatre Ensemble.
2018-2019 shows include Chicago Premiere of "The Dingdong, or How the French Kiss," a new adaptation by Mark Shanahan from "Le Dindon" by Georges Feydeau (Sept. 6-Oct.7); "Defiance" by John Patrick Shanley, directed by BTE Ensemble Member, Kurt Naebig (Jan. 31-March 3) and the Chicago Premiere of "Miracle on South Division Street" by Tom Dudzick, directed by Steve Scott (May 2-June 2). For tickets or more information, visit AtTheMAC.org or call 630.942.4000.
The McAninch Arts Center (MAC) at College of DuPage is located 25 miles west of Chicago near I-88 and I-355. It houses three indoor performance spaces (the 780-seat proscenium Belushi Performance Hall; the 236-seat soft-thrust Playhouse Theatre; and the versatile black box Studio Theatre), the outdoor Lakeside Pavilion, the Cleve Carney Art Gallery and classrooms for the college's academic programming. The MAC has presented theater, music, dance and visual art to more than 1.5 million people since its opening in 1986 and typically welcomes more than 100,000 patrons from the greater Chicago area to more than 230 performances each season.
The mission of the MAC is to foster enlightened educational and performance opportunities, which encourage artistic expression, establish a lasting relationship between people and art, and enrich the cultural vitality of the community. Visit AtTheMAC.org or facebook.com/AtTheMAC for more information.