THE DIXIE SWIM CLUB Floats Into Flat Rock Playhouse!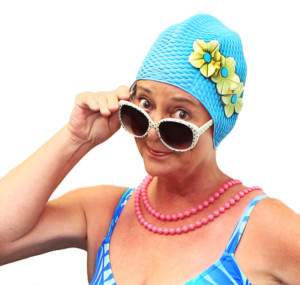 Designing Women, The Golden Girls, Steel Magnolias, Ya-Ya Sisterhood... Make way for The Dixie Swim Club - a hilarious and touching comedy about five Southern women who prove that friendships can last forever.The Flat Rock Playhouse 2017 season will continue with this charming Southern comedy, The Dixie Swim Club, which will run from July 7th through July 22nd at the Flat Rock Playhouse Clyde and
Nina Allen
Mainstage in the village of Flat Rock, NC.
Get ready for a play full of laughs, love and Southern charm. It's a story of five women, Vernadette, Jeri Neal, Sheree, Lexie and Dinah, who return to the same beach house every summer in the Outer Banks. Their lives are full of ups and downs, just like the waves of the Carolina beaches.
The Dixie Swim Club was written by playwriting trio: Jessie Jones, Nicholas Hope and Jamie Wooten known collectively as Jones Hope Wooten. Jones Hope Wooten have written over a dozen widely produced plays including Farce of Nature, Southern Hospitality, and The Hallelujah Girls. The Dixie Swim Club has been a hit among regional theaters, and Flat Rock Playhouse is proud to present this crowd favorite on its Mainstage.
The Dixie Swim Club stars Flat Rock Playhouse favorites, Betsy Bisson, Marcy McGuigan and Paige Posey, along with Tauren Hagans most recently of the Annie and last summer's 9 to 5: The Musical and The Music Man. Sharing the stage with these Vagabond legends is Flat Rock Playhouse newcomer, Nancy Johnston.
The Dixie Swim Club will be directed by Michael Kostroff. Joining Kostroff on the production team are Chris Mueller, Liz Stewart, Janet Gray and Kurt Conway as the Scenic, Light, Costume and Sound designers respectively. Catori Swann will be Stage Manager with Amelia Driscoll as Assistant Stage Manager. Paul Feraldi will design the properties.
The Dixie Swim Club is presented by Mainstage Series Sponsor Henderson County Tourism Development Authority (visithendersonvillenc.org) with BMW of Asheville serving as Opening Night Sponsor. The Executive Producers of The Dixie Swim Club are Cornerstone Financial Strategies and Thirsty Thursdays, a group of discerning ladies enjoying friendship and fun for many years.
TICKETS AND SCHEDULE
The Dixie Swim Club will run July 7th through July 22nd at The Flat Rock Playhouse Clyde and Nina Allen Mainstage. Performances Wednesday and Thursday evenings at 7:30PM, Friday and Saturday evenings 8:00PM, matinees Wednesday, Thursday, Saturday and Sunday at 2 PM. Tickets $15 - $50 and can be purchased by calling the Playhouse box office at 828-693-0731, toll-free at 866-732-8008 or online at www.flatrockplayhouse.org.
The Flat Rock Playhouse Clyde and Nina Allen Mainstage is located at 2661 Greenville Hwy Flat Rock, NC 28731.
In 1937, a group of struggling performers, led by Robroy Farquhar, organized themselves as the Vagabond Players. The Vagabonds worked in a variety of places over the course of three years, and in 1940 found themselves in the Blue Ridge region of Western North Carolina. The local and tourist community welcomed them with open arms when they presented their first summer season of plays in a 150-year-old grist mill they converted into The Old Mill Playhouse at Highland Lake. So successful was that summer, they returned in 1941. After WWII, the Vagabond Players reorganized, came back to the region and opened a playhouse in nearby Lake Summit. The Lake Summit Playhouse thrived during the post war years and soon the Vagabond Players were looking for a larger and permanent home. In 1952, the troupe of performers, and a newly formed board of directors, made an offer to buy an 8-acre lot in the Village of Flat Rock. This new home made the Vagabonds "locals" and a rented big top gave birth to Flat Rock Playhouse. As the beautiful Western Carolina region continued to grow, so did the Playhouse and in 1961, by Act of the North Carolina General Assembly, Flat Rock Playhouse was officially designated The State Theatre of North Carolina. What began as a few weeks of summer performances in 1940 is now a nine-month season of plays including Broadway musicals, comedy, drama, and theatre for young audiences. The Playhouse's dual mission of producing the performing arts and providing education in the performing arts includes a professional series; a summer and fall college apprentice and intern program; and Studio 52, year-round classes and workshops in theatre and film for students from kindergarten through adults. Flat Rock Playhouse now hosts over 98,000 patrons annually and is a significant contributor to the local economy and the Arts in North Carolina.