Photo Flash: Flat Rock Playhouse's SMOKEY JOE'S CAFE Opens
They say the neon lights are bright on Broadway -they say there's always magic in the air... And soon, there will surely be some of that Broadway magic gracing the Flat Rock Playhouse Mainstage, "mountain-style", with the return of the State Theatre's 2007 hit, Smokey Joe's Cafe! Performing the Music of the great Jerry Leiber & Mike Stoller, the band will be jumpin' and the joint will begin to swing until everyone in the historic barn theatre is singin' and dancin' to the Jailhouse Rock! As the first large-scale musical production of the 2017 Mainstage Series, Smokey Joe's Cafe will run on the Mainstage in the Village of Flat Rock from April 21st through May 13th, featuring a cast of nine spectacular performers and a rockin' band of six musicians who will bring down the house with this musical masterpiece.
Smokey Joe's Cafe is the longest running Musical Revue ever to be performed in Broadway History, running for 2,036 performances on the Great White Way in 1995. Performed in a revue-style format with thirty-nine songs presented by various combinations of cast members and no connecting dialogue, this musical spectacular moves through a range of Leiber & Stoller classics including: "Stand by Me", "Hound Dog", "I (Who Have Nothing)", "Stay a While", "Loving You", "Fools Fall in Love", "I'm a Woman", "Poison Ivy", "Love Potion #9", "There Goes My Baby", "Dance With Me", "Yakety Yak", and "Jailhouse Rock".
Stocked full with Playhouse favorites, Smokey Joe's Cafe, directed by Amy Jones and choreographed by Christopher Kirby, will feature more than a few familiar faces. Flat Rock & Hendersonville star, Dustin Brayley (Michael), who recently completed his run of The Music of the Beatles, will return alongside wife Meredith Brayley-Patterson (DeeLee) to steal the spotlight on the Mainstage for a change. A few other Playhouse favorites include: local star Wendy Jones (Pattie), returning from The Playhouse's 2007 cast; AlFred Jackson from 2016's The Music & Dancing of Dirty Dancing; and Patrick Clanton (Adrian), former Flat Rock Playhouse Apprentice seen in various shows such as Hairspray, My Fair Lady & Miss Saigon. The Playhouse welcomes Breanna Bartley (Brenda), Phillip Brandon (Fred), Jared Joseph (Ken), and Martina Sykes (BJ) to the stage in their Flat Rock Playhouse debut.
Sharing the stage as the house band are Garrett Taylor, David Gaines, Wes Parker, Bill Altman, Paul Babelay, & Michael Hines on Keys 1 & 2, Sax, Guitar, Drums & Bass respectively. Taylor also serves as the show's Music Director.
Smokey Joe's Cafe will take audiences on a journey through some of the greatest music ever recorded with song & dance galore and a powerhouse cast and crew. Get ready to sit back, relax & enjoy this Grammy Award Winning Musical Revue - entertainment at its finest! So with that, everybody let's ROCK!
TICKETS AND SCHEDULE
Smokey Joe's Cafe will run from April 21st through May 13th at the Flat Rock Playhouse Main Stage in the Village of Flat Rock. Performances Wednesday and Thursday evenings at 7:30PM, Friday andSaturday evenings at 8:00PM, matinees Wednesdays, Thursdays, Saturdays, and Sundays at 2:00PM. Tickets are available for ­$15 - $50 and can be purchased by calling The Playhouse box office at 828-693-0731, toll-free at 866-737-8008 or online at www.flatrockplayhouse.org. Flat Rock Playhouse is located at 2661 Greenville Hwy, Flat Rock, NC 28731.
Flat Rock Playhouse's The Music of Simon & Garfunkel currently playing at The Playhouse Downtown through April 9th (Thursday at 7:30PM, Friday & Saturday at 8:00PM, and Saturday & Sunday at 2:00PM).
Flat Rock Playhouse 2017 Sponsors include: Mainstage Series Sponsor, Henderson County Tourism Development Authority; Opening Night Sponsor, BMW of Asheville.
FLAT ROCK PLAYHOUSE
In 1937, a group of struggling performers, led by Robroy Farquhar, organized themselves as the Vagabond Players. The Vagabonds worked in a variety of places over the course of three years, and in 1940 found themselves in the Blue Ridge region of Western North Carolina. The local and tourist community welcomed them with open arms when they presented their first summer season of plays in a 150-year-old grist mill they converted into The Old Mill Playhouse at Highland Lake. So successful was that summer, they returned in 1941. After WWII, the Vagabond Players reorganized, came back to the region and opened a playhouse in nearby Lake Summit. The Lake Summit Playhouse thrived during the post war years and soon the Vagabond Players were looking for a larger and permanent home. In 1952, the troupe of performers, and a newly formed board of directors, made an offer to buy an 8-acre lot in the Village of Flat Rock. This new home made the Vagabonds "locals" and a rented big top gave birth to Flat Rock Playhouse. As the beautiful Western Carolina region continued to grow, so did The Playhouse and in 1961, by Act of the North Carolina General Assembly, Flat Rock Playhouse was officially designated The State Theatre of North Carolina. What began as a few weeks of summer performances in 1940 is now a nine-month season of plays including Broadway musicals, comedy, drama, and theatre for young audiences. The Playhouse's dual mission of producing the performing arts and providing education in the performing arts includes a professional series; a summer and fall college apprentice and intern program; and Studio 52, family focused programming that provides immersive, hands-on theatrical experiences for children in kindergarten through adults. Flat Rock Playhouse now hosts over 98,000 patrons annually and is a significant contributor to the local economy and the Arts in North Carolina.
Photo Credit: Scott Treadway/Treadshots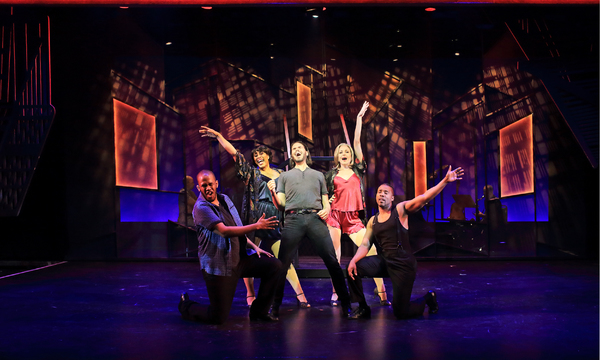 Patrick Clanton
,
Breanna Bartley
,
Dustin Brayley
,
Meredith Patterson
and
Al
Fred Jackson
in Smokey Joe's Cafe at Flat Rock Playhouse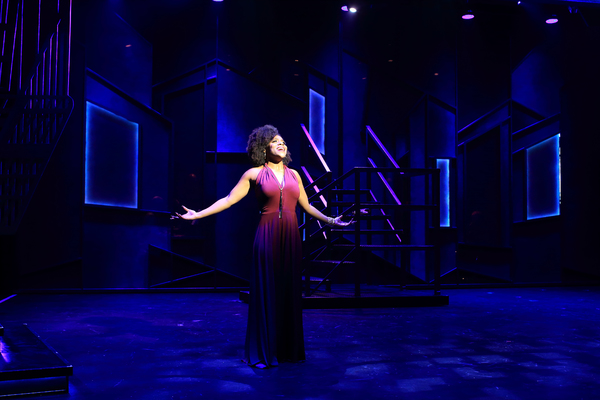 Martina Sykes
in Smokey Joe's Cafe at Flat Rock Playhouse
Related Articles View More Charlotte

Stories

Shows
More Hot Stories For You