Photo Flash: Flat Rock Playhouse Gets Grooving with ALL SHOOK UP
Celebrate hit songs made famous by Elvis Presley at the Flat Rock Playhouse in the upcoming production, All Shook Up! A famous Broadway musical hit, All Shook Up combines the hilarity of Shakespearean comedies, such as A Midsummer Night's Dream, with the rock & roll music of Elvis Presley. In a musical presentation akin to Godspell and Footloose, this jukebox musical tells the story of a small-town girl with big dreams, a stick-in-the-mud mayor who has squashed any fun in her town, and the surprise visit of a leather-jacketed, guitar-playing, hip-swinging stranger. Experience the magic of rock & roll, gospel, romance, mistaken identities alongside Broadway caliber musical numbers and hits such as, "Love Me Tender," "Heartbreak Hotel," "Can't Help Falling In Love". Running this July 26th - August 18th, this is is a show you won't want to miss. Plan your night out to see this crazy and uplifting musical comedy that will have audiences jumping out of their blue suede shoes!
All Shook Up features a cast of professional equity actors as well as the 2019 Apprentice Company as the ensemble. Equity performers include: Natalie Storrs (Natalie), Steven Grant Douglas (Chad), Scott Treadway (Jim Haller), Alana Cauthen (Sylvia), Katelyn Bowman (Lorraine), Steve Raymond (Dennis), Erin Rubico (Miss Sandra), Daniel Plimpton (Dean Hyde), Linda Edwards (Mayor Hyde), Stuart Gregory (Sheriff Earl), Adolpho Blaire (Chorus 1), Demetrius Shields (Chorus 2), Kevin Kulp (Chorus 3), and Maddie Franke (Chorus 4). 2019 Second Year Apprentices include: Cody Marshall, Corey Simmons, Sophie Scarpulla, and Briana (BB) Stone. 2019 First Year Apprentices include: Kalonjee Gallimore, Matthew (Louis) Hansen, Malcolm Hayden, Danny Martin, Jack B. Murphy, Cooper Shaw, Grace McLaughlin, Amanda Ortiz, Emma Vance, Christine Wanda, Candice Hatakeyama, and Marissa Swanner.
All Shook Up is choreographed by longtime Vagabond, Amy Jones along with Maddie Franke and BB Stone serving as Dance Captain and Assistant Dance Captain, respectively. Alex Shields will serve at Music Director, while Bill Muñoz is Production Stage Manager along with Assistant Stage Manager, Amelia Driscoll. Adam Goodrum will serve as Production Manager. Dennis C. Maulden, CJ Barnwell, Ashli Arnold Crump, and David Gerena will serve as Scenic, Lighting, Costume, and Sound Design respectively. Cassidy Bowles will design the properties.
Photo Credit: Scott Treadway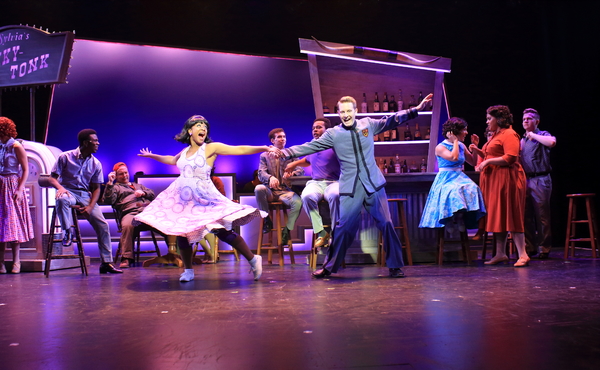 Katelyn Bowman, Daniel Plimpton