Flat Rock Playhouse Presents THE LOVE LIST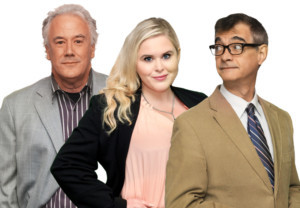 The Flat Rock Playhouse continues the 2018 Mainstage Series with the lighthearted and thought-provoking comedy, The Love List by Norm Foster. A master of weaving together comedic timing and witty remarks within a tender story of love and discovery, Norm Foster also wrote The Affections of May which appeared on the Flat Rock Playhouse stage in 2016. In The Love List, a side-splitting comedy, Leon and Bill concoct a list of attributes of the ideal woman - the top ten best qualities in a mate. The play quickly jumps from reality to fantasy when this allegedly "Ideal Woman" actually arrives on the scene, and the men learn that their list could use a few revisions. Be careful what you wish for - especially in choosing a mate. This adage leads to hilarious results in Foster's sparkling comic hit.
The Love List will feature three Flat Rock favorites: Ryah Nixon as Justine, Preston Dyar as Leon, and Scott Treadway as Bill. All three were most recently featured in Clue: The Musical as Miss Scarlet, Miss White, and Professor Plum respectively. Most recently, Ryah Nixon was previously seen at the Playhouse in Little Shop of Horrors, 9 to 5 and Million Dollar Quartet. Last year, Scott Treadway and Preston Dyar appeared as a dynamic duo in A Tuna Christmas. Scott Treadway and Preston Dyar also thrilled 2017 audiences with Treadway as Pharoah in Joseph and the Amazing Technicolor Dreamcoat and with Dyar as Salieri in Amadeus.
The Love List will be directed by Lisa K. Bryant. Adam Goodrum will serve as Production Manager. Dennis Maulden, CJ Barnwell, Ashli Arnold Crump, Nick Myrvold will serve as Scenic, Lighting, Costume, and Sound Design respectively. Bill Muñoz serves as Stage Manager with Constantina Barile as Assistant Stage Manager. Cassidy Bowles will be designing the properties.
The Love List is presented by Opening Night Sponsor BMW of Asheville, Mainstage Series Sponsor Henderson County Tourism Development Authority, and Executive Producer DHG Wealth Advisors. Hunter Subaru is the official Transportation Sponsor of Flat Rock Playhouse.
The Love List will run June 14th through June 30th at Flat Rock Playhouse Mainstage in Flat Rock. Performances Wednesday and Thursday at 2:00 PM and 7:30 PM, Friday at 8:00 PM, Saturday at 2:00 PM and 8:00 PM, and Sunday at 2:00 PM. Tickets are $20 - $52 with a child ticket at $17 for 17 and under and can be purchased by calling the Playhouse box office at 828-693-0731, toll-free at 866-737-8008 or online at www.flatrockplayhouse.org.
Flat Rock Playhouse Mainstage is located at 2661 Greenville Highway, Flat Rock, NC 28731.
In 1937, a group of struggling performers, led by Robroy Farquhar, organized themselves as the Vagabond Players. The Vagabonds worked in a variety of places over the course of three years, and in 1940 found themselves in the Blue Ridge region of Western North Carolina. The local and tourist community welcomed them with open arms when they presented their first summer season of plays in a 150-year-old grist mill they converted into The Old Mill Playhouse at Highland Lake. So successful was that summer, they returned in 1941. After WWII, the Vagabond Players reorganized, came back to the region and opened a playhouse in nearby Lake Summit. The Lake Summit Playhouse thrived during the post war years and soon the Vagabond Players were looking for a larger and permanent home. In 1952, the troupe of performers, and a newly formed board of directors, made an offer to buy an 8-acre lot in the Village of Flat Rock. This new home made the Vagabonds "locals" and a rented big top gave birth to Flat Rock Playhouse. As the beautiful Western Carolina region continued to grow, so did the Playhouse and in 1961, by Act of the North Carolina General Assembly, Flat Rock Playhouse was officially designated The State Theatre of North Carolina. What began as a few weeks of summer performances in 1940 is now a nine-month season of plays including Broadway musicals, comedy, drama, and theatre for young audiences. The Playhouse's dual mission of producing the performing arts and providing education in the performing arts includes a professional series; a summer and fall college apprentice and intern program; and Studio 52, year-round classes and workshops in theatre and film for students from kindergarten through adults. Flat Rock Playhouse now hosts over 100,000 patrons annually and is a significant contributor to the local economy and the Arts in North Carolina.
Related Articles View More Charlotte

Stories

Shows
More Hot Stories For You