VIDEO: First Look At EPAC's Production Of PIPPIN Starring Michael Roman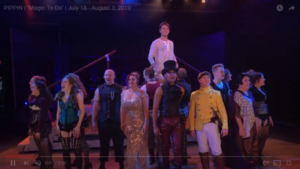 The Stephen Schwartz / Bob Fosse modern classic PIPPIN comes to Ephrata Performing Arts Center July 18 - August 3, 2019, at the Sharadin Bigler Theatre. Music and lyrics by Stephen Schwartz and book by Roger O. Hirson. Bob Fosse, who directed the original Broadway production, also contributed to the libretto.
Bob Fosse's version of PIPPIN is not just a Medieval fairytale. If you're looking for an epic knight and a happy-ever-after, then this is not the musical for you. However, if you're interested in a darker quest filled with existential quandaries and a brooding prince trying to find himself, then you're in for a one-of-a-kind show. Despite being an anachronistic musical set in Charlemagne's France with a 70's pop music score, PIPPIN is known for being one of the most realistic shows because of its connection to the audience and real-life issues. Hopefully, you're comfortable with breaking the fourth wall and contemplating the hopelessness of life...but even if you're not, this coming-of-age story will be relatable to a whole generation who often feel there's a lot more to life than the cookie-cutters wrap up and present to us.
For tickets and additional information, please visit www.ephrataperformingartscenter.com or call EPAC's box office at 717-733-7966 x1.
*Recommended for older teens and adults. PIPPIN is presented through special arrangement with Music Theatre International (MTI).