Photo Flash: First Look at Totem Pole Playhouse's A CHRISTMAS CAROL
Totem Pole Playhouse, in association with Gettysburg Community Theatre, will once again bring its original adaptation of the Charles Dickens' holiday classic A Christmas Carol To the stage of Gettysburg College's Majestic Theater this December 8-17. This year's production boasts an even larger cast of over 60 professional union, non-union, and local community actors, making it by far the largest production in Central Pennsylvania.
A Christmas Carol is an original adaptation by Totem Pole Playhouse Producing Artistic Director Rowan Joseph, who directs the show. Much of the text and dialogue is preserved verbatim from the original novel by Charles Dickens, restoring many of the Christian references left out of other versions.
Joseph's production has also grown extensively from the revival of the Carl Schurr and Wil Love version he originally staged at the Capitol Theatre in Chambersburg four years ago. The cast has almost doubled in size since then to over 60 actors. While the centerpiece of the set remains Scrooge's large two-story revolving Victorian house and accounting office, two additional one-story revolving structures have been added with two more two-story set pieces planned for 2018.
Many new special effects have been added to the production including the addition last year of 3D hologram skeletons rising out of the stage floor of the Majestic Theater along with Scrooge's tombstone. An equally terrifying childhood memory for many grown-ups in the area, the loud flash, bang, BOOM at the disappearance of the ghost of Jacob Marley, remains frightening and delightful to new audiences today.
Once again this year the show will be a family affair with siblings, parents and children joining each other on stage. Shippensburg University professor and Greencastle resident, Paris Peet, who has been starring as Ebenezer Scrooge since 2014, will be joined on stage this year by his son, Owen Peet, as Young Dick Wilkins. Chambersburg residents Lee Merriman and his daughter Jocelyn will return as Charity Man #1 and Belinda Cratchit. Emily Windover of Orrtanna, returns as Mrs. Fezziwig, to be joined on stage by daughters Ruby and Mia as Fezziwig Dancers while daughter Phoebe will portray Scrooge's sister Fan. Brothers and sisters: Thomas and Claire Hydock of Fairfield, PA will appear as Belle's son and daughter; Gettysburg's Justin and Hope Beach will play the Fiddler and a Fezziwig Dancer; Jonah and Claudia Doubell, of Chambersburg, will play the roles of Ignorance and Want. Brothers Jasper and Elliot Wakefield, of McConnellsburg, also return as Cratchit brothers Matthew and Peter. Sisters Liliana and Kalia Hoedemaker and Stella and Mina Gladson of Gettysburg will appear together as dancers in the Fezziwig party scene. And New Oxford's Mark Kleinman will return as the Lamplighter with his son, Jacob, taking over the pivotal role of Tiny Tim in the new production.
Shane Partlow, who appeared in The Drowsy Chaperone, will return as Bob Cratchit as well. Equity member, Richard Sautter, who for the last several years has taught at Gettysburg College and McDaniel College, will portray Old Joe. Local Equity members rounding out the cast are Misty Coy as Mrs. Dilber, and Rowan Joseph as Mr. Fezziwig. Shippensburg resident Luke Reed will return as Scrooge's nephew, Fred; Gettysburg's J. Edward Riggs will again portray Marley's Ghost, and Megan Lee Miller returns as The Spirit of Christmas Past. Chuck Lambert, of York, will reprise his role as The Spirit of Christmas Present and Taylor Whidden Knapp of Walkersville, MD will join the cast as Mrs. Cratchit. Also appearing in the cast will be Erik Alexis, Alexander Baugher, Diane Chamless, Joan Crooks, Gaven Dingle, Lynn Dowling, Sue Fehringer, Brandon Gladfelter, Brynn Hambley, David Hewitt, Anne Hunt, Natalie Hurwitch, Ian Kress, Michael Krikorian, Anna Kurtz, Johnna Leary, Emily Martin, Alyssa Meyers, James L. O'Dell, Jr., Maxwell Owens, William Reece, Emily Smallwood, Ella Snyder, Denzel Surcica, Seth Thompson, Tom Trgovac, Lance Windish, Andrew Zabetakis, and Bryton Zook.
Totem Pole Playhouse's Producing Artistic Director, Rowan Joseph, will direct the production and Chad-Alan Carr, Executive Artistic Director of the Gettysburg Community Theatre, will serve as choreographer and associate producer. Equity Stage Manager, Bob Tolaro, will serve as production stage manager for the show. Jim Fouchard, who designed the first production in 1987 at the Central Center in downtown Chambersburg, is the set designer for the current reincarnation as well. The Majestic Theater's Technical Director, Jonathan Stiles, is serving as lighting designer for the show. Jacob Arbutus will provide sound design, and costumer Juls Bueher will outfit the over 60 actors taking part in the production. Totem Pole Playhouse Production Manager Robert Towarnicki will serve as the assistant director and assistant stage manager, and will take the stage again as The Spirit of Christmas Future.
To purchase tickets call the Majestic Theater Box Office at 717-337-8200 or online at the Majestic Theater website www.gettysburgmajestic.org.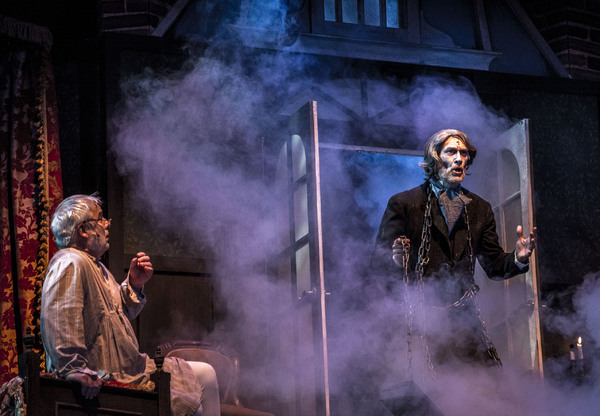 The ghost of Jacob Marley frightens Scrooge. (photo credit: Totem Pole Playhouse)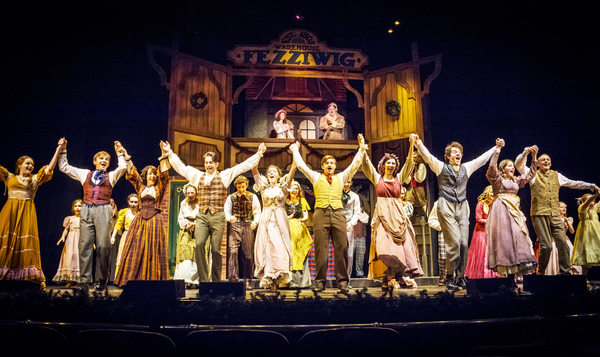 Scrooge observes his past and remembers his employer Mr. Fezziwig's annual Christmas party. (photo credit: Totem Pole Playhouse)

Scrooge recalls happier times shown him by the Ghost of Christmas Past. (photo credit: Totem Pole Playhouse)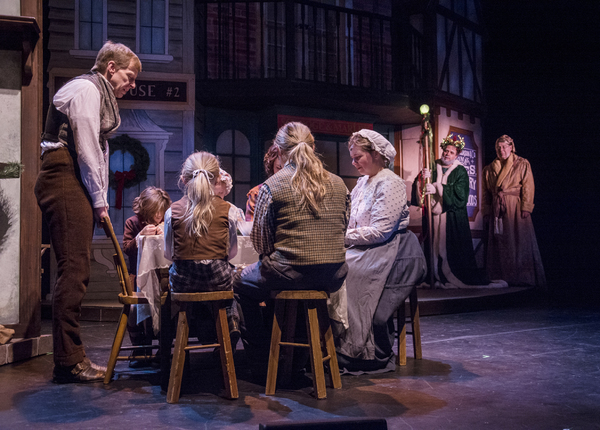 The Cratchit family prays before Christmas dinner while the Spirit of Christmas Present and Scrooge look on. (photo credit: Totem Pole Playhouse)
Related Articles View More Central Pennsylvania

Stories

Shows
More Hot Stories For You