Hershey Area Playhouse Presents BOEING BOEING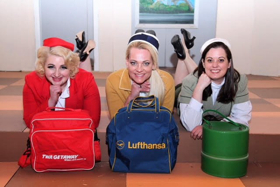 Hershey Area Playhouse is proud to present its second show of the 2018 season the 1960's French farce Boeing Boeing by Marc Camoletti, Beverly Cross and Francis Evans, produced by special arrangement with Samuel French.
In this show, self-styled Parisian swinging single Bernard is engaged- the only problem is he is engaged to not one, but three women at the same time. All three are "air hostesses" - working for three different airlines and carrying on their romance with Bernard during their layovers in Paris. It all works perfectly on schedule- as one departs, another arrives, until one day when storms and a newer faster airplane throws the schedule out the window, leaving Bernard, his friend Robert and long-suffering maid Bertha to cope with the consequences.
This French farce was listed in the Guinness Book of Records in 1991 as the most performed French play throughout the world. Adapted by Beverley Cross, it was first staged at the Apollo Theatre in London in 1962 before transferring to the Duchess Theatre in 1965 and ran for a total of seven years. The show has been revived several times and adapted for film in five different countries, most famously in 1965 starring Jerry Lewis, Tony Curtis, and Thelma Ritter.
"This play is an unapologetic look at human foolishness- male and female-, that allows a brief respite from the world outside of theatre," director Cory Wilkerson says. "As John Caird says in the book Theatre Craft, 'A good farce obliges the audience to believe both in the characters and the events to the point where laughter is their only recourse.'"
Bringing this hilarious comedy to life, the cast members of Boeing Boeing include: Adam Estep as Bernard, Shelby Snyder as Gloria, Eileen Daub as Gabriella, Lorie Kimmel as Gretchen, Jennifer Feldser as Berthe, and Dan Fisher as Robert.
In addition to Wilkerson, production staff members for Boeing Boeing include: Stage Manager and Assistant to the Director, John Mallonee; Matthew Ford, producer; David Ebright, lighting design; Matt Smoluk, sound engineer; Drenda Cordeiro Stone, costumer; Carlton Hoke and Jeff Miller, set design and construction; Maxine Oliver and Vonnie Stevenson, house managers; Michael Feldser, photographer; and Felicia Paymer, concessions manager.
Experience the hilarity of Boeing Boeing, running April 12-15 and April 19-22, 2018. Thursday through Saturday performances begin at 7:30 p.m.; Sunday performances begin at 2 p.m.
Tickets are $20 for teens/adults and $17 for those ages 12 and under. Tickets are available by visiting www.HersheyAreaPlayhouse.com or by calling the Playhouse's box office at 717-533-8525.
Photo Credit: Michael Feldser
More Hot Stories For You