Gettysburg Community Theatre Presents THE DIARY OF ANNE FRANK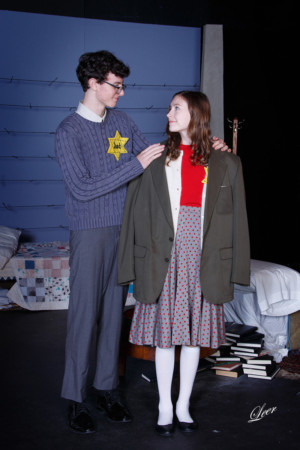 Gettysburg Community Theatre (GCT) the not-for-profit 501c3 community theatre located at 49 York Street in historic downtown Gettysburg, continues its 10th Season with a revival production of the emotional play The Diary Of Anne Frank performing weekends October 5-21, 2018.
Last February, the GCT production of The Diary Of Anne Frank sold out with a waiting list so in keeping with GCT's 10th Season of Revivals, this year's production will be presented weekend October 5-21, 2018 and features almost all of the same actors returning to reprise their roles. The volunteers such as production director Karen Land, and designer John Rudy, have also returned though this time the set design is a bit different from last year. The production team wants an even more minimalistic set that will also travel well in hopes that GCT may be selected to advance to a Regional Theatre Festival after they present a one-act cutting of The Diary Of Anne Frank here at GCT in March 2019 at the Pennsylvania State Theatre Festival. But first, is their current full production presented Fridays and Saturdays at 8pm and Sundays at 2pm October 5-21, 2018 at GCT. Post-Performance discussion/Q&A with the cast and director will happen on stage immediately following the first two Sunday matinees October 7th and October 14th and they are open to the audience to participate. The Saturday evening performances during the run October 6th, 13th and 20th will have student rush tickets available for half price at the box office a half hour before the show begins IF there are any seats left. Students should check in at the box office a half hour before the showtime. The volunteer cast includes longtime Gettysburg resident and theatre professor of Gettysburg College and HAAC, George Muschamp as Otto Frank, Brenna Yingling of Hanover as Anne Frank, Joan Crooks of Westminster, MD as Edith Frank, and Linden Carbaugh of Fairfield as Margot Frank. The cast also includes from Littlestown: James Hamilton, and from Gettysburg: Linda Fink, Mike Krikorian, Ed Kenney, and Lindsey Ringquist, while Shane Miller and Jim O'Dell, also from Gettysburg, volunteer as Stage Manager and Assistant Stage Manager.
In this transcendently powerful new adaptation by Wendy Kesselman, Anne Frank emerges from history a living, lyrical, intensely gifted young girl, who confronts her rapidly changing life and the increasing horror of her time with astonishing honesty, wit, and determination. An impassioned drama about the lives of eight people hiding from the Nazis in a concealed storage attic, The Diary Of Anne Frank captures the claustrophobic realities of their daily existence-their fear, their hope, their laughter, their grief. Each day of these two dark years, Anne's voice shines through: "When I write I shake off all my cares. But I want to achieve more than that. I want to be useful and bring enjoyment to all people, even those I've never met. I want to go on living even after my death!" This is a new adaptation for a new generation and its themes are still very relevant in today's times.
Tickets are $18 +tax/fees. As the theatre only seats 80, advanced purchase is highly recommended for all GCT shows. GCT is located at 49 York Street within the first block of Lincoln Square in historic downtown Gettysburg in the building that was once The Elks Lodge. GCT box office phone number is 717-334-2692 and the box office is always open one hour before any showtime. Audition, ticket, educational, donation, volunteer opportunities and more information can be found online at www.GettysburgCommunityTheatre.org
GCT Mission Statement: To inspire creativity and confidence, provide cultural enrichment, and instill a love of the theatre arts in people of all ages and abilities through quality education and performance.
PHOTO: Brenna Yingling and Brandon Gladfelter will reprise their roles as Anne and Peter in GCT's production of The Diary Of Anne Frank.