BWW Review: Spring Gulch Folk Festival Celebrates 31st Season!
It seems like right in the middle of nowhere, even for someone who's lived in the country for as long as I once did, but you don't have to travel far in Pennsylvania to get back to the land.
It's not that much different from anyplace else, but the side roads (including paths with numbers, not names) into Lancaster County stretch through flatlands, farms and the land of the Amish and Mennonite communities. Through towns such as Bird-in-Hand, Intercourse, and New Holland, one finds the open space, rural with odd little businesses, homes and yes, the inevitable tourist traps.
In the middle of this, the campground of its name brings the Spring Gulch Folk Festival. In its 31st year, the festival has built a reputation for bringing traditional (and other) music and artists together.
The place sprawls out, yet it all feels incredibly small. With minimal Wi-Fi (imagine that), campers of the rustic and more up to date variety joined with festival followers for music they might not have known much about, but they find out fast.
Friday evening, a warm night, a cloudless sky with stars (plus a little heat lightning over and back from the horizon) made the backdrop. Smoke from campfires, incense, tobacco and fried foods, along with farm-filtered air set us up for a series of performers that brought voices, songs and what someone once referred to as "high profile" musicianship.
This was apt from the beginning, as Long Island-based Kirsten Maxwell opened the festival with a short, but exceptional set. Selections from her first CD Crimson, her upcoming EP, and a cover of "Diamonds and Rust" augured well for the night.
Then came Blue Highway. Multiple award winners and 23 years in their rear-view mirror, the bluegrass legends did not disappoint. With plenty of joking and comfort in their skins, the band worked their way through the catalog, and in an understated way showed why they are among the premier bands of the era.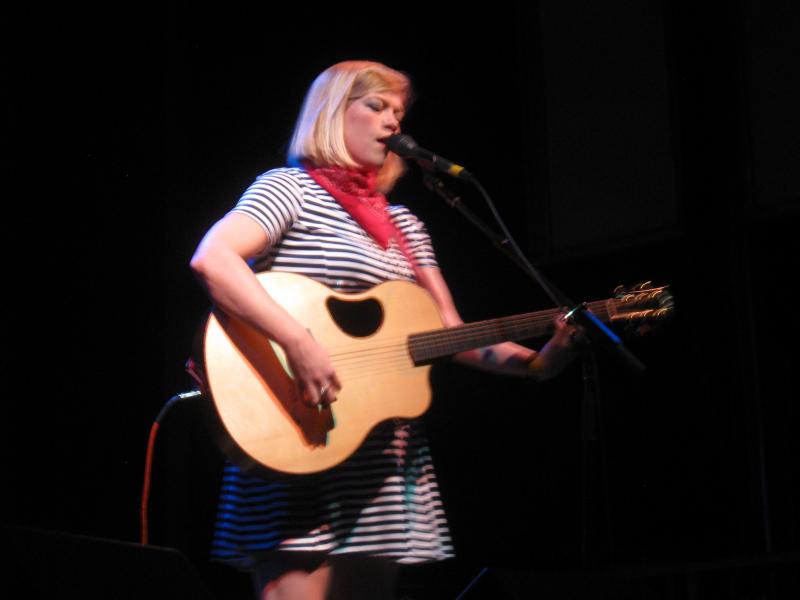 It was a homecoming for Downingtown native Liz Longley, who has domiciled in Nashville for some years. Her originals showed the polish, but not completely the sound that's taken over the Music City; no, Longley's is way better than that. "What's the Matter" and a sultry cover of "Moondance" went over big with the home crowd (with lots of jokes about PA peculiarities, such as Wawa).
Then came the master of the evening: Chris Smither does not need superlatives, though well-deserved for his more than 50 years in music. As ever unassuming, Smither showed no concerns as he sat before the assembled. Through his catalog, Smither's finger picking style has so many variations, but you have to play guitar, or really listen and watch to get them.
The form never changed. "Don't Call Me Stranger," "Shillin' for the Blues," a new song called "Nobody Home" (with a shot at a certain political figure), plus covers of "Sittin on Top of the World," and Smither ended the night with "Statesboro Blues."
I drove back through a dark, silent country to head home to Harrisburg, and thought of how this part of the world shut down long before the show did, Smither's collection in my stereo as I went.
Back again for Saturday, and I felt the crowd has swelled amongst the campers, the out of state travelers, one of which followed me for much of the run down the cowpaths to get here...glad I could help.
No Good Sister, a trio of three ladies with a solid backing band, carried the first part of the afternoon-their music is more country oriented, with a sound that could get radio play today. Still. they retained a realistic, less-commercial sound. Their new album, You Can Love Me will let you be the judge.
New England was represented by Massachusetts natives Mark Mandeville and Raianne Richards, a more laid-back set of folk tunes. Longtime fixtures on the scene in my native part of the country, they provided a less-is-more approach.
Then from Boston came the Adam Ezra Group. Folk-rock was how Ezra described his band, but the influences are wider than that. A mostly uptempo set brought the crowd into the next gear, which included songs from their new album, Hurricane Wind. Selling it from the merch tent with an "I Love You" box, Ezra kept his word and ran like hell through the crowd at the end of his set to get there. "The Toast" and "Steal Your Daughter" were featured from this new one, to strong approval, as was a (censored, boo!) version of a cultish hit, "The Devil Came Up to Boston."
Back to the more stripped-down sound, Southwest Virginia natives Sam Gleaves and Tyler Hughes gave a series of well-played originals and covers. With nods to Ralph Stanley, Jim & Jesse and the like, their harmonies and interplay were tight.
The New York-based Matuto then took the stage. Frontman and co-founder Clay Ross described the band as "Brazilian Bluegrass," but the band took their music much further, and got the mostly seated crowd to get up and dance.
During the set, I ran into Guy Davis, who would headline the night. (Look for my in-depth interview with Davis in a later piece). A great thing about the festivals is how most of the performers can blend with the crowd and not be noticed, or mobbed. The vendor didn't know the man he was serving, and what he would bring later...
The evening picked up with a short set from singer/songwriter Ethan Pierce. My hope is we'll hear more of his voice and songwriting, and soon. He was followed by John Flynn; the host of a family concert to begin the day's music, Flynn reminded all that he is one of the music world's underrated songwriters. Completely at ease, Flynn leaned more toward the political side of what folk singers may have been stereotyped as.
Flynn was not the first to wax political, but it made me think. Having lived in the midstate since 2000, I think while still "not from 'round here," I can say with truth this is Red State USA. To the relief of many, politics, stickers, arguments and BS were put aside. From the crowd, the approval of the few statements made shows there is a tide already turning.
A band that is going places is the Snyder Family Band. From North Carolina, the group is fronted by Zeb Snyder, and his 18-year-old sister Samantha, with their father, Bud on bass. Musically immersed from the stories they told, the bluegrass tunes they put over were without doubt influenced by a whole lot more than just that. Doses of blues and southern rock were heard, as another of the "high profile" groups showed what they had. Samantha's songwriting and musical skills on both fiddle and guitar made a big impression. Their little brother, 11-year-old Owen joined them onstage to sing one and play banjo...no ego with that kid, or any of them. More to watch with this group, to be sure.
Philadelphia native Vance Gilbert then stepped to the plate. With orange shoes to match his shirt, Gilbert was a one-man show. If you have never seen him before (as I had not, ashamed to say), Gilbert alternately tore up the stage with his jokes ("I'm the black Snyder," he joked in response to a demand for the previous act to encore), stories of his native city and growing up in New Jersey, and then his brilliant guitar work and a voice that never wavered. He passed along his catalog, with favorites such as "Unfamiliar Moon" and "Old White Men," and finished with a cover of "For the Good Times."
Then the blues took over. Guy Davis' new recording is a duet with Italian harpist Fabrizio Poggi, Sonny and Brownie's Last Train: a Tribute to Sonny Terry & Brownie McGhee. Underneath the "Green Room," Davis explained the full band would be doing more material from his last album, Kokomo Kidd.
No matter the case, Davis opened with a harmonica and shuffle of "Shake it Like Sonny Did," and brought out the full banD. Davis told me his band is "not so formal," concerning who is in and who is not, but all have played with him for their own respective times.
Christopher James provided guitar and mandolin, the former on "Little Red Rooster" and the latter on "Taking Just a Little Bit of Time." Professor Louie took turns on the keyboard and accordion, as Davis led the band through "Lay Lady Lay" and ended the night with Muddy Waters' "I Can't Be Satisfied."
I must issue a sincere apology for not being there Sunday to see Dave Fry, John Gorka, Ana Egge and Brother Sun. I am sure their performances reflected what I saw and heard the first two days of the Spring Gulch Folk Festival. Music, well played, passionate, and largely done with a great sense of fun. This isn't work for them, and people shouldn't have to work to enjoy themselves. I didn't hear an unkind word the whole time, from the talent or the people there. Something we need a bit more of, and that goes without saying.
(My thanks to Lisa Kurtz of Spring Gulch, Tom from Nyack and Patricia for the loan of part of her space...)
http://www.kirstenmaxwell.com/
http://www.samgleaves.com/duo---tyler-hughes-and-sam-gleaves.php
https://pfs.org/folkies/ethan-pierce/
http://www.geneshay.com/index2.html
(All photos and video shot by the author)
Featured This Week on Stage Door
Shoutouts, Classes, and More from Your Favorite Broadway Stars