Review: STAND BY YOUR MAN at Dutch Apple Dinner Theatre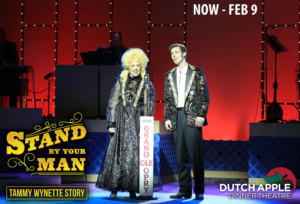 I went into Dutch Apple's production of Stand By Your Man knowing almost nothing about the bio-musical's protagonist, Tammy Wynette. I looked forward to learning a little more about the "First Lady of Country Music".
One of the most interesting things that I learned was the irony of the show's title song. Wynette was not one to practice what she preached. She was married a total of five times, in addition to a relationship with Burt Reynolds, played by an unconvincing Chris Bober. This show, refreshingly, does not glamorize it's subject, but dramatizes factual events, warts and all.
Breanna Sensmeier stars as Tammy Wynette. She has a great voice and is at ease with her stage presence. The show's designers do an effective job through make-up, hair, and costumes of bringing Wynette to life on stage. The lone exception to this compliment is Tammy's comically large first-act wig, which would look more appropriate in a farcical comedy like Hairspray, rather than a dramatic biography.
The events of Wynette's life are inextricably bound to whomever she was married to at the time. This approach makes her seem especially ambitious and opportunistic. She marries first husband, Euple Boyd (Jake Kinney) to escape from a life of poverty in rural Misssissippi. Then, she marries second husband, Don Chapel (Connor Simpson) to get her musical career off of the ground. Later, she ties the knot with George Jones (Matt McClure) to catapult to superstardom.
Kinney, Simpson, and McClure are all effective in their portrayals. They make their characters three-dimensional, and are not shown as villains or obstacles, but rather fully formed human beings with their own set of beliefs and priorities.
Megan Opalinski is a joy as "MeeMaw". She plays Tammy's no-nonsense mother and provides both the humor and heart of the show. Her second act number, "God's Gonna Get'cha for That" was a vibrant show-stopper.
There are 27 musical numbers in the show played by a tight, five-piece band on stage. The songs are country and gospel standards and are used to highlight the narrative. For someone, like me, unfamiliar with the protagonist, I almost wish for less songs and more story. Being so jam-packed with songs, the musical is only able to provide a "Joe Friday-just the facts, ma'am" approach.
I still had a lot of questions that weren't answered. Why was Tammy so ambitious? What was her relationship like with her children? Did she love her husbands at all, or were they just stepping stones? Why was she so unhappy that she turned to prescription drugs for relief?
The Dutch Apple production of Stand By Your Man provides a non-glamorized portrayal of one of country music's biggest icons. The performances are very strong within a script that could still use a little work.
The show runs through February 9. Tickets and more information can be found at the theater's website.