Interview: Thomas Hostetter of 'OH JOY, OH RAPTURE!' A CELEBRATION OF GILBERT & SULLIVAN at Theatre Harrisburg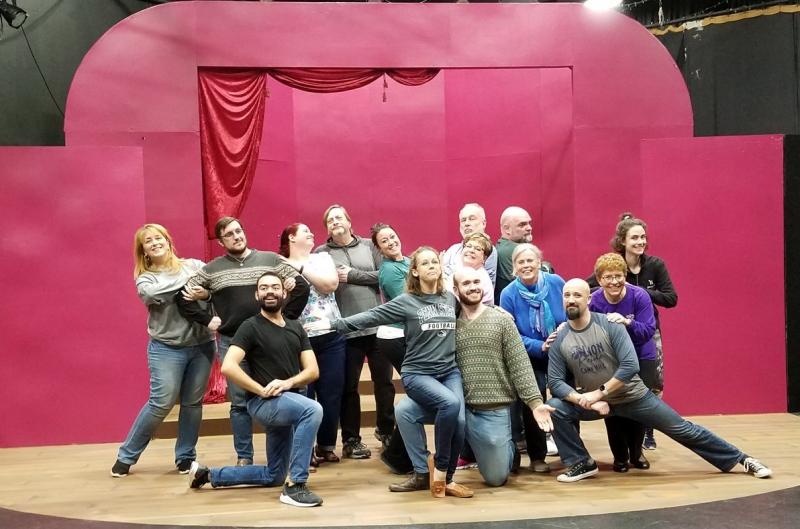 Writer William S. Gilbert and composer Arthur S. Sullivan, were each already accomplished individuals before they first teamed up. However, today most of us know them collectively as Gilbert & Sullivan. Their first joint effort was Thespis, an opera that was performed in 1871. Their works incorporated satire, using upbeat music and comedy often to point to issues of classism in society. Given the time in which they were written, the comedy typically relies on stereotypes regarding gender and ethnicity. Gilbert was known for infusing his work with elements of the fantastic or, at the very least, the outrageous.
Among their most well-known works are The Pirates of Penzance, The Mikado, and H.M.S Pinafore (Pinafore, due to a slow start and issues with copyright, had quite a conflict-ridden history, including the effort among the show's investors to stage their own production of it by having the costumes and scenery stolen during a performance). Gilbert and Sullivan, along with Richard D'Oyly Carte, formed the D'Oyly Carte Opera Company in London, which, in 1881, moved into the famous Savoy Theatre.
While Gilbert and Sullivan often had creative differences, they were finally driven apart by a dispute over carpeting in 1889. Luckily for us, they reunited in 1893 to collaborate once again. Gilbert and Sullivan's musicals continue to spark the imaginations of modern audiences, and, starting on January 18th, audiences will be able to take a musical journey through Gilbert and Sullivan's work with Theatre Harrisburg through their production of the new revue "Oh Joy, Oh Rapture!" A Celebration of Gilbert & Sullivan. Tom Hostetter, director, creator, and choreographer of the production and Artistic Director Emeritus of Theatre Harrisburg took some time to tell us about the show.
BWW: Tell us a little about yourself.
Hostetter: For 28 years, from 1980-2008, I was the artistic director at Theatre Harrisburg. I am originally from Palmyra, and I went to Lebanon Valley College to get a degree in French that I never used. I attended the University of Maryland to study theatre at the master's level. At the time, they didn't offer an MA specifically in directing, but I did emphasize directing in my program, and my master's thesis was a thesis production of Gilbert and Sullivan's The Grand Duke, which is seldom produced. I was teaching at Lebanon Valley College for a couple classes one semester for a professor who was on sabbatical, and I staged the production at LVC and my advisors from the University of Maryland came to see the show and evaluated it there. I did direct a production of H.M.S. Pinafore at LVC, but I was an untrained student at that point. I was particularly enamored of Gilbert and Sullivan, and that has continued throughout my life. In the intervening years, I've directed many shows, musicals and non-musicals. I did manage to do 12 different productions of Gilbert and Sullivan over the course of my directing career, both before and after Theatre Harrisburg.
BWW: Tell us about the show-what can audiences expect when they come to this performance.
Hostetter: It's a musical revue, so there isn't really a storyline like people may expect when they come to the theatre. What I did was I picked a lot of my favorite numbers plus some that I thought the audience might be familiar with. Even if they don't know much about Gilbert and Sullivan, most people know some of the songs. I combined these and then tried to create a narrative which made sense. I attempt to address different areas of the career of Gilbert and Sullivan, and I use some songs as examples. For example, I talk about how singers love the trios and quartets and quintets-concerted pieces, so I spend a section of the show exemplifying those types of pieces. I talk about his treatment of elderly female characters and use songs to portray that aspect of their work. I talk about the patter song and offer examples of that. So that's how I organized the material. It has no real storyline. We open with some basic information about Gilbert and Sullivan and how popular they were and are. Next to the works of Shakespeare, Gilbert and Sullivan's works are the most performed works in the English language.
BWW: What is it about Gilbert and Sullivan's shows that still appeals to audiences today?
Hostetter: One thing I think is Sullivan's melodies. There are accessible and quite lovely. The lyrics are also very clever. Gilbert was an expert wordsmith. His rhyming and use of language are impressive. Also, the librettos to their operas are based on silliness and light-hearted topics, often satirical. They were satires that looked at issues especially around the pompousness exemplified by groups like the military and the courts. They liked to poke fun at anyone who thought they were self-important. Their works are often fantastical, and I think that's one of the reasons they can still be appreciated today. Even if some of the social satire is lost on us today, especially in America, there are usually preposterous plot turns that keep audiences interested. They were in love with nonsense and in fact the phrase topsy turvy was coined to describe the worlds that Gilbert created-he often turns the world upside down and uses logic to reach illogical conclusions.
BWW: What is your favorite Gilbert and Sullivan show and why?
Hostetter: In terms of the score, it would be The Gondoliers. But my favorite overall would be Ruddigore: The Witch's Curse, a lesser known work. I've directed it twice, and there are some selections in the revue from it. It is a satire of the popular theatrical form of the 1800s known as melodrama. It is a spoof of typical melodramas of the period, with an innocent young heroine, who manages to make choices to her own advantage. There's a hearty sailor pursuing her, a simple farmer who is a cursed nobleman in disguise. In the second act he's found out and has to live in the castle where there's a portrait gallery of his family. These portraits come to life to torment him because he's not being evil enough, which is what the family's curse demands of him. There's a ghost scene in which the ancestors come back, and I love that scene in the opera. Of course, everyone ends up happy in the end. That would be my overall favorite.
BWW: What Gilbert and Sullivan show would you like to see performed more often today?
Hostetter: The three that are performed most often are H.M.S Pinafore, The Pirates of Penzance, and The Mikado. But I think that The Gondoliers should be performed more frequently because it is beautiful to listen to and look at. It's set in Italy in the 18th century, and it's just beautiful. And of course I would love to see Ruddigore performed more often today.
BWW: What would you say is the most difficult aspect of directing a revue?
Hostetter: I would definitely say the most difficult part is that it has no plot. Because every unit, every song, has to engage the audience immediately and last throughout the length of the song. So, you're dealing with small units rather than a cumulative story or a character that lasts throughout the show. They only see a character for the length of a song. I spend a lot of effort ensuring that each song tells as much of a story as it can within the confines of those couple of minutes. If a song in the opera was set in a particular context, I didn't feel constrained to have to recreate the context in the revue. Sometimes I would create my own subtext for the piece that would serve to engage the audience as a stand-alone number. That's the hardest part, to keep re-engaging the audience each time a new number comes up.
BWW: What song in the revue do you think will be the biggest audience-pleaser?
Hostetter: That's a hard one. I think we open with a tune that is always an audience favorite-after a brief quartet from H.M.S Pinafore, from which I derived the title of the show, we segue into the Major-General's song from Pirates of Penzance-it's a patter song and he's an interesting character in the opera. I put it at the front end, hoping that it will strike some as familiar, and, if they aren't familiar with it, it's a patter song and has a great chorus in the background, so I hope that'll get the show off to a rollicking start. There are lots of lesser known gems that people can appreciate from a musical or lyric standpoint that we try to include so that we can widen the audience's experience and show them different kinds of numbers, allowing people to see the range that these two artists had. They could write sentimental songs, satirical songs, and humorous songs. There are occasional solos that are more reflective, and sometimes in those Sullivan's work comes to the fore because of his beautiful melodies. I do include a few of those for the sheer beauty of the music. We have about 22 songs in the revue, so to decide which the audience will like the most, is difficult. Some songs include more choreography than others, which will appeal to some audience members and others might find that they are enthralled by the music or by the lyrics.
BWW: How do you hope audiences will feel when they see the show?
Hostetter: I hope that they'll feel upbeat when they leave. I would say probably 80 percent of the numbers are more upbeat than slow or introspective. Most are lively, and I hope that audiences will leave with a sense of perhaps having discovered something they didn't know was as entertaining as it could be. A lot of people have a prejudice about Gilbert and Sullivan, thinking it's stuffy, so I try to show that it isn't stuffy. To give them a sense that even though they're from a historic period and operatic, they are fun and accessible to all audiences. I also use a lot of techniques from modern theatre to stage the songs. I'd like people to have a sense of discovery that Gilbert and Sullivan are something they can appreciate. And if they're already fans, hopefully they'll be able to enjoy it even more in a new way. It's meant to be light entertainment and can fulfill that well if people give it a chance.
The show runs January 18-27. To order tickets, visit www.theatreharrisburg.com