THE THREE MUSKETEERS Brings Fun for All to Syracuse Stage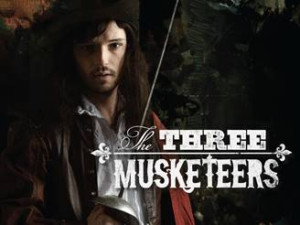 Artistic director Bob Hupp makes his directorial debut as Syracuse Stage opens the 17/18 season with the swashbuckling adventure "The Three Musketeers". This action-packed adaptation of Alexandre Dumas' 1844 classic novel opens Friday, Sept. 22 in the Archbold Theatre at the Syracuse Stage/SU Drama Complex, 820 E. Genesee St. There will be preview performances Wednesday, Sept. 20 and Thursday, Sept. 21.
Adapted by Catherine Bush, playwright-in-residence at The Barter Theatre in Abingdon, Virginia, and co-produced with the Syracuse University Department of Drama, "The Three Musketeers" is a sweeping and engaging tale featuring a cast of 18 outfitted with more than 50 costumes by Marianne Custer, including period gowns.
Hupp chose to start the season with "The Three Musketeers" because of its wide appeal and because it is a work that inspires a creative response in artists and audiences alike.
"The show is full of adventure and romance," said Hupp. "I wanted the first show to be broadly engaging and include the audience as part of the fun. The classics spark our imagination and take us places we don't ordinarily get to go to, like 17th century France."
Dumas' epic follows the dashing young D'Artagnan and his three companions, Athos, Aramis and Porthos, as they fight for the honor of their queen. Carefully guarded secrets, lavish swordfights and sweeping romances all develop as The Musketeers duel their way into glory. The fights, expertly choreographed by D.C. Wright, range from large-scale brawls to one-on-one duels and embrace a variety of tones from comedic to dangerous.
In keeping with the demands of Dumas' sprawling and intriguing tale, Stanley A. Meyer's set accommodates almost 20 locations as the action shifts from the streets of Paris to secret rooms in royal chambers. Hupp said Syracuse Stage's Archbold Theatre is perfect for "The Three Musketeers" because "it is large enough to embrace an epic yet small enough to bring the audience right into the action."
Dumas' work has been translated into more than 100 languages and adapted into a multitude of films. Bush's task was to transform the 400-plus page novel into a new and exciting experience.
"I like the challenge of taking a story written in a totally different place and time and making it accessible to our audience today," said Bush. "Being able to take that reflective material that an author used and condense that to two hours of incredible theatre is amazing!"
The world of the play comes to striking visual life with the help of costume designer Marianne Custer. Custer has worked in costume design for 45 years and based her costume ideas on paintings and garments from the Baroque era (1600 to 1750).
"In my discussions with Bob, I began research primarily through paintings and the existing period, starting from the 1630s," said Custer. "I discovered Baroque paintings from French painters like the Le Nain brothers that looked so rich and luxurious. Their paintings and other Baroque pieces inspired some of my sketches."
"The Three Musketeers" production involves lots of movement, and Custer has designed a wardrobe that not only looks beautiful, but will stay intact during the show's swashbuckling fight scenes.
"These costumes are going to have fairly unique needs because of the amount of combat action required in the play," said Custer.
Similar demands are placed on Meyer's set. In addition to allowing for swift transition to multiple locations, he must also accommodate the fight choreography. Wright calls the set design a wonderful gymnasium that will afford opportunity to showcase the physical skills of the cast.
Aiding, too, in the creation of adventure and romance is Ryan Rumery, who is composing original music specifically for this production. Rumery has been sitting in on rehearsals and working in real time to provide underscoring integral to Jonathan Herter's sound design.
An historic adventure of this scale requires the coordination and integration of numerous creative components. In addition to the design elements, the production has dancing staged by Anthony Salatino and songs coached by Rebecca Karpoff.
As a season opener, "The Three Musketeers" celebrates the expansive potential of live performance.
"Only theatre can deliver a really imaginative, far-flung and shared experience," said Hupp.
Tickets are available at www.SyracuseStage.org, by phone at 315.443.3275 and in person at the Box Office.
"The Three Musketeers"
Adapted by Catherine Bush
From the Novel by Alexandre Dumas
Directed by Robert Hupp
Fight Choreographer: D.C. Wright
Scenic Designer: Stanley A. Meyer
Costume Designer: Marianne Custer
Lighting Designer: Yael Lubetzky
Sound Designer: Jonathan Herter
Wig and Hair Designer: Robert Pickens
Choreographic Staging: Anthony Salatino
Singing Coach: Rebecca Karpoff
Music Composition: Ryan Rumery
Production Stage Manager: Stuart Plymesser*
Casting: Harriet Bass
Cast
Daisha Abdillahi? Patron, Barmaid, Guest at the Palace Ball, Abbess
Claro Austria* Soldier, Planchet, Richelieu's Guard, Fisherman, Guest at the Palace Ball
Weston Barnwell? Richelieu's Guard, Lord Buckingham, Citizen of Paris, Richelieu's Spy
Seth Andrew Bridges* Aramis (one of the King's Musketeers)
Nikki Coble* Milady (Lady de Winter)
Jason Collins* Soldier, Monsieur de Treville, Sailor, Guest at the Palace Ball, Richelieu's Spy
Courtney Green? Anne of Austria
Matthew Greer* Athos (one of the King's Musketeers)
Chris Hatch* Rochefort, Patron, Cahusac, Sailor, Richelieu's Spy
John Long* Drunk, Lemieux, Monsieur Bonacieux, Louis, Beggar
Tyler Lyons? Criminal, Jussac, Richelieu's Guard, Braddock, Guest at the Palace Ball, Felton
Matthew Mueller? Bicarat, Fisherman, Herald at the Palace Ball, Richelieu's Spy
Jenna Najjar? Mob, Customer, Spy, Prostitute, Guest at the Palace Ball
Mara Laurene Reltien? Mob, Patron, Guest at the Palace Ball, Kitty
Chaz Rose* Porthos (one of the King's Musketeers)
Travis Staton-Marrero* D'Artagnan
Kyra Stevens? Constance Bonacieux
Mitch Tebo* Mob, Cardinal Richelieu, Innkeeper of the Golden Lily Inn
*Member of Actors' Equity Association, the Union of Professional Actors and Stage Managers in the United States
?Student, Syracuse University Department of Drama