Syracuse University Department of Drama Presents CRAZY FOR YOU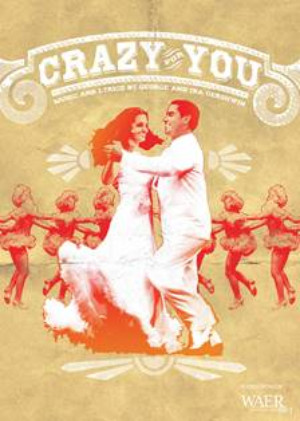 Syracuse University's Department of Drama presents "Crazy For You" from the legendary songbook of George and Ira Gershwin. This Tony Award-winning musical takes a passion for theater and the desire to be loved and infuses them with the toe tapping stylings of the Gershwin brothers. "Crazy For You" opens on Oct. 7 in the Storch Theatre at the Syracuse Stage/SU Drama Complex, 820 E. Genesee St. A preview performance is on Oct. 6.
"Crazy For You," conceived by book writer Ken Ludwig and director Mike Ockrent, opened on Broadway in 1992. The "new Gershwin musical comedy" gave a new life to the classic Gershwin songbook. New York Times reviewer Frank Rich said that this "riotously entertaining show" unlocks a truly American combination of "music, laughter, dancing, sentiment and showmanship with freshness and confidence."
Ludwig's "Crazy For You" crafts a zany love story spanning the glitz and glamour of New York City and the rustic simplicity of Deadrock, Nevada. Bobby Child loves theater more than anything, but he can't seem to get his foot in the door with famed producer Bela Zangler. Bobby's overbearing mother is insistent that he focus on his more responsible bank job. When his mother sends him to Deadrock to foreclose on a theater, Bobby pulls out all of the stops in an attempt to save that theater (and win over his one true love, Polly). To do this, he mounts an (at first) unsuccessful production to pay the mortgage, which incidentally manages to lay the foundation for career successes and true love.
Long after the deaths of George and Ira Gershwin, Ludwig revitalized some of the best songs ever written for Broadway. Pairing the Gershwins' greatest hits with the lively choreography that brought legendary choreographer Susan Stroman her first of four Tony Awards for Best Choreography, "Crazy For You" ran on Broadway for four years and 1,622 performances.
The New York Times credits "Crazy For You" as the American show that grabbed Broadway back from British spectacles such as "The Phantom of the Opera" and "Les Miserables." The hysterical script and the incredibly everlasting music of the Gershwin brothers give the show wide appeal.
Director and choreographer Brian J. Marcum, assistant professor in the Department of Drama, brings with him an expansive Broadway dancing career. He has performed in "The Gershwin's Fascinating Rhythm," "Saturday Night Fever," "42nd Street," "The Boy from Oz" starring Hugh Jackman, "The Drowsy Chaperone" and "Spamalot." Marcum was also the associate choreographer for the Broadway musical "Elf."
Marcum's choreography will pay homage to Stroman's choreography while also showcasing Marcum's personal style. Marcum will utilize two six-person choruses of Follies Girls and Cowboys to round out his toe-tapping cast of more than 20.
"Our hope is that we can take audiences away from whatever it is they're dealing with and make them forget about the bad stuff in the world for a moment," Marcum said. "We hope to be able to give them that gift, and to have them leave uplifted and joyous."
"Crazy For You" runs Oct. 6 through Oct. 15. Tickets are available at vpa.syr.edu/dramatickets, by phone at 315.443.3275 and in person at the Box Office.
Crazy For You
Music and Lyrics by George Gershwin and Ira Gershwin
Book by Ken Ludwig
Co-conception by Ken Ludwig and Mike Ockrent
Inspired by Material by Guy Bolton and John McGowan
Originally Produced on Broadway by Roger Horchow and ElizaBeth Williams
Directed and Choreographed by Brian J. Marcum
Music Director: Brian Cimmet
Scenic Design: Emma Antenen
Costume Design: Kristin Isola
Lighting Design: Andrew LiDestri
Sound Design: Kevin O'Connor
Production Stage Manager: Amanda Luke
Stage Manager: Glory Walsh
Cast
Shanel Bailey Mitzi Act 2, Showgirl
Olivia Barbieri Patsy
Madison Beumee Tess
Marckus Blair Moose
Tucker Breder Mingo, Pete, Stage Hand
Emily Britt Swing, Offstage Vocals
Ryan Byrne Swing, Offstage Vocals
Sage Cobos Swing, Offstage Vocals
Alexander Cortinas Custus, Harry
Jack Fortin Lank
Sabrina Fosse Female Ensemble
Stephanie Garofalo Female Ensemble, Showgirl
Caleb James Grochalski Sam, Junior, Stage Manager
Myles Justise Hayward Eugene Fodor
Crawford Horton Bobby Child
Rachel Kay Swings, Offstage Vocals
Noah Lentini Billy
Leslie Noble Lottie
Adriana Schaps Patricia Fodor, Mitzi Act 1
Kevin Shumway Everett Baker
Michael Sloan Wyatt, Chauffer, Perkins
Claire Sorlie Female Ensemble
Mattew Steriti Bela Zangler
Zofia Weretka Irene
Additional Credits
Dance Captain: Clair Sorlie
Fight Captain: Tucker Breder
Assistant Director: Lauren Mosier
Assistant Music Director: Jacob Stebly
Assistant Scenic Designer: Breanna Zahakos
Assistant Costume Designer: Garvin Hastings
Assistant Lighting Designers: Casey Lessinger, David Jackson
Assistant Sound Designer: Sasha Falsberg
Assistant Stage Managers: LanDon Lee, Jack Norman
Performance Dates
Oct. 6 at 8 p.m. (preview)
Oct. 7 at 8 p.m. (opening)
Oct. 8 at 2 p.m.
Oct. 11 at 8 p.m.
Oct. 12 at 8 p.m.
Oct. 13 at 8 p.m.
Oct. 14 at 2 p.m. (open captioning)
Oct. 14 at 8 p.m.
Oct. 15 at 2 p.m. (ASL interpreted)
DEPARTMENT OF DRAMA
The Syracuse University Department of Drama offers conservatory-style training in a university setting shared with a resident, professional theater (Syracuse Stage), presenting an unparalleled combination of teaching professionals and diverse performance and production opportunities. SU Drama offers four conservatory-style bachelor of fine arts (B.F.A.) degree programs in acting, musical theater, stage management, and theater design and technology, as well as a bachelor of science (B.S.) degree program in drama that features a Theater Management track. Undergraduates put classroom theory into practice through productions and various special opportunities, including Wednesday Lab, study abroad, the NYC-based Tepper Semester, the Sorkin in L.A. Learning Practicum, numerous community engagement initiatives and the opportunity to participate in workshops or discussions with such visiting artists as Taye Diggs '93, Aaron Sorkin '83, Vanessa Williams '85, Frank Langella '59, David Henry Hwang, Tim Miller, Tony Kushner and more.
Syracuse University COLLEGE OF VISUAL AND PERFORMING ARTS
The Syracuse University Department of Drama is housed within the College of Visual and Performing Arts (SU:VPA). SU:VPA is committed to the education of cultural leaders who will engage and inspire audiences through performance, visual art, design, scholarship and commentary. It provides the tools for self-discovery and risk-taking in an environment that thrives on critical thought and action.