Riot with Three Come to Bridge Street Theatre on 9/30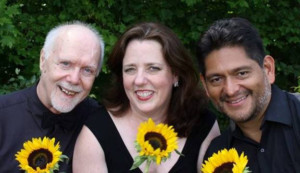 The dynamic classical trio Riot with Three - Alison Davy, soprano, Javier Oviedo, saxophone, and Gene Rohrer, piano - make a triumphant return to Catskill's intimate Bridge Street Theatre on Saturday September 30 at 7:30 pm with an eclectic evening of contemporary and classical chamber works entitled "The Nature of Music". In this exquisite and wide-ranging program, which includes works by Handel, Hoiby, Assad, Laitman, Arnold, and Borgia, the ensemble celebrates everything from the grandeur of the great outdoors to sugar addiction with a vibrant combination of unbridled joy and dazzling technical expertise.
This world-class ensemble is devoted to engaging and entertaining audiences with surprising, lively, and varied classical recitals. Their combined resumé lists some of the nation's most prestigious concert venues including Carnegie Hall, The Kennedy Center, Lincoln Center and The White House as well as venues throughout Europe and Asia. Together, the trio has enjoyed tremendous success and garnered critical acclaim at New York's DiMenna Center for Classical Music, the Kingston Festival of the Arts, and NYC's Ethical Culture Society concert series. They are continuously developing and adding new pieces to their repertoire, and are devoted to creating a unique performance atmosphere for listeners with vibrant performances and an approachable, personable style.
"The Nature of Music" will be performed for one night only, Saturday September 30, at 7:30pm on the Bridge Street Theatre Mainstage, located at 44 West Bridge Street in the Village of Catskill, NY. Tickets are $20, $10 for students age 21 and under, and can be purchased online at BrownPaperTickets.com, by calling them at 800-838-3006, or at the door one half hour prior to the performance on a space available basis.
For more information, visit the theatre's website at BridgeSt.org or call their offices at 518-943-3818.
Performance Calendar
RIOT WITH 3: "The Nature of Music"
with Alison Davy (soprano), Javier Oviedo (saxophone), and Gene Rohrer (piano)
One Night Only! Saturday September 30, 2017 at 7:30pm
Bridge Street Theatre
44 West Bridge Street, Catskill, NY
Tickets:
$20, $10 for patrons age 21 and under.
Advance Tickets available at RiotWithThree.BrownPaperTickets.com or by calling 800-838-3006.
Tickets also go on sale at the door 30-minutes prior to the performance (subject to availability)

Alison Davy (Soprano) Praised by Opera Orchestra of new York's Eve Queler for her "beautiful expression and style," Ms. Davy has appeared in opera and oratorio both nationally and internationally. Some recent engagements have included Haydn's "The Creation" with Choral Society of the Hamptons, Dierdre in the world premiere of Richard Pearson Thomas' "A Wake or a Wedding" with Encompass New Opera Theatre, Britten's "Les Illuminations" with the East Bay Chamber Orchestra in San Francisco, Violetta in scenes from Verdi's "La Traviata" at the National Opera Center, and the world premiere recording of Steven Lebetkin's "Six Songs on Poems by Walt Whitman" with the City of Prague Philharmonic. Ms. Davy has been featured as a guest artist at Lincoln Center's Bruno Walter Auditorium and was selected to perform at the White House for President and Mrs. Clinton. Since March of 2015, she has also served as Bridge Street Theatre's Development Director, and she starred as Florence Foster Jenkins in Stephen Temperley's "Souvenir", the opening production in the theatre's 2017 Subscription Season.
Javier Oviedo (Saxophone) One of the brightest soloists of the classical saxophone world, Mr. Oviedo is acclaimed for his lustrous tone, passionate musicianship, and formidable technique. He works tirelessly to present the saxophone, as a unique, versatile, exciting classical instrument. His continuing research has helped introduce the rich tradition of musical composition for the entire saxophone family. He has performed to great praise in many cities across the country and around the world, from China to Latin America to many cities in Eastern and Western Europe including Barcelona, Paris, the Republic of Moldova, and in the Russian Federation.
Gene Rohrer (Piano) A graduate of the Manhattan School of Music and Occidental College in Los Angeles, Mr. Rohrer was seen and heard, both in New York City and Chicago, as an actor/singer/pianist in the role of Galileo in "The Top Ten People of the Millenium Sing Their Favorite Schubert Lieder" by Alec Duffy. He sang many works by Gilbert and Sullivan with the Light Opera of Manhattan when it was NYC's main source for operetta. He toured as a pianist with baritone Saviero Barbieri and James Billings of the NYCO, the Festival of Song Quartet, and the Gregg Smith Singers.