Photo Flash: They've Got Rhythm! First Look at CRAZY FOR YOU at Finger Lakes
The Finger Lakes Musical Theatre Festival presents the classic Gershwin musical comedy CRAZY FOR YOU. Performances run from tonight, July 27, through August 17 at the Merry-Go-Round Playhouse as part of the Festival's 2016 season. BroadwayWorld has a first look at the cast in action below!
Featuring a down and out tycoon, a theatre in need of saving, a slew of leggy show girls, and a bunch of rednecks from Nevada, this Gershwin song and dance extravaganza is chock full of classic songs ("I Got Rhythm," "Someone to Watch Over Me") and toe-tapping choreography.
Sam Lips (Broadway: Cinderella, Pippin; National Tours: Pippin, Wicked) stars as Bobby Child, a rich man from New York sent to foreclose on a run-down theatre in Deadrock, Nevada. Despite the impending foreclosure, Polly Baker, played by Katerina Papacostas (National Tour: Evita), is determined to keep the beloved theatre in her town alive. Patrick Oliver Jones (National Tours: The Addams Family, Evita) will be portraying New York theatre owner Bela Zangler. Playing the demanding Mrs. Child, Bobby's mother, is SuEllen Estey (Broadway: Sweeney Todd, Barnum, State Fair). LilyAnn Carlson (National Tour: Elf) plays the sophisticated, on-the-prowl Irene opposite Thomas Schario's Lank (National Tour: Nice Work if You Can Get It), and Colleen Hayes (National Tour: Catch Me if You Can) and Lizz Picini (Regional: FLMTF, Tuacahn Amphitheatre, Ogunquit Playhouse) liven the stage as showgirls Patsy and Tess. The company is rounded out by Michael Antico, Aaron Burr, Victoria Casillo, Andy Frank, Tim Fuchs, Sebastian Goldberg, Blayne Gregg-Miller, AJ Hunsucker, Aimee Lane, Megan McLaughlin, Joey Ortolani, Michael Persson, Emily JeAnne Phillips, Charles South, Gabi Stapula and Anthony Sullivan, Jr.
The show is directed and choreographed by Parker Esse with musical direction by Jeff Theiss. The scenic design is by Czerton Lim, costume design by Tiffany Howard, lighting design by Dan Ozminkowski and sound design by Ryan Kilcourse.
Tickets can be purchased by phone at 315-255-1785 or toll free at 1-800-457-8897, and online at FingerLakesMTF.com.
Photo Credit: Ron Heerkens Jr.

Bobby (Sam Lips) is just a tad resistant of his fiancee Irene's (LilyAnn Carlson) advances

Bobby (Sam Lips) has caught the dancin' fever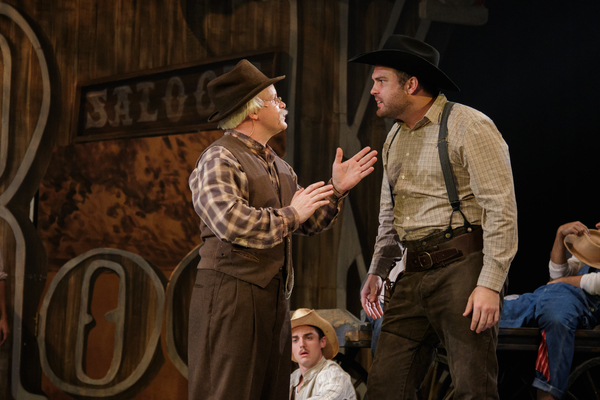 Everett (Michael Antico) has far too many fond memories of his theater to sell it to the crabby Lank Hawkins (Thomas Schario)

Zangler's Follies, surrounded by handsome cowboys, definitely aren't homesick for the bright lights of Broadway

Lethargic cowboy Moose (Charles South) finds energy in the rhythm of his bass

Bobby (Sam Lips) and Polly (Katerina Papacostas) finally get their happily ever after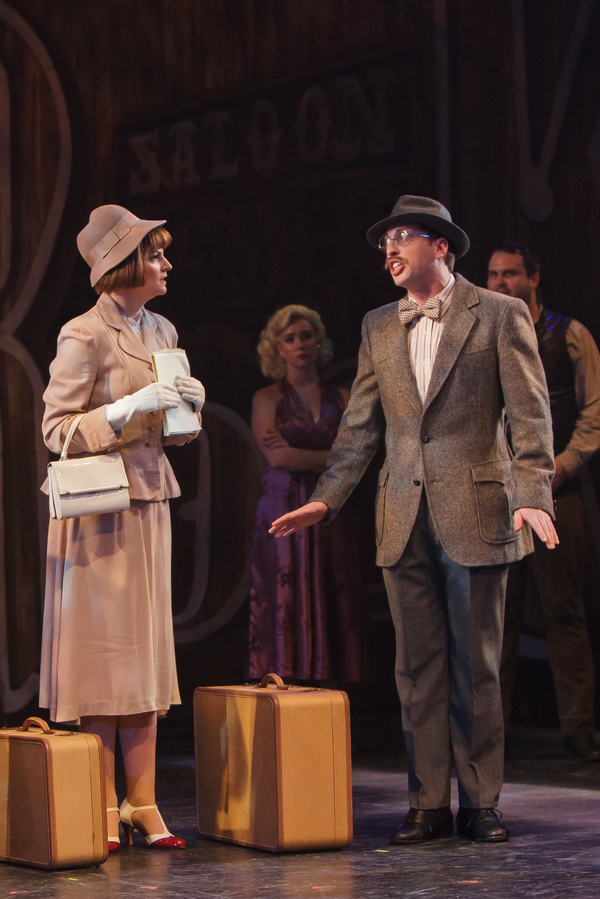 Stakes get higher when guide book writers Eugene (Sebastian Goldberg) and Patricia (Blayne Gregg-Miller) Fodor stroll into Dead Rock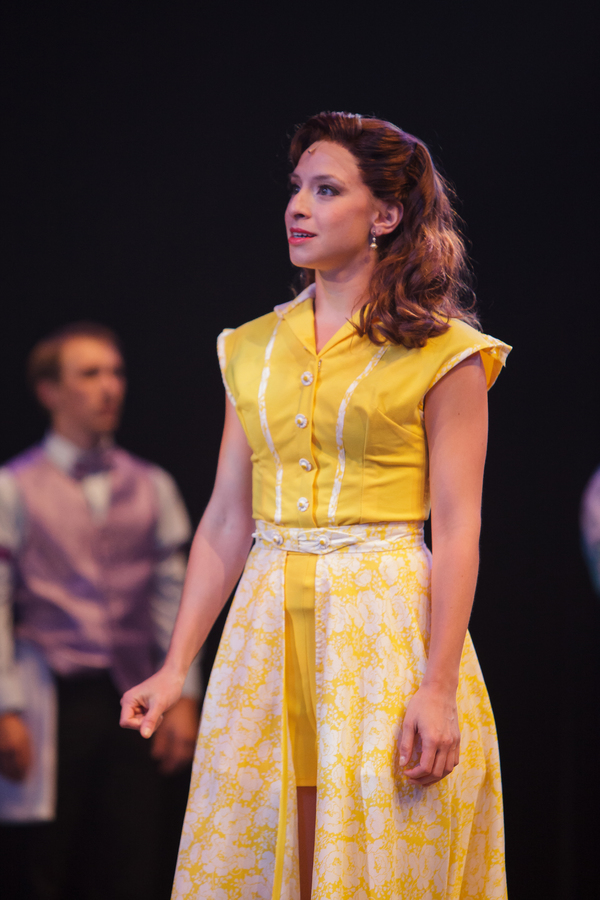 Amid a discouraged cast, Polly (Katerina Papacostas) chooses to look on the bright side of life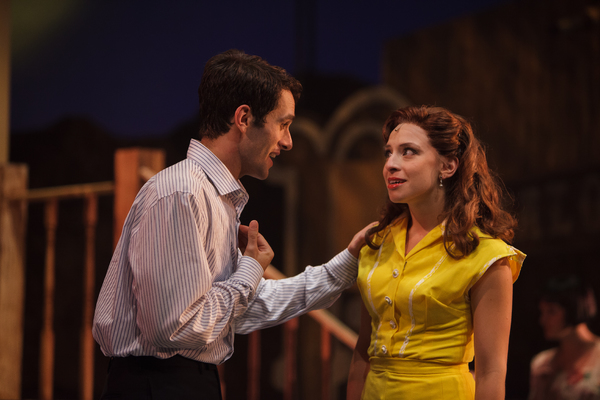 Polly (Katerina Papacostas) questions Bobby's (Sam Lips) sanity when he claims to be living a double-life

Bela Zangler (Patrick Oliver Jones) comes face-to-face with his doppelganger 'Bela' (Sam Lips)

Lank (Thomas Schario) is being driven a little batty by demanding hotel guests

Stuck between money and love, Bobby (Sam Lips) gets a little help from his friends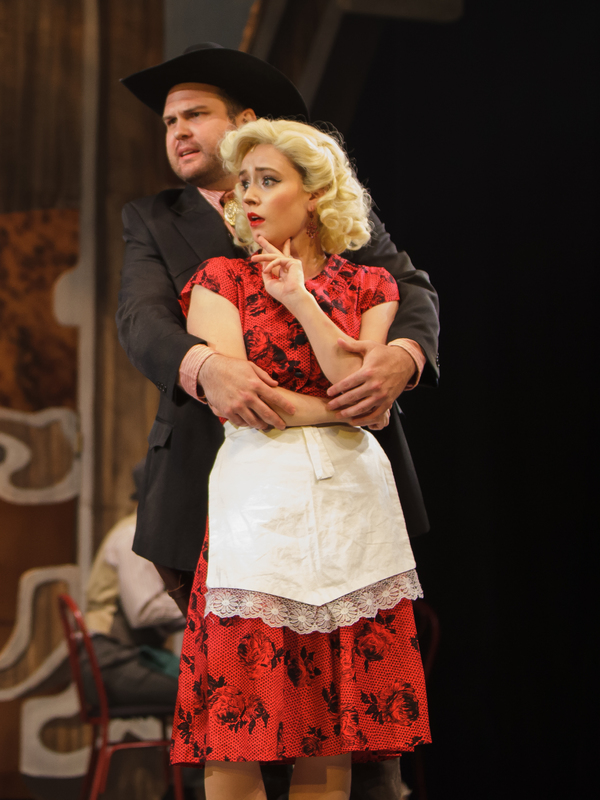 Lank (Thomas Schario) and Irene (LilyAnn Carlson) watch the drama unfold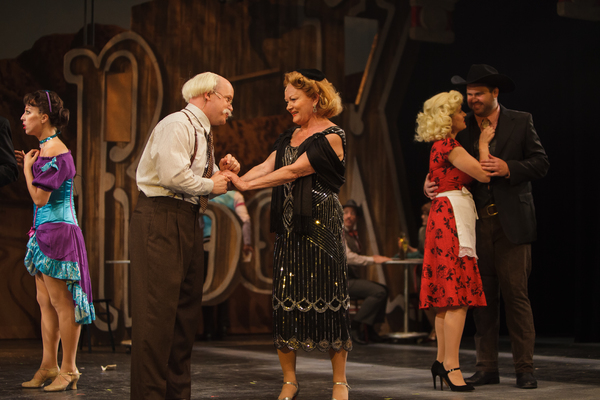 Everett (Michael Antico) Bobby's mother (SuEllen Estey) only have eyes for each other