Photo Flash: First Look at FRANKIE AND JOHNNY IN THE CLAIR DE LUNE at Kitchen Theatre
As the temperature cools down in the city, the Kitchen Theatre Company heats up with the first play of the theater's 22nd season, FRANKIE AND JOHNNY IN THE CLAIR DE LUNE. Previews start tomorrow night, August 29, opening night is September 1, and the play runs through September 16, 2012. Get a first look at the production in the photos below!
Frankie is a waitress. Johnny is a cook. Each has had a good helping of disappointments. She is resigned and cautious. He is torrent of words and a desperate romantic. They spend an incredible night together: wild abandon at first, regret and doubt next, with laughing, crying, pushing and pulling along the way. Is there any that hope that a relationship can blossom out of the revelations of this tumultuous night? This could be just a one-night stand, or, maybe, this is the moment in time from which these two imperfect halves begin to fashion a whole. Are they willing to take the risk?
Rachel Lampert, Artistic Director of the KTC (Director: Broke-ology, Mary's Wedding, Red Light Winter and many others), directs an all Actors' Equity cast. Brandon Morris* (Stage: A Streetcar Named Desire, Fill Our Mouths. TV: Burn Notice, L aw & Order SVU, Dexter) will play the motor-mouthed Johnny to Rachel Burttram's* (Stage: Rabbit Hole, Proof, Opus. TV: Burn Notice) guarded Frankie. Both actors make their Kitchen Theatre Company debut with this performance. The creative team also includes: Scenic Designer Kent Goetz, Lighting Designer: Tyler M. Perry, Costume Designer: Amara Kopakova, Sound Designer: Michael Doliner, Properties Designer: Abigail Smith and the KTC Production Stage Manager LaShawn Keyser*. Performances take place in the Kitchen Theatre, located at 417 W. State / Martin Luther King, Jr. Street in Ithaca's West End neighborhood, just three blocks from The Commons.
This is the Kitchen Theatre's 22nd Season opener, and we will celebrate with a reception before each and every performance. Come early for a toast to the new season! Other special events connected to this production include a free pre-show talk on September 12th by with Ithaca College Associate Professor of Sociology Rebecca F. Plante, Book Review Editor of the Journal of Sex Research and member of the Editorial Board of Sexualities.
NOTE: Frankie and Johnny in the Clair de Lune is recommended for ages 18 & up for nudity and adult language.
Bold, intimate, engaging... Kitchen Theatre Company (KTC), beginning its 22nd season, is downtown Ithaca's critically acclaimed and nationally recognized year-round professional theater company, specializing in regional and world premiere plays and musicals. KTC's intimate 99-seat theater is in its newly renovated "green" building in the West End neighborhood of downtown Ithaca, New York. KTC is the first not-for-profit recipient of the David R. Strong Memorial "Small Business of the Year" Award from the Tompkins County Chamber of Commerce and receives public funds from the New York State Council on the Arts, a State Agency, the Ithaca Urban Renewal Agency, and the Tompkins County Tourism Program. The Kitchen Theatre Company also receives general operating support from the Shubert Foundation.
Photo credit: Ed Dittenhoefer


Rachel Burttram and Brandon Morris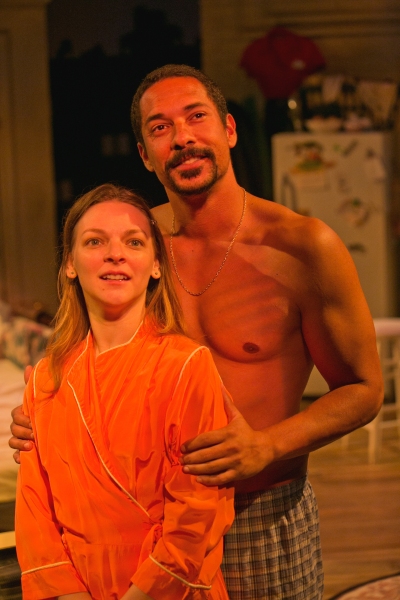 Rachel Burttram and Brandon Morris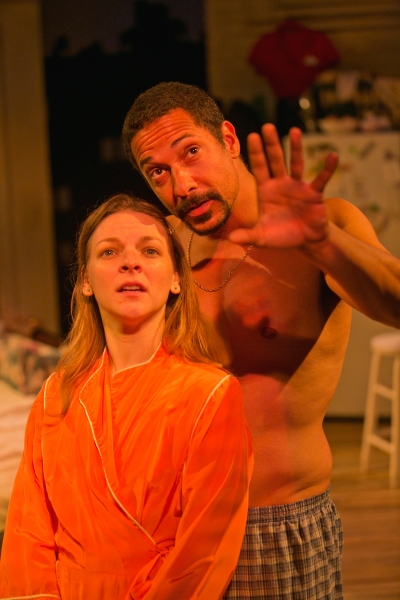 Rachel Burttram and Brandon Morris

Brandon Morris and Rachel Burttram