Photo Flash: First Look at Cortland Rep's Summer Season Closer THE MARVELOUS WONDERETTES
Cortland Repertory Theatre closes their 45th anniversary summer season of professional Live Theatre with a lollipop of a musical, "The Marvelous Wonderettes". Written and created by Roger Bean, the show features some of the greatest pop hits of the 1950's and 60's. BroadwayWorld has a sneak peek at the cast below!
Take a trip back in time to the 1958 Springfield High School prom and meet Betty Jean, Cindy Lou, Missy, and Suzy, four girls with hopes and dreams as big as their crinoline skirts. As we learn about their lives and loves, the girls serenade us with classic '50s hits including "Lollipop", "Dream Lover", "Stupid Cupid", and "Lipstick on Your Collar".
In Act Two, the show jumps forward in time as the girls reunite to perform at their ten-year reunion. We learn about the highs and lows the girls have experienced in the past decade as they sing "current" hits "Leader of the Pack", "Son of a Preacher Man", "Rescue Me" and "I Only Want To Be With You". Featuring over 30 classic hits, this show is a funny musical trip down memory lane, and great for all ages.
Julie Tomiano makes her CRT debut as director and choreographer, as does Christopher Blasting as music director. The cast is comprised of four multitalented individuals, including Hannah Zilber who plays Cindy Lou. Zilber was seen last summer in "Suds", "Always a Bridesmaid", and previously in "All Shook Up" and "Les Miserables". The other cast members make their CRT debuts: Joyana Loraine Feller as Betty Jean, Lizzy Miller as Suzy and Bridget Elise Yingling as Missy.
CRT's Production Manager Eric Behnke is both Stage Manager and Lighting Designer for this production, with Emily Hankins serving as Assistant Stage Manager and Company Manager. Scenic design is handled by Carl Tallent, having just finished the design for "The Kitchen Witches". Frequent designer Jimmy Johansmeyer provides the costumes, with Joe Dotts as Props Designer, Seth Asa Sengel as Sound Designer, and Dana White Jr. as Technical Director.
Performances will run from August 31 - September 10 with evening performances at 7:30. Matinees are available on September 2, 4, 7 and 8 at 2:00 PM. Tickets may be purchased by calling 800-427-6160 or at the CRT Box Office at 24 Port Watson Street in Cortland. Tickets are also available for sale 24 hours a day through the CRT website at www.cortlandrep.org.
Photo Credit: Eric Behnke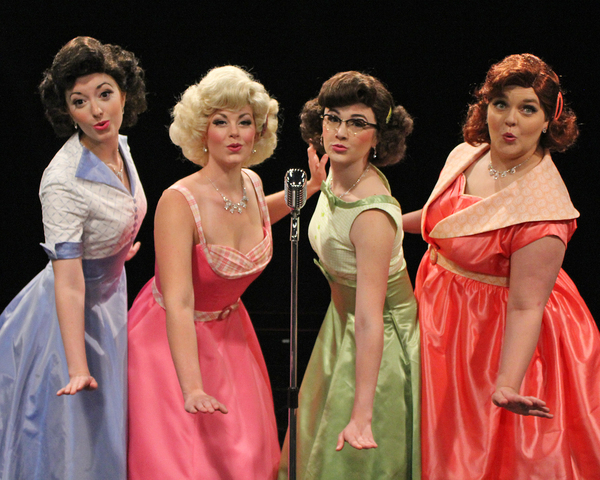 Lizzy Miller as Suzy, Hannah Zilber as Cindy Lou, Bridget Elise Yingling as Missy and Joyana Loraine Feller as Betty Jean

Hannah Zilber as Cindy Lou, Lizzy Miller as Suzy, Joyana Loraine Feller as Betty Jean and Bridget Elise Yingling as Missy

Lizzy Miller as Suzy, Hannah Zilber as Cindy Lou, Bridget Elise Yingling as Missy and Joyana Loraine Feller as Betty Jean
More Hot Stories For You