Photo Flash: First Look at Charles, Kennedy, and London in CRT's THE DRAWER BOY
The fifth show in Cortland Repertory Theatre's 41st summer season comes the award-winning comedic drama "The Drawer Boy" written by
Michael Healey
. BroadwayWorld has a first look at the production below.
Performances of "The Drawer Boy" will run from August 15 - 25 with evening performances at 7:30. Matinees are available on August 17, 19 and 22 at 2:00 PM. Tickets may be purchased by calling 800-427-6160 or in person at the CRT Box Office at 24 Port Watson Street in Cortland. Tickets are also available for sale 24 hours a day through the CRT website at www.cortlandrep.org. The show is suitable for younger teens and up, though it does contain some mild adult language.
Set in 1973, "The Drawer Boy" relates the tale of Miles, a young actor from a Toronto theatre troupe who visits the rural Ontario home of two bachelor farmers to "research" farm life for a new play. The Farmers, Morgan and Angus, are life-long friends and veterans of World War II. Morgan, a tough-minded, stubborn man, takes care of Angus, who has had brain damage and lost his memory during the bombing of London. Angus is initially identified as "the drawer boy" (as in, "a person who draws") because he used to design buildings, and has the talents of an architect. When Angus becomes confused or upset, Morgan calms him by retelling their life story, and of the two women whom they loved, and who came to live with them. However, Miles learns of deeper secrets in their past and in the process of working on his play, reawakens Angus' memory. Life becomes Art, which then turns the tables and Art becomes Life. "The Drawer Boy" is fundamentally about the power of storytelling in creating and interpreting reality, and how it can transform lives.
At the directing helm is long-time CRT director Bill Kincaid.  Stage Manager Eric Behnke also serves as Lighting Designer, joining returning designers Jonathan Wentz (set), Sam Sheehan (props), Seth Asa Sengel (sound) and making her costume designer debut, former CRT Wardrobe Supervisor Liz Meehan. Nicholas Schwartz serves as Technical Director for this production, with Natasha Thompson finishing her summer as Assistant Stage Manager.
The three person cast is comprise of frequent CRT actor Dustin Charles as Miles, Kyle Kennedy as Morgan and Greg London making his CRT debut as Angus. Charles has previously been seen in "The Hollow", "Rumors", "Brigadoon" and "Unnecessary Farce" to name a few. Kennedy has also been seen on the CRT stage in "A Murder is Announced", "Gross Indecency", and "A Few Good Men".
CRT continues the tradition of "Friday Night Talk Backs" at which a Q & A session with the actors, designers and crew take place after every Friday evening performance. Tickets are also on sale for the final show in CRT's season, the farcical comedy/thriller "The Mystery of Irma Vep" which will run from August 29 – September 8. See more details at www.cortlandrep.org.


Greg London, Kyle Kennedy and Dustin Charles

Kyle Kennedy, Dustin Charles and Greg London

Kyle Kennedy, Dustin Charles and Greg London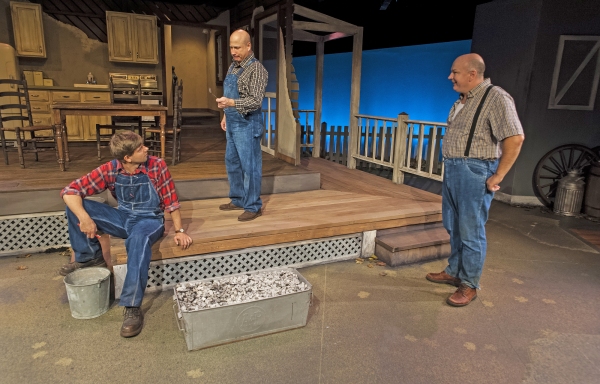 Dustin Charles, Kyle Kennedy and Greg London