Photo Flash: First Look at 1776, Opening Tonight at Cortland Rep
For the second production in their 44th annual season of professional summer theatre, Cortland Repertory Theatre presents the revolutionary musical "1776", by Peter Stone, with music and lyrics by Sherman Edwards. Performances of this fascinating, family-friendly show will run from tonight, June 17, through July 4 with evening performances at 7:30. Matinees are available on June 19, 21, 24, 26, 28 and July 1 at 2:00 PM. BroadwayWorld has a first look at the cast in action below!
The birth of our nation blazes to vivid life in this Tony Award winning musical about the creation of the Declaration of Independence. With a quick witted book and a playful score, this one-of-a-kind musical puts a human face on our Founding Fathers: proud, uncertain, irritable, and ultimately noble figures who are determined to do the right thing for a fledgling nation. Audiences will follow John Adams, Benjamin Franklin and Thomas Jefferson as they attempt to convince the Continental Congress to vote for independence. Funny, insightful, and stirring, it's an exciting way for the entire family to celebrate our country's birth.
The show is directed by CRT's Producing Artistic Director Kerby Thompson, who previously has directed such CRT productions as "Buddy! The Buddy Holly Story", "Unnecessary Farce", and "Best Little Whorehouse in Texas" amongst others. Thompson is assisted by Dustin Charles, a long time actor and director at CRT, who will also serve as Dialect Coach. Music Director Joel Gelpe returns, having worked on "Les Miserables" last summer and previously on "Cats", "Ring of Fire" and "The 1940's Radio Hour". Choreography is handled by Cynthia Halpin, a dance instructor at SUNY Cortland who has also worked on CRT productions "Brigadoon", "The Full Monty" and "Grease".
Starring as the "obnoxious and disliked" John Adams is Equity Guest Artist Greg Horton in his CRT debut. Also making their debuts are Richard Daniel as Benjamin Franklin, Nicholas Carroll as Thomas Jefferson and Arthur Lazalde as the "cool conservative" John Dickinson. Portraying the strong women-behind-the-men are Caitlin Diana Doyle as Abigail Adams and Rachel Womble as Martha Jefferson. Returning to the CRT stage after quite a long absence is Greg Bostwick as John Hancock. Other returnees include Joe York ("The Ladies Man") as Richard HenryLee, Jason Sofge ("The Full Monty") as Samuel Chase, Coleman Hemsath ("Les Mis", "Grease") as Robert Livingston, David Brown ("The 1940's Radio Hour") as Reverend John Witherspoon, Bob Finley ("The Pajama Game", "Damn Yankees") as Stephen Hopkins and Mark Re ("The Smell of the Kill") as Lewis Morris. Others in their first time production with CRT include Lionel Ruland as Roger Sherman, James Taylor Odom as Colonel Thomas McKean, Jeff Untz as James Wilson, and Charles Baran as the congressional custodian Andrew McNair. Local actors in the production include Robert Spitzer as Josiah Bartlett, Paul Yaman as Caesar Rodney, and Tom Fuchs as Dr. Lyman Hall. The cast is completed by the CRT Performing Intern Company with Daniel Wisniewski as Edward Rutledge, Logan Mortier as Charles Thomson, Brian Reiff as Joseph Hewes, Jared Goldsmith as George Read, Lukas Miller as the Courier and Connor Cook as the Leather Apron.
Stage Manager Erin Heare makes her CRT debut with this show, and leads the design and production team. Sam Sheehan, a past Properties Designer at CRT returns as Scenic Designer this time. Costumes are coordinated and created by long-time CRT Costume Designer Wendi Zea. Continuing their work this season are Props Designer Amanda Diaz, Sound Designer Seth Asa Sengel and Technical Director Dana White Jr. Lighting Designer David Sexton makes his debut, while Rachel Kartiganer continues as Assistant Stage Manager.
Tickets may be purchase by calling 800-427-6160 or by visiting the CRT Box Office at 24 Port Watson Street in downtown Cortland. Tickets are also available for sale 24 hours a day through the CRT website at www.cortlandrep.org.
Photo Credit: Eric Behnke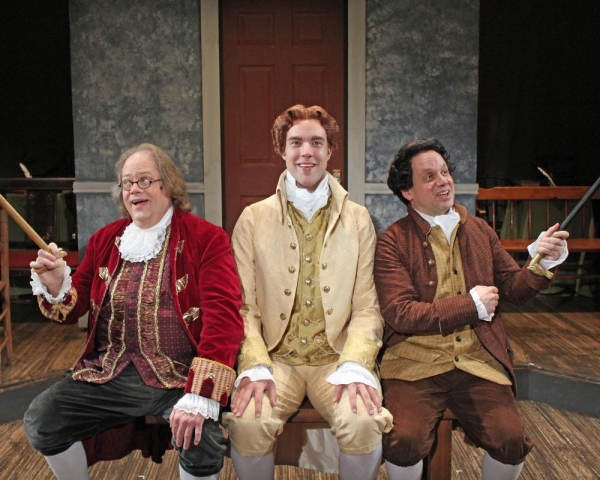 Richard Daniels as Benjamin Franklin, Nicholas Carroll as Thomas Jefferson and Greg Horton as John Adams perform ''The Egg''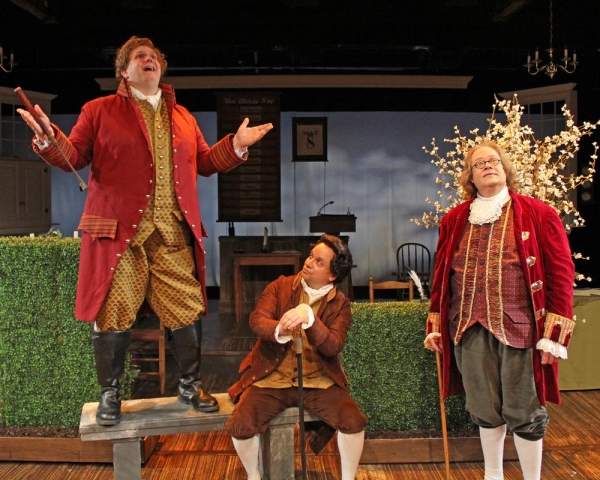 Joe York as Richard Henry Lee, Greg Horton as John Adams and Richard Daniel as Benjamin Franklin perform ''The Lees of Old Virginia''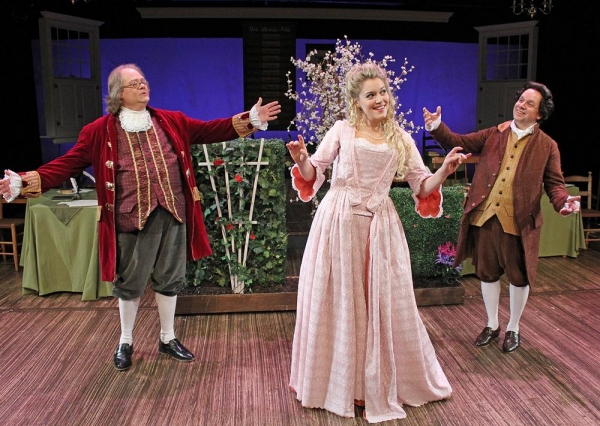 Richard Daniel as Benjamin Franklin, Rachel Womble as Martha Jefferson and Greg Horton as John Adams perform ''He Plays the Violin''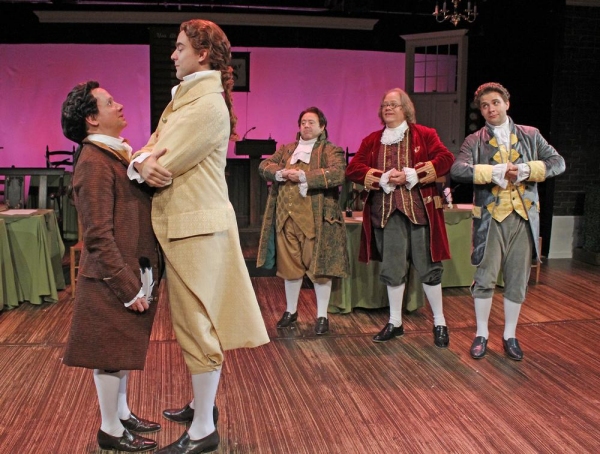 Greg Horton as John Adams, Nicholas Carroll as Thomas Jefferson, Lionel Ruland as Roger Sherman, Richard Daniel as Benjamin Franklin and Coleman Hemsath as Robert Livingston perform ''But Mr. Adams''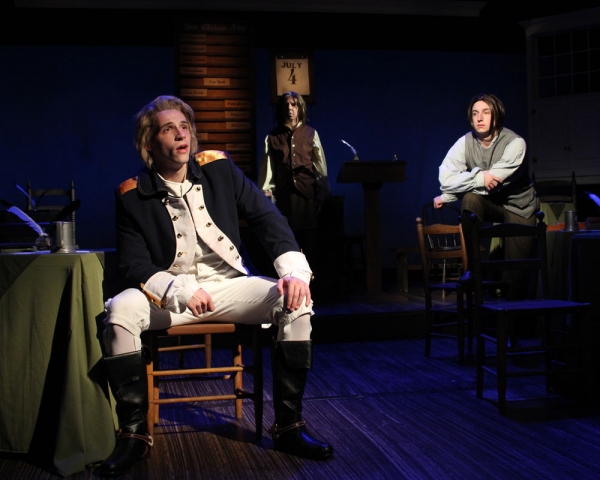 Lukas Miller as the Courier, Charles Barran as Andrew McNair and Connor Cook as the Leather Apron perform ''Mama Look Sharp''

Greg Horton as John Adams and Caitlin Diana Doyle as AbiGail Adams perform ''Yours Yours Yours''