Photos: Cortland Rep's GREASE Opens Tonight
Cortland Repertory Theatre invites one and all to travel back in time to the rockin' and rollin' 1950's with its next production, the blockbuster musical "Grease", which has book, music and lyrics by Jim Jacobs and WarRen Casey. The show opens tonight, June 20. Check out production photos below!
In this high energy musical, the rebellious 1959 graduating class from Rydell High start their senior year with a bang, as head greaser Danny Zuko and new "good girl" Sandy Dumbrowski sing about the high romance of their "Summer Nights". Joined by the hot-rodding Burger Palace Boys and their gum-snapping girlfriends The Pink Ladies, the gang maneuver their way through teen love, romance, friendship, rebellion and sexual exploration all while singing and dancing the hit songs Greased Lightnin', You're the One That I Want, Raining on Prom Night, The Hand Jive, and many more.
The original Broadway production, which opened at the Broadhurst Theatre on June 7, 1971, ran for 3,388 making it the longest running Broadway musical at that time. It remains Broadway's 14th longest running show, and has had two successful revivals in 1994 and 2007. Some of the stars who passed through the original production include the original "Danny"
Barry Bostwick
and the movie "Danny"
John Travolta
, as well as Patrick Swazye,
Treat Williams
,
Jeff Conaway
,
Marilu Henner
and
Adrienne Barbeau
. The then-unknown
Richard Gere
starred in the London production in 1973. The wildly successful movie version starring Travolta and
Olivia Newton-John
was released in 1978, and the movie soundtrack became the 2nd highest selling album of the year. The director of "Grease" is
Bert Bernardi
, whose previous CRT credits includes "Joseph and the Amazing Technicolor Dreamcoat", "The Great American Trailer Park Musical", "Johnny Guitar" and many others. SUNY Cortland dance instructor Cynthia Halpin handles the choreography, having previously choreographed CRT's "Joseph…" and "Brigadoon". Music Direction is by recent Ithaca College graduate Logan Culwell, in his first show at CRT.The cast is comprised mostly of new faces to the CRT stage. Danny will be played by
Dylan Schwartz-Wallach
, with Sandy played by recent
Syracuse University
graduate
Tess Polacheck
.
Rin Allen
, who was nominated for a SALT Award for her performance as Velma Kelly in CRT's "Chicago" last summer, returns to play tough-talking Betty Rizzo. The Burger Palace Boys are played by
Ryan Shaefer
as Kenickie, Ithaca College student
Coleman Hemsath
as Roger and CRT Performing Interns
Alexander Hulett
as Doodie and
Chris Collins
as Sonny. The Pink Ladies are played by Abigail Gatlin as Marty with CRT Performing Interns
Alexa Shanahan
as Frenchy and
Abby Sheridan
as Jan. Cheerleader Patty Simcox will be played by
Syracuse University
student
Avery Epstein
, with
Parker Slaybaugh
playing Eugene Florcyzk, both Performing Interns. Rounding out the cast will be
Maria Cristina
Slye, just seen in "The Ladies Man" as Cha-Cha DiGregorio, and local actress
Nancy Kane
as
Miss Lyn
ch. Radio DJ Vince Fontaine will be played by long time CRT Costume Designer
Jimmy Johansmeye
r
, who also designs the costuming for the show. In her CRT debut, Stage Manager Laura Krouch is charged with organizing the production and crew. Design staff includes most returnees from CRT's previous show "The Ladies Man" including Scenic Designer Jason Bolan, Lighting Designer Shawn Boyle, Sound Designer Seth Asa Sengel, and Props Master Sam Sheehan. Patrick McGovern continues as Technical Director as does Natasha Thompson as Assistant Stage Manager.CRT continues the tradition of "Friday Night Talk Backs" at which a Q & A session with the actors, designers and crew take place after every Friday evening performance. Performances of CRT's "Grease" run now through July 7. For tickets, scheduling and further information, visit
www.cortlandrep.org
.
Photos courtesy CRT.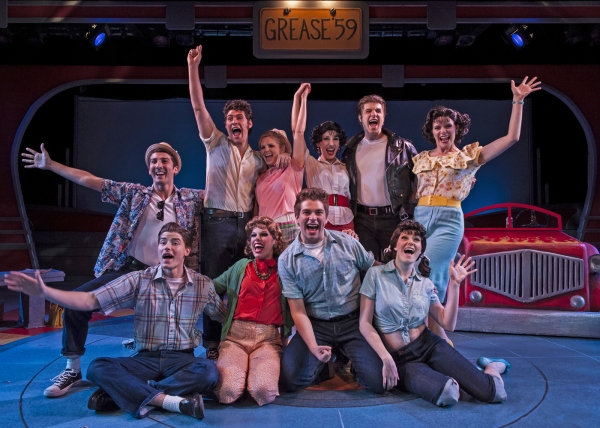 Cast of GREASE in "We Go Together"

Chris Collins as Sonny, Alexander Hulett as Doodie, Ryan Shaefer as Keinicke, Coleman Hemsath as Roger, and Dylan Schartz-Wallach as Danny in "Grease Lightning"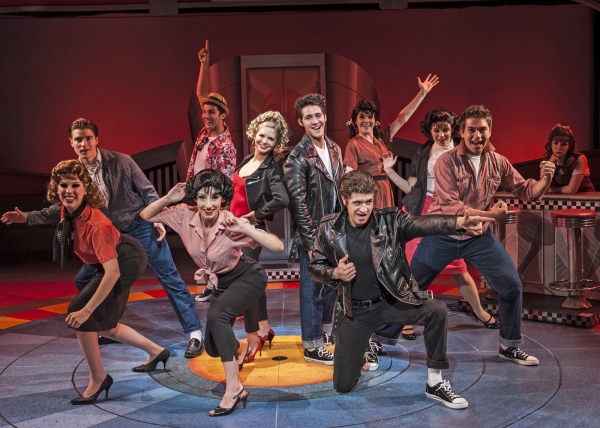 The Cast of GREASE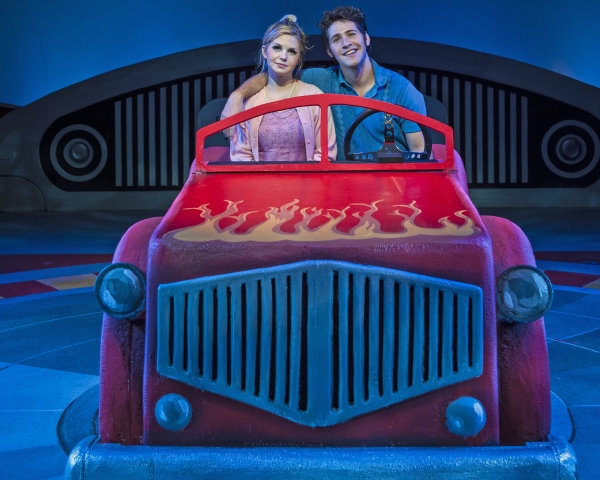 Tess Polacheck as Sandy and Dylan Schartz-Wallach as Danny