No Name Collective Presents THE TEMPEST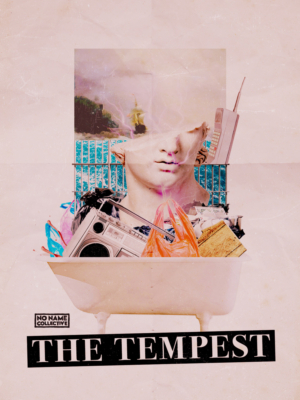 No Name Collective presents Shakespeare's classic The Tempest as their 2019 summer production. Co-Directed by Tessa Barlow-Ochshorn and Allison Houser, this production opens for a two week run on August 1st at the Gallery Space at Access Theatre.
This fast-paced, ensemble driven production of The Tempest is a physically focused exploration of what it means to be in between one's nightmare, and one's greatest desire. Set on an island strewn with cultural touchstones and nostalgia, the play will investigate each character's internal tempest. How do we build a satisfying life? How do we communicate after isolation? How can we forgive? Using music, movement, and joyful interpretation of text, this Tempest seeks to explore these questions and more.
The cast features Rashidah Bernay-Folwer (Alonso), Maya Carter (Miranda), Danny Crawford (Antonio), Anthony Gabriele (Trinculo), Marisa Gold (Sebastian), Ellie Gossage (Stephano), Maggie Hood (Ariel), Annaliese Kirby (Prospero), Jake Lasser (Caliban), Rita McCann (Gonzalo), and Andrew Oppmann (Ferdinand).
The creative team includes original music composition and sound design by Jeffrey Leiser, graphic design by Nicasio Andrade, costume design by Madeline Wall, lighting design by Kenzie Carpenter. Erin Yoshiko Page is stage managing this production. The Tempest is produced by Maggie Hood and Annaliese Kirby with Alexandra Gomez as associate producer.
Performances take place on the 4th Floor of the Access Theatre at 380 Broadway (Right off Canal St), New York, NY. Subways: N, Q, R, J, Z, 6 to Canal St. Tickets are $25 and are on sale at https://www.artful.ly/no-name-theatre-collective/store/events/18214