Migdalia Cruz's New Play WHAT IF UNDER THE BED...? To Play at Tada!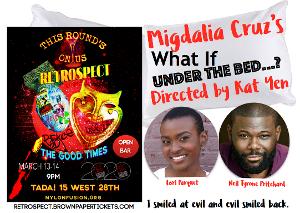 Nylon Fusion Theatre Company features new plays including Migdalia Cruz's "What if Under The Bed...?", Michael Panes' "Reunion May 13th 3281" plays in March 13th and 14th.
Take a break from the humdrum with Nylon Fusion's latest This Round's on Us short-play festival Retrospect? A look back or a look forward to "the best of times"
New plays by This Round's On Us: Retrospect featuring Migdalia Cruz and Michael Panes, Don Nigro. Robin Rice, Andy Evan Cohen, David Susan, Michael Hagins, Alina Rios, Ian August, Rachael Carnes, Nick DeSimone.
Directed by Kat Yen, David Elliott, Melissa Skirboll, Janet Bentley, Lori Kee, Ivette Dumeng, Randall Rodriguez, Gregg Pica, Francisco Solorzano, David Adam Gill, Andrew Block.
Featuring: Marie Eléna O'Brien, Daniel Lugo, Kailah S. King, Andrew Arata, Mike Roche, Stephanie Heitman, Alexandra Bonesho, Molly Collier, Chris Ryan, Taylor Graves, Josh Marcantel, Laura Sisskin Fernandez, Mercedes Griffith, Randall Rodriguez, Roger Hendricks Simon, Eric Svendsen, Erick Betancourt, Sean Leigh Phillips, Brandi Nicole Wilson, Neil Tyrone Pritchard, Lori Parquet.
Migdalia Cruz' writing is known for its bold poetic crispness, violence and sexuality, transforming the ugly to beautiful. Playwright of plays El Grito del Bronx, FUR, FRIDA: The Story of Frida Kahlo and many more.
Nylon, born of a fusion of New York and London creativity, is a theatre company committed to giving voice and perspective to established and emerging artists. We develop and produce plays that explore political, social and cultural awareness.
"Nylon Fusion Theatre Company is exactly the right kind of theatre for New York City now. It is young, multicultural, fearless. It provides an open door, inviting unrecognized talent on to the stage, providing entry, excitement, recklessness, candor and comedy, in a joyous atmosphere. There are new actors, directors, and playwrights in abundance. You will discover artists here. You will experience the rush of seeing them first. That's what New York is all about. Discovery!" - John Patrick Shanley
Shows will be performed at Tada! 15 West 28th 2nd Floor New York, NY 10001
Tickets at the door: $25.00 Advance Tickets $20.00
Advance tickets: retrospect.brownpapertickets.com
Friday, March 13 at 7pm, Friday, March 13 at 9pm, Saturday, March 14 8 at 7pm, Saturday March 14 at 9pm.