AMADEUS Brings Mozart, Mystery And Murder to Syracuse Stage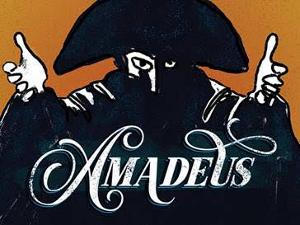 Did artistic rivalry and jealousy lead to the murder of one of the world's greatest composers? This intriguing question is at the heart of Peter Shaffer's 1979 play "Amadeus," which Syracuse Stage presents March 11 - 29, directed by artistic director Robert Hupp.
"Since its opening in 1979, 'Amadeus' has proven to be a contemporary classic that is a favorite among audiences worldwide," said Hupp. "Playwright Peter Shaffer rewrote 'Amadeus' six times, and 18 years ago Stage produced his original version. Now, we are presenting the final version, which I believe offers a more mature and nuanced protagonist and delivers a more devastating ending."
Set mostly in Vienna at the court of Emperor Joseph II, Amadeus speculates as to whether the composer Antonio Salieri poisoned the genius Wolfgang Amadeus Mozart. In the play, it is Salieri himself who poses the question in the form of his last musical composition. On his death bed some 30 years after Mozart's passing, he writes "The Death of Mozart - or, Did I Do It?"
"This play uses real events that happened in Mozart's life, but it is a work of fiction," said Hupp. "The relationship that's portrayed in the play between Salieri and Mozart is taken to an extreme. They may have been rivals but they were not bitter enemies."
Historically, the supposed enmity between the composers derived from two unsubstantiated rumors. When Mozart at age 35 was stricken with high fever and swelling without apparent cause, he seized on the notion that he had been poisoned. Family members, especially the composer's father Leopold, were inclined to agree and cast suspicion on Salieri. Years later, in ill-health and mental decline, Salieri reportedly confessed to Mozart's murder then attempted suicide. Neither were apparently true.
The fictional feud between the composers originated with the Russian writer Alexander Pushkin who used the rumors of jealousy and murder as the basis for his 1830 play "Mozart and Salieri." In 1897, composer Nikolai Rimsky-Korsakov created a one-act opera of the same name, using Pushkin's play almost verbatim as his libretto. In writing his version, Shafer once stated, "The conflict between virtuous mediocrity and feckless genius took hold of my imagination and wouldn't leave me alone."
Salieri, the virtuous mediocrity, is the true protagonist of Shaffer's play. He is a deeply pious man who has devoted his life and artistry to God and he finds it unbearable that God's reward for such devotion is to bestow musical genius on another, a particularly undeserving other.
"There's nothing about Mozart that Salieri respects except the genius of his music," Hupp said. In Salieri's eyes Mozart is vulgar, uncouth and utterly unworthy; "God's preferred Creature," Salieri calls him as he determines that "the Creature had to be destroyed."
In "Amadeus," Salieri and Mozart are plum roles and Hupp has cast exceptional actors in each. Veteran New York actor Jason O'Connell plays Salieri. O'Connell (recently married to playwright Kate Hamill) directed last season's "Pride and Prejudice." His many credits include appearances off-Broadway, most recently in Richard Jones's "Judgment Day" at Park Avenue Armory.
Mickey Rowe, who received critical and popular acclaim as Christopher Boone in Stage's production of "The Curious Incident of the Dog in the Night-time," returns in the role of Mozart. Rowe was the first autistic actor to portray Christopher in a professional production. His performance drew attention from many media outlets including the New York Times, PBS, "Teen Vogue," "Playbill," NPR, CNN, "Huffington Post" and "Salon." Since last appearing at Stage, he founded and became co-executive director of National Disability Theatre, which has garnered national and international attention.
Rounding out the principal roles are Lisa Helmi Johanson as Constanze Weber, Mozart's wife, and Avery Glymph as Emperor Joseph II. Glymph returns to Syracuse Stage where he made his professional regional debut in 1998 as Belize in "Angels in America." Johanson's New York credits include "Avenue Q" off-Broadway.
"Amadeus" was first performed at The National Theatre in London directed by Sir Peter Hall. Opening night was October 26, 1979 and the play ran for almost three years until closing on June 4, 1981, a total of 1,181 performances. After receiving rave reviews, it was performed in America for the first time in 1980 at The National Theatre in Washington D.C. It then opened on Broadway a month later at the Broadhurst Theatre. There, it ran from December 1980 until October 1983. Amadeus went on to receive seven Tony Award nominations and won a total of five, including Best Play. In 1984, the play was adapted into a film directed by Milos Forman and won eight Academy Awards, including Best Film.
Throughout the run of "Amadeus," Syracuse Stage will partner with Symphoria to enhance patrons' experiences at the theatre. At select performances, Symphoria musicians will play selections from Mozart and Salieri before the show in the lobby. The March 26 prologue, an intimate, pre-show discussion, will feature a Symphoria conductor who will speak about the music of Mozart and Salieri. Additionally, Symphoria will present a Spark Concert on March 16 at 7 p.m. at Syracuse Stage in the Archbold Thetare. The program includes MOZART: "Overture to Abduction from the Seraglio". SALIERI: "Sinfonia in D Major (Venizia)". MOZART: "Overture to Don Giovanni". MOZART: "Papagano's Aria". MOZART: "Symphony No. 25 in G minor (Mvt. 1)". Tickets available through Symphoria.
For more information visit www.SyracuseStage.org
More Hot Stories For You