Trip Kennedy's Comedic Musical Triumph THE BOOK OF MEL Returns With A Diva Twist
Streaming on February 27 on Metropolitan Zoom.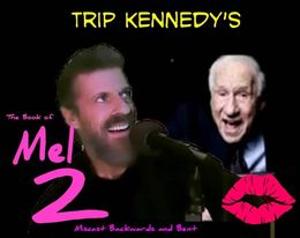 Before Trip Kennedy's debut performance of his latest cabaret creation "The Book Of Mel" was over, Bernie Furshpan, producer for Metropolitan Zoom, booked it for a new date and suggested the theme could be developed as a series-- "because there is just so much great Mel Brooks material and cabaret is the place to do it!"
"I think so too!" said Kennedy who went to work immediately on: "The Book Of Mel 2, Miscast, Backwards and Bent" which premiere's on Metropolitan Zoom February 27th 7PM PST https://metropolitanzoom.ticketleap.com/trip-kennedy--the-book-of-mel-part-2-7-pm-pacific/details
"I want to continue the trend of performing great songs sung by Broadway Women, sung by Broadway Men--with a Mel Brooks twist," said Kennedy.
"There are so many iconic characters in his films and musicals--all with great songs--from Blazing Saddles: Lili Von Shtüpp's "I'm Tired," from Young Frankenstein: Frau Blucher's "He Was My Boyfriend," from the Producers: Ulla Inga Hansen Benson Yansen Tallen Hallen Svaden Swanson Bloom's "If You Got It Flaunt It" and more!" he continued.
"Plus, I want to pay special tribute to Cloris Leechman, who recently passed away, and share some great new stories I've learned about her."
Kennedy is a self described "Mel-o-phile" and, as it turns out, they share the same Birthday (June 28) which is also the morning of the Stonewall Riots! Kennedy is on a quest to build an "encyclopedic knowledge of all things Mel" which makes his after show VIP discussions so much fun.
"They're like little Ted Talks on Mel, my goal was to read every book, watch every interview, and learn every song--it's a wonderful distraction from a world that feels very much like a Mel Brooks movie."
"It's a one hour, light hearted, musical romp through Mel Brooks Divas--what's not to like?"
Originally from Brooklyn, Kennedy has appeared in "Joseph and the Amazing Technicolor Dreamcoat" and "Beauty & the Beast" on Broadway and as "Jeffrey" in "Jeffrey" on Fire Island. In 2000 he won the Harrington Award for Outstanding Creative Achievement in Musical Theatre as a lyricist and book-writer from Broadcast Music International.
He's the founder and host of Trip Kennedy's Show Off Show, an open mic in Los Angeles that began in person at a piano bar in November 2019 and transitioned to a Zoom event since last March.