Stars to Sing Hanson At Feinstein's/54 Below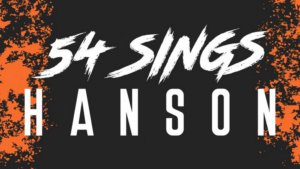 Where's the Love? It will be at Feinstein's/54 Below on Friday Night, July 26! 54 Sings Hanson will breathe fresh life into a music library from the beloved brother trio spanning over 20 years. Experience classics such as "MmmBop, "Thinking of You", and "Where's the Love?" in a new way, while also hearing some of the band's newer hits and deep cuts that will make you fans all over again!
54 Sings Hanson will feature Richard Baskin (Ricky B and the Soul Patrol), Jordon Bolden (Emojiland), Alexis Floyd (TV's "The Bold Type"), F. Michael Haynie (Charlie and the Chocolate Factory), Michelle Beth Herman (Les Miserables Nat'l Tour), John Krause (Hadestown), Matt Magnusson (Jersey Boys Ogunquit Playhouse), Molly McCook (TV's "Last Man Standing"), Brian Muller (Cruel Intentions), Morgan Reilly (Singer-Songwriter), Jenna Rubaii (Groundhog Day), Jessie Shelton (Hadestown), Nya Trysha (Cleopatra), Danielle Wade (Mean Girls), Michael Williams (Cruel Intentions), and Elmo Zapp. Jake McKenna (Wicked Frozen) will Emcee the evening with Brooke Wetterhahn joining on background vocals.
This evening is music directed by Dan Garmon who will lead an amazing band featuring Zach Spound (Keys), Julia Adamy (Bass), Mike Rosengarten (Guitar) and Elena Bonomo (Drums). Elmo Zapp and Stephanie Lazard produce the one night only performance with new arrangements by Elmo Zapp, Zach Spound, and Dan Garmon.
54 Sings Hanson plays Feinstein's/54 Below (254 West 54th Street) on July 26 at 11:30pm. Tickets start at $20 and there is a $20 food and beverage minimum. Tickets can be purchased at https://54below.com/events/54-sings-hanson/ or by calling the venue (646) 476-3551