Starbound Kidz Bring Reborn GODSPELL to 54 Below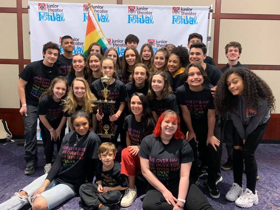 FEINSTEIN'S/54 BELOW, Broadway's Supper Club, presents Starbound Kidz in Godspell on Sunday February 17th at 7:00 PM.
Oh Bless the Lord! Starbound Kidz is proud to present the Grammy-award winning music by Stephen Schwartz in a one-night sensational concert of Godspell! In uncertain and politically charged times, we believe the messages in the music of Godspell are more prevalent than ever. In this version, we put a modern twist on the parables and present the teachings of Jesus through the lens of anti-bullying in today's society, bringing forward powerful messages about discrimination against the LGBTQ community, racism, immigration, and religious freedom. Our concert will spread messages of love, empathy, and kindness towards one another with tunes that will have you up on your feet and singing along.
They are no strangers to the stage at Feinstein's/54 Below, but the Starbound Kidz were most recently seen at the 2019 Junior Theatre Festival in Atlanta, GA, where they received excellence in ensemble work as well as Best Student Direction and Choreography (Alex Angrist), and two of our cast members received recognition as "All Stars," (Madison Zamor and Nicholas Matos). Up next, we can be seen at Walt Disney World in Orlando, Florida on June 29th 2019.
Like Schwartz's song lyrics say "we can build a beautiful city, not a city of angels but finally a city of man." Starbound Kidz Sing Godspell will be a concert event like no other and we can't wait to spend the evening at our favorite venue in New York, Feinstein's/54 Below!
The Starbound Kidz are under the direction of Hannah Cecille, a longtime performer who currently works as a Creative Producer at Instagram. The team is rounded out by Musical Directors Aisha Carpenter and Loy Weissman, and accompaniment by Dominic Frigo.
Starbound Kidz in Godspell plays Feinstein's/54 Below (254 West 54th Street) on February 17th, at 7:00 PM There is a $45-$85 cover charge and $20 food and beverage minimum. Tickets and information are available at www.54Below.com. Tickets on the day of performance after 4:00 are only available by calling (646) 476-3551.
Feinstein's/54 Below, Broadway's Supper Club & Private Event Destination, is a performance venue in the grand tradition of New York City nightlife. A few blocks from the heart of Times Square and just below the legendary Studio 54, Feinstein's/54 Below is a classically designed state-of-the art nightclub in the theatre district that hosts audiences with warmth and style. Feinstein's/54 Below presents iconic and rising stars from the worlds of Broadway and popular music and has set a new standard for culinary excellence worthy of the world-class entertainment on the stage.
In their description of the venue, The New York Times writes, "Feinstein's/54 Below has the intimacy of a large living room with unimpeded views and impeccable sound; there is not a bad seat in the house. Its sultry after-hours ambience is enhanced by brocade-patterned wall panels planted with orange-shaded lanterns. And the atmosphere is warmer and sexier than in Manhattan's other major supper clubs."
Located at 254 West 54th Street, Feinstein's/54 Below features up to three shows nightly with cover charges ranging from $5-$105. 54Below.com/Feinsteins