Photo Flash: Andrea Marcovicci Plays the Oak Room
Andrea Marcovicci - the acclaimed singer and actress dubbed "The High Priestess of the American Songbook" by The New York Times - will celebrate her landmark 25th anniversary at the famed Oak Room of the Algonquin Hotel. Her new show "No Strings" runs from November 15 to December 30, featuring Music Director Shelly Markham on piano and Jered Egan on bass. For the second year in a row, Andrea will offer a special holiday performance on Monday, December 26 at 7:30 PM. The sophisticated entertainer holds the record for the longest continuous run in the Oak Room's history.
Check out photos from her opening night show below!
To celebrate this unprecedented achievement, "No Strings" takes the audience on a wonderful trip around the world. It's a journey about life on the road: a warm, funny, heartfelt, and candid tale of Andrea's time spent traveling from city to city and what that bittersweet time has meant to her as a singer, an actress, a wife and mother. Song highlights include "Sunday in New York," "Two For the Road," "How are Things in Glocca Morra?," "Under Paris Skies" and "A Foggy Day." She will introduce the brand-new song "The Night I Fell In Love With Paris" written by Tom Toce, and perform "Back At The Algonquin," written especially for her by Enid Futterman and Michael Cohen. In addition, Andrea will recreate her celebrated rendition of "These Foolish Things."
From the romance of her favorite places to unexpected bumps in the road, Andrea's nostalgic odyssey follows the story - both witty and poignant - of a singer's life. Before coming to New York, she will preview the show at the Gardenia in Los Angeles on October 27 and 28.
Ms. Marcovicci - also known as a compassionate and astute teacher of workshops for professionals, as well as high school and college students - will have a special Master class on "The Art of Cabaret" on Sunday, December 11 from 10:00 AM to 3:00 PM, open to both students and auditors. Those interested in attending should email andreasong@roadrunner.com.
Andrea Marcovicci was hailed as a "heartbreaker" by People Magazine. The San Francisco Chronicle was "seduced by a temptress," The Wall Street Journal raved that an evening with Andrea was "the most immersive experience you will ever have." The New Orleans Times-Picayune said, "she sings so beautifully that you find tears stinging your eyes." She has created over thirty nightclub acts, has sold out Carnegie Hall, Town Hall, Lincoln Center, and appeared in concert with numerous orchestras and at the White House. She has acted in films, television and theatre, both regionally and on Broadway. Her co-stars have included Danny DeVito, Woody Allen, Sir Michael Caine, Sir John Gielgud, and Sam Waterston, among others. In 2008, Andrea's record label, Andreasong, released a compilation CD: As Time Goes By: The Best of Andrea Marcovicci, featuring selections from her many previous recordings and two new bonus tracks. Most recently she starred in the off-Broadway revival in the title role of Coco and on "General Hospital." Her new film Driving By Braille is currently being seen at film festivals around the country.
Andrea Marcovicci's new show "No Strings" plays from November 15 through December 30, 2011 at The Oak Room, Algonquin Hotel, 59 West 44th Street. The performance schedule is Tuesday through Saturday at 8:30 PM, plus late shows Friday and Saturday at 11:00 PM. For Tuesday through Thursday, in addition to the late weekend shows, there is a $60 cover charge. For the Friday and Saturday early shows, the cover charge is $65.00. All shows have either a $30 food and beverage minimum or a $60 prix-fix dinner. For the holidays, there are performances for Thanksgiving, November 24; and for Christmas December 24, and Monday, December 26 at 7:30 PM. For more information and reservations call: (212) 419-9331 or (212) 840-6800 and ask for Oak Room Reservations.


Barbara Carroll and KT Sullivan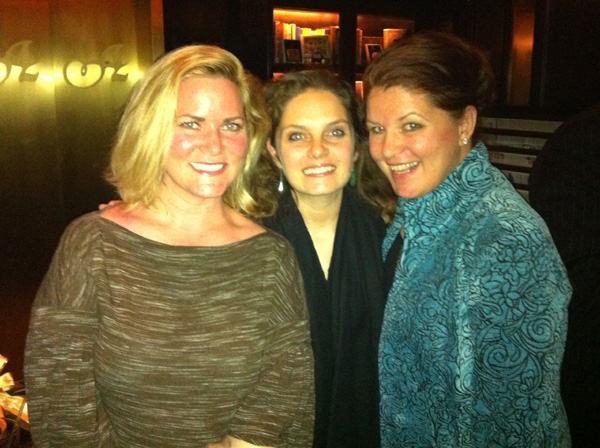 Colleen McHugh, Danielle Grabianowski, KLea Blackhurst

Danielle Grabianowski and KLea Blackhurst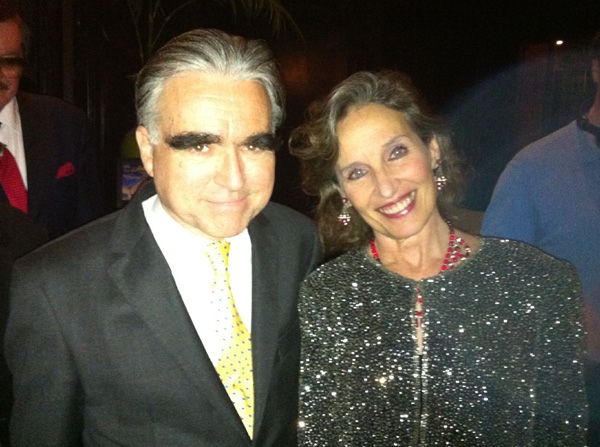 George Whipple and Andrea Marcovicci

Helen and Andrea Marcovicci and Enid Futterman

Karen Akers and Andrea Marcovicci

Shelly Markham and Colleen McHugh

Shelly Markham and Jeff Harnar

Tom Toce and Andrea Marcovicci