Matt Roper's Burlesque Show WILFREDO'S WILD RIDE Announces Tour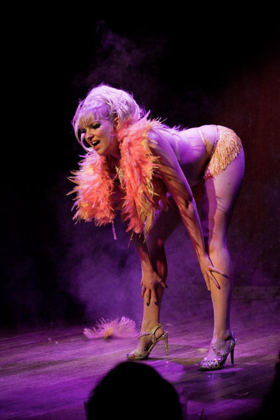 A four-date whistle-stop tour has been announced by the British comedian Matt Roper, taking in Baltimore, Washington D.C, Richmond and Philadelphia later this month. Wilfredo's Wild Ride sees Roper join forces with three of New York City's finest burlesque and variety artists - Lil' Miss Lixx, Boo Boo' Darlin' and Pinkie Special - and special guests for "a celebration of human sexuality and good old-fashioned vaudevillian-style fun with a stellar line-up".
Wilfredo, Roper's grotesque-but-lovable powerhouse alter-ego, is the legendary lover with the tight pants, the big teeth and the singing voice to die for. He has toured the character internationally, from comedy festivals in Edinburgh, Melbourne, Singapore and the Philippines, to the intimate cabaret rooms of London, Prague and Buenos Aires.
Roper first came to prominence among New York audiences last year, when he portrayed Chico Marx in I'll Say She Is: The Lost Marx Brothers Musical at the Connelly Theater to great acclaim. His late-night appearances at Manhattan's Slipper Room have fast become the stuff of legend among downtown audiences.
Lil' Miss Lixx - the classically trained ballerina turned burlesque starlet - is known for hypnotizing audiences with her Lolita-like look. Lixx got her start alongside burlesque stars like Dirty Martini and The Pontani Sisters in the Off-Broadway hit This Is Burlesque. She can now be found shakin' it on New York City's most popular stages including Coney Island's Sideshow by The Seashore, Joe's Pub, and Abron's Arts Center.
Boo Boo Darlin' is the "Fun Time Gal of Burlesque" who has proudly performed with such groups as Sugar Shack Burlesque, Storybook Burlesque, Pink Room Burlesque and co-produced Richmond Varietease. Her most notable performances are her seven years performing for the New York Burlesque Festival,The annual Miss Twin Peaks Pageant, Miss Coney Island Pageant, The Virginia Museum of Fine Arts Hollywood Costume Show and being crowned the 2014 Porcapapessa at the Caput Mundi Burlesque Festival in Rome.
Seattle-born hula hoop performer, burlesque artist and musician Pinkie Special has been gaining attention with skill, humor and a unique energy since 2000. In addition to her hooping performances, she is also a hooping teacher for the New York School of Burlesque. She is also the lead guitarist and vocalist of the punk-folk-comedy combo The Stilette-Hoes.
Wilfredo's Wild Ride plays The Ottobar, Baltimore MD (7/20), The State Theater, Falls Church, D.C (7/21), Gallery 5, Richmond VA (07/22) and Franky Bradley's, Philadelphia PA (07/23).