IN THE WORKS Comes to The Duplex Cabaret Theatre This Sunday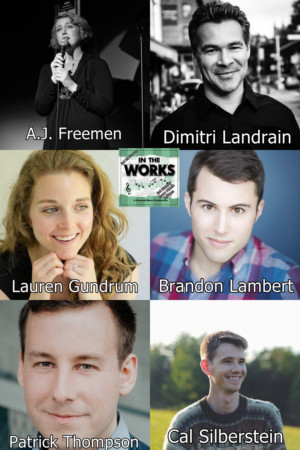 Honeck-Moss Productions is proud to present "In The Works." Now in it's 3rd Hit Season, this exciting series was conceived as an opportunity for composers to try out new work in front of an audience and see how it plays in a supportive environment. It is also an opportunity to create community among the composers and their performers.
In The Works is presented monthly (the 3rd Sunday of Every Month) and features four composers or composer teams, each presenting 20 minutes of new material. This month, Sunday Dec 16th at 9:30pm features the works of composers: A.J. Freeman & Dimitri Landrain, Lauren Gundrum Brandon Lambert, and Patrick Thompson and Cal Silberstein. Hosted by: Thomas Honeck.
Featuring performances by: Sam Balzac, Deborah Berenson, Trevor Bunce, JD Daw, Keri René Fuller, Holly Gould, Max Meyers, Katie Oxman, Casi Riegle, and Tim Russell.
The Duplex Cabaret Theatre is located at 61 Christopher Street (on 7th Avenue, just off the 1 train).
Tickets are $10 in advance and $15 at the door, and there is a two beverage minimum. $5 Ticket for Broadwayworld readers, use the Coupon Code: BWW at check out. Tickets are available at: www.purplepass.com/works1216

A. J. Freeman is a writer, director, and performer originally from Los Angeles, now based in New York. She has worked for over 12 years in educational theatre, directing dozens of full scale productions, and running her own literacy-based musical theatre program for low income students. Though this nonprofit, The Troupe, thousands of children in schools across Los Angeles received free reading books. The Troupe's free musical theatre workshops and assemblies inspired students from all backgrounds to use their gifts and talents through visual and performing arts. She is also a cabaret performer, championing brilliant but forgotten music of the 1920s and 30s, and is a lyricist in the BMI Lehman Engel Musical Theatre Workshop and at The 92Y.
Dimitri Landrain is an NYC-based composer and pianist from Paris, France. His work has been featured in Tony Award winner William Finn's "Songs By Ridiculously Talented Composers" series and on French Top 50 artist Liane Foley's platinum album "Entre Nous." Dimitri holds a BM from Berklee College of Music, an MM in Jazz Performance from The University of Cincinnati, and an MFA from the NYU/Tisch Graduate Musical Theatre Writing Program. He works extensively as a pianist and has released a solo piano album titled "September, NYC" which is available on Spotify, iTunes, etc. Dimitri is currently attending the BMI Lehman Engel Musical Theatre Workshop.
Lauren Gundrum is a NYC-based lyricist, librettist and producer. Her debut musical PharmaBro ran Off-Broadway in summer 2017 and was nominated for an OBA Award for Best New Musical of the season. PharmaBro had a sold-out developmental run at The Workshop Theatre during the 2016 Midtown International Theater Festival, and has been featured in Vanity Fair, Rolling Stone, The NY Post and The NY Times. Lauren is a member of the Tony-nominated BMI Musical Theatre Workshop, the Dramatist Guild, and she has held residencies with Players Theatre and the Apples and Oranges Accelerator. http://www.laurengundrum.com
Brandon Lambert is a New York-based songwriter and actor. In 2017 Brandon and Gary S. Jaffe's musical At First Sight was commissioned and produced by the Mountain Playhouse, and over the past few years Brandon has had five TYA shows commissioned and produced by Gretna Theatre. As an actor, he starred as Marcus on the national tour and then the Canadian premiere of Murder for Two, and has worked regionally at the Pittsburgh CLO, the Pittsburgh Public, and Flat Rock Playhouse. He is a member of the BMI Musical Theatre Workshop (Advanced, Harrington Award), the Dramatists Guild, and Actors' Equity.
Patrick Thompson and Cal Silberstein are a writing team based in NYC. They met at the NYU Graduate Musical Theatre Writing Program where they wrote their first musical, A POSTCARD FROM CONEY ISLAND. Thompson is originally from Milwaukee, WI where he worked as a music director and resident artist for the KidsWrites program with Skylight Music Theatre. His musical, PASSING BY, premiered in the 2015 Chicago and New York Musical Theatre Festivals and his most recent show NOBODY KNOWS premiered at First Stage Children's Theatre this past summer. Silberstein hails from Perth, Australia where he is a founding partner of the independent theatre company, Ludicrous Displays. His other musicals, VIVA LA RESTORATION, HOW WE RUINED MACARTHUR'S MARKERS, FAIRYBREAD and STRAWMAN have had productions across Australia. His short opera, PRESIDENT JOAN (OR THE UNEXPECTED VIRTUE OF SANDWICHES) recently premiered as part of "The Dinner Party Operas" at the Brooklyn Museum. They are continuing to workshop A POSTCARD FROM CONEY ISLAND and are writing a series of stand-alone cabaret songs.
$10 Ticket in Advance & a 2 Drink Minimum in the Cabaret Theatre*$15 Ticket at the Door (plus service fee) & a 2 Drink Minimum in the Cabaret Theatre*
*Drinks Must be purchased In the Cabaret Theatre to count towards the Minimum.